There are two things you can find a great deal of in Upstate New York – music venues in nearly every town, and Stewart's Shops. There are more than 345 Stewart's in New York and Vermont, and if you've been to a show or gone camping Upstate, you've probably stopped at a Stewart's for provisions. With newly remodeled shops, Stewart's is a staple for locals and visitors alike.
One of Stewart's best sellers is their ice cream. Made from milk from New York farms, the variety of flavors goes well beyond the basic Chocolate, Vanilla and Strawberry. The variety of music venues Upstate is equally varied, and gives music lovers an opportunity to see their favorite bands and new artists in unique settings.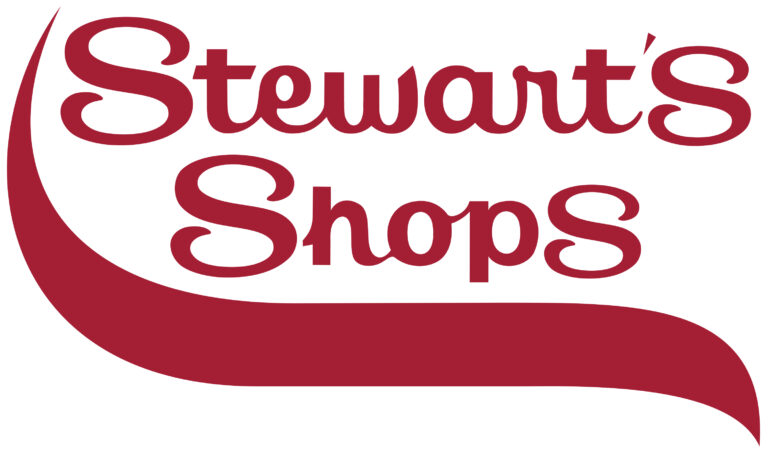 We've partnered with Stewart's Shops to look at their ice cream flavors and compared them to Upstate music venues. Below you'll find 15 flavors paired with their appropriate venue, a small sampling of the more than 30 flavors Stewart's Shops offer. Get the scoop before you get a scoop heading to your next show!
Brownie Cookie Sundae // Ulster Performing Arts Center, Kingston
This venue and flavor have each got it all. UPAC features one of the widest arrays of musical selections in the state. From Meatloaf to Willie Nelson, the HV Philharmonic to plays and musicals, UPAC has it all. Likewise, Brownie Cookie Sundae comes loaded with vanilla ice cream, chewy brownie bites, soft cookie dough pieces and a rich fudge swirl. Available in a cone or half-gallon.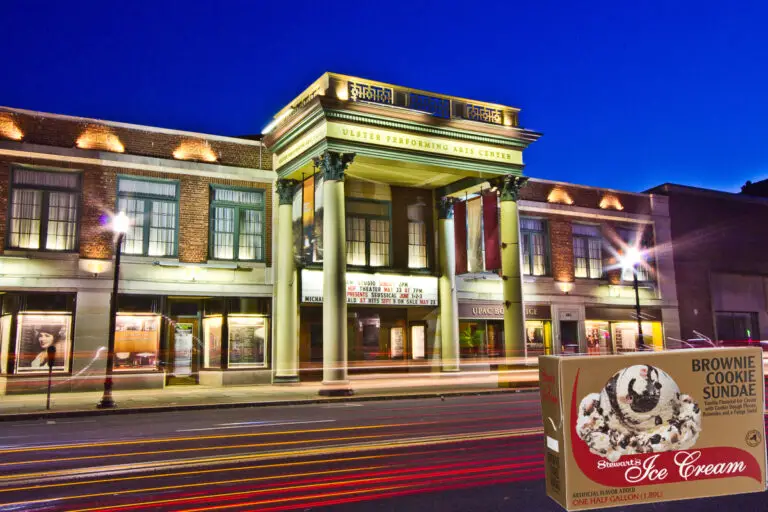 Star Gazer // Saratoga Performing Arts Center (SPAC), Saratoga Springs
Where can you see the most stars? Head north on I-87 and get off at exit 13 for Saratoga Performing Arts Center, where you'll see the biggest artists and national touring bands at SPAC each summer! Originally the home of the NYC Ballet, SPAC has been bringing concerts to the edge of the Adirondacks since the 1960s, making this the perfect venue for seeing stars. Stargazer has Malt flavored ice cream with a rich caramel swirl and pieces of Milky Way candy bars mixed in. Available in a half-gallon.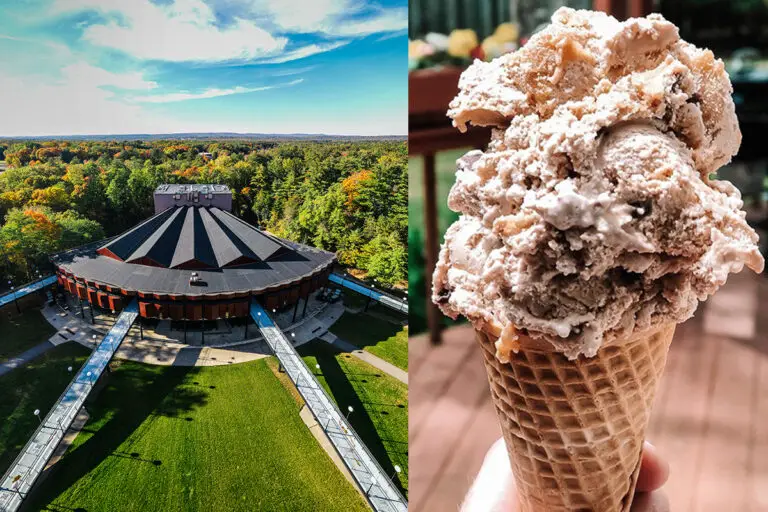 Chocolate Sea Turtle // Snug's Harbor, New Paltz
Turtles are found throughout the state, but they'll always need a snug harbor somewhere to rest their shell. Snug Harbor provides a comfortable space for bands to play in the college town of New Paltz, with a variety of music and cold beer on tap. Stewart's Chocolate Sea Turtle features chocolate ice cream with a sea salt caramel swirl and chocolate fudge pecans. Available in a cone for a limited time.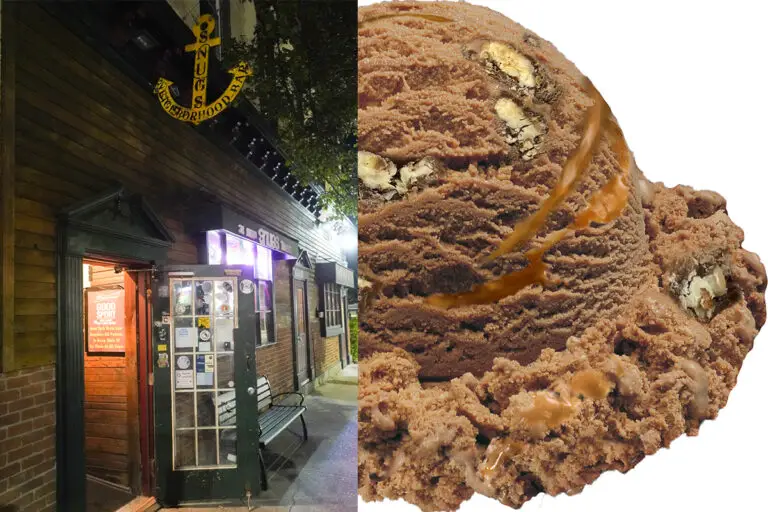 Fireworks // Empire State Plaza, Albany
One of the best spots for fireworks in Upstate New York is the Empire State Plaza in downtown Albany. Capable of hosting more than 10,000 people and room for even more nearby, the Fireworks every 4th of July and for select events are a must see event, as well as the bands that perform on the plaza during the summer months. Pop Rocks encased in vanilla ice cream with a tart cherry swirl helps this flavor live up to its name! Available in a cone.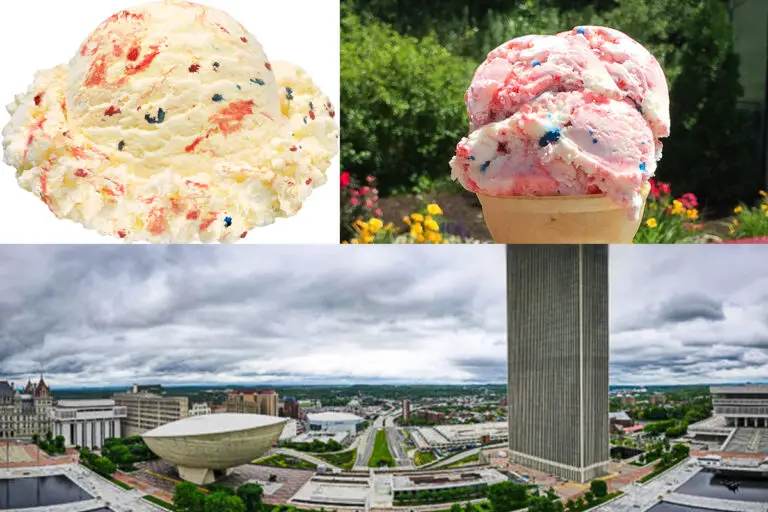 Blueberry Pie in the Sky // Bethel Woods Center for the Arts, Bethel
Summer and blueberry pie are synonymous. The summer of love lives on through Bethel Woods. Grab a cone of Blueberry in the Sky, with blueberry ice cream with shortbread and a Maine blueberry swirl, on the way to your next show and imagine the roads filled with cars headed to Yasgur's Farm. Available in a pint.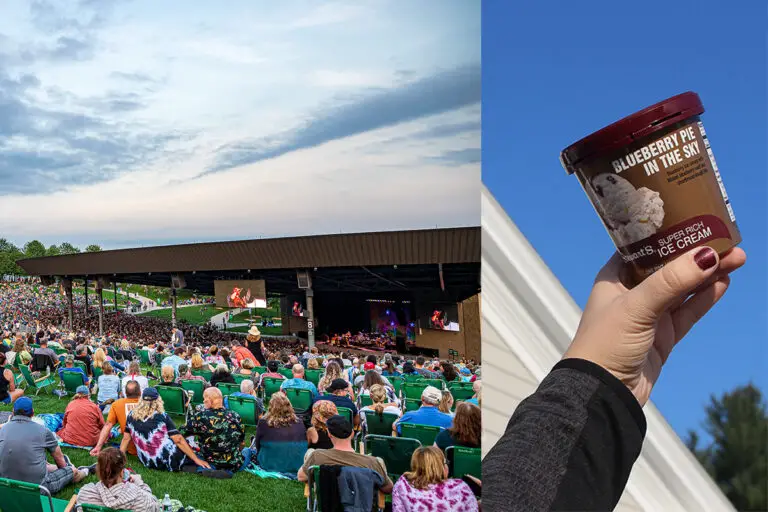 Happy Camper // Grey Fox Bluegrass Festival, Oak Hill
When the music on the stage is done for the day, head to your campsite anywhere at Grey Fox Bluegrass Festival's campgrounds for pickin' parties, where you can hear classic bluegrass songs and singalongs, just like at camp enjoy s'mores! With graham cracker flavored ice cream with a graham cracker pieces, a marshmallow swirl and peanut butter pieces, enjoy a cone of Stewart's Happy Camper while friends old and new sit around and pluck away. Available in a cone.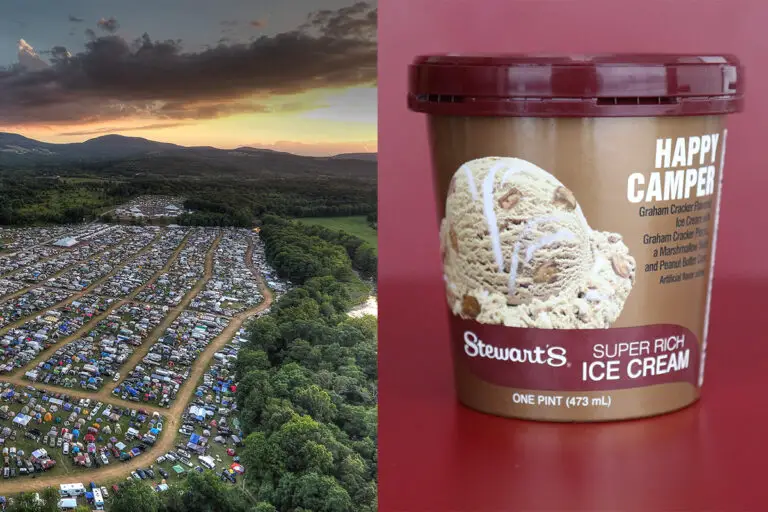 Marionberry Cookie // Levon Helm's Barn, Woodstock
Located just a few miles from Mount Marion near Saugerties, Levon Helm's Barn is the perfect pairing for this sweet treat. Living in Woodstock at Big Pink with The Band and backing Bob Dylan for years, Levon Helm made a second home in Woodstock, establishing Midnight Rambles that continue to be a thing of legend. Marionberry Cookie is a pink-hued ice cream with a chocolate cookie swirl. Available in a cone for a limited time.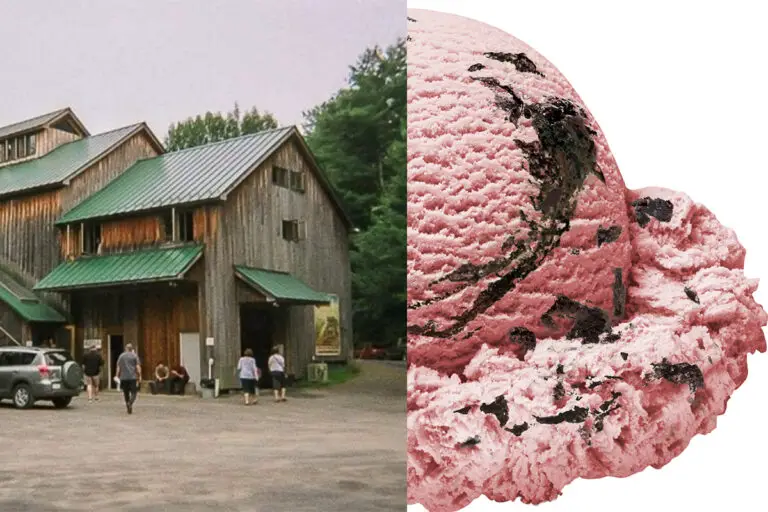 Mint Cookie Crumble // The Bardavon, Poughkeepsie
Two classics, presented in a new way. The Bardavon is the oldest continually operating music venue in New York State, offering various performing arts, cinema, theater, vaudeville, and performers ranging from David Byrne to Chick Corea, Dr. John to Gladys Knight, and Joan Baez to Natalie Merchant. Bardavon is also the home of the Hudson Valley Philharmonic, making the classic venue fresh for a new generation of music lovers. Mint Cookie Crumble is a spin on mint chocolate chip, but with a chocolate cookie crumble fudge swirl mixed in smooth cool mint ice cream. A classic, presented in a fresh new way. Available in a cone, pint or half-gallon, and now available in a non-dairy pint!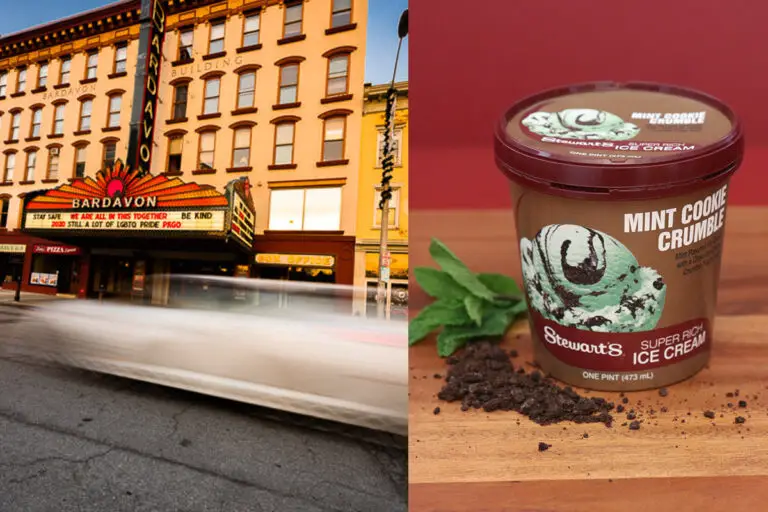 Chocolate Peanut Butter Cup // The Egg, Albany
One of Stewart's tastiest ice creams has a swirl of peanut butter inside, ready to surprise you with each bite. Inside The Egg in Albany, you'll find not one but two music venues – The Hart Theatre and The Swyer Theatre, both offering an array of musical offerings, not to mention surprisingly incredible acoustics! Available in a cone, pint or half-gallon.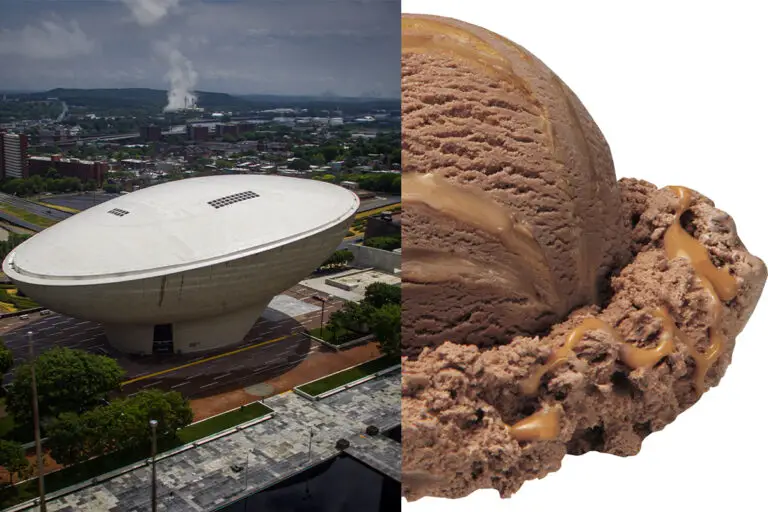 Sweet Bourbon Cold Brew // The Falcon, Marlboro
Both of these combine bourbon and coffee together in a perfect pairing, but The Falcon also offers live jazz in their intimate, rustic venue. The sweet cream/cold brew/bourbon flavors combine for a smooth ice cream experience. Available in a pint for a VERY limited time.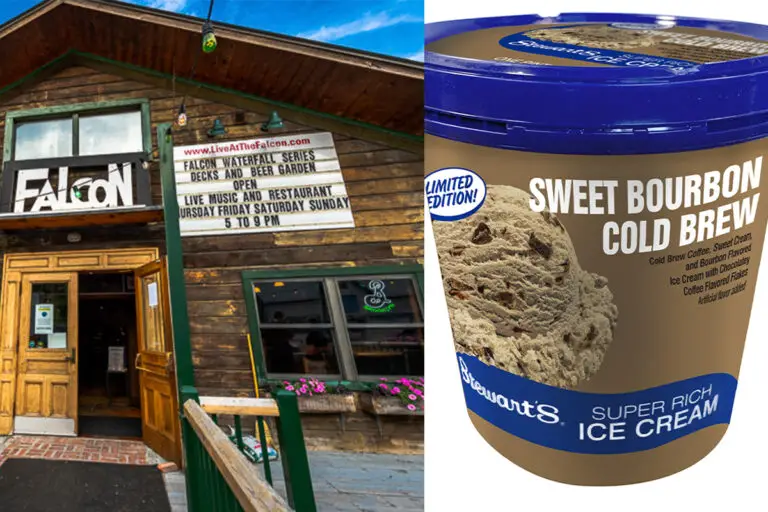 Crumbs along the Mohawk // Cohoes Music Hall, Cohoes
Located 500 feet from the Mohawk River, Cohoes Music Hall, opened in 1874, has been home for live music performances, high school musicals and plays, theater performances and much more. With a name synonymous with music, Cohoes is a great small town to stop in for an evening. The perfect ice cream to go with such a classic venue is Crumbs Along the Mohawk, inspired by the 1939 film "Drums Along the Mohawk," with graham cracker flavored ice cream holding together graham cracker pieces with a caramel swirl. Available in a pint or half-gallon.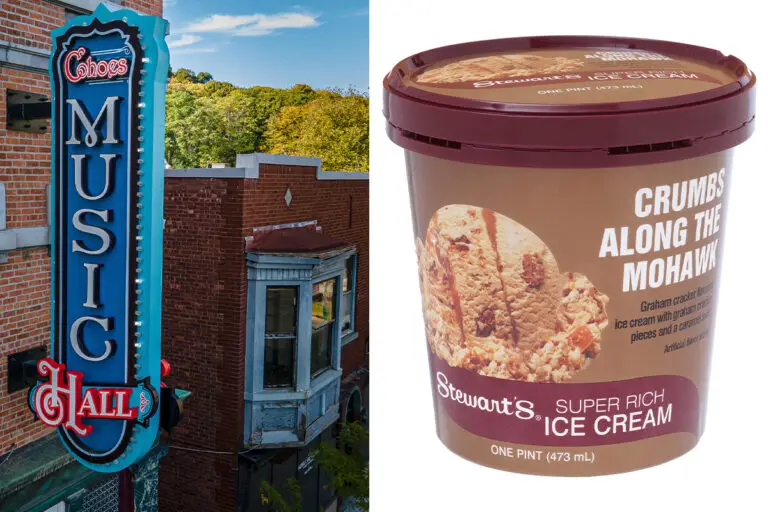 Brew Ha Ha // Saranac Brewery, Utica; Ommegang Brewery, Cooperstown
Where in New York can you get brewery fresh beer and live music? Two places come to mind – Saranac Brewery in Utica, and Ommegang Brewery in Cooperstown. With their own wide selections of beers and other beverages, these breweries offer two things that New York is known for – great beer and great music – Brew Ha Ha takes Stewart's richer roast coffee ice cream with espresso bean flavored chocolate flakes, a nice combination as well! Available in a cone or half-gallon.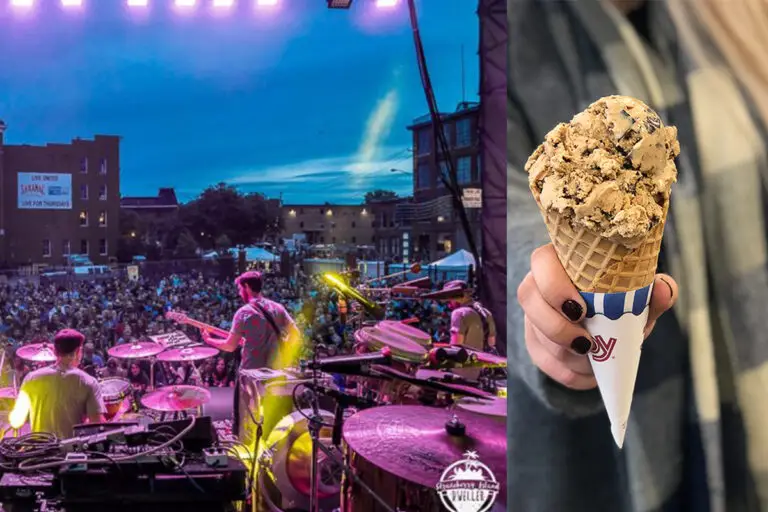 Adirondack Bear Paw // The Waterhole, Saranac Lake
The northernmost venue on our list is The Waterhole, home to music year round, with Party on the Patio on Thursdays each summer, Winter Carnival music performances in February, and the heart of this Adirondack town. Vanilla ice cream mixed with sweet praline cashews and caramel swirls make a rich combination in this tasty northern delight. Available in a half-gallon.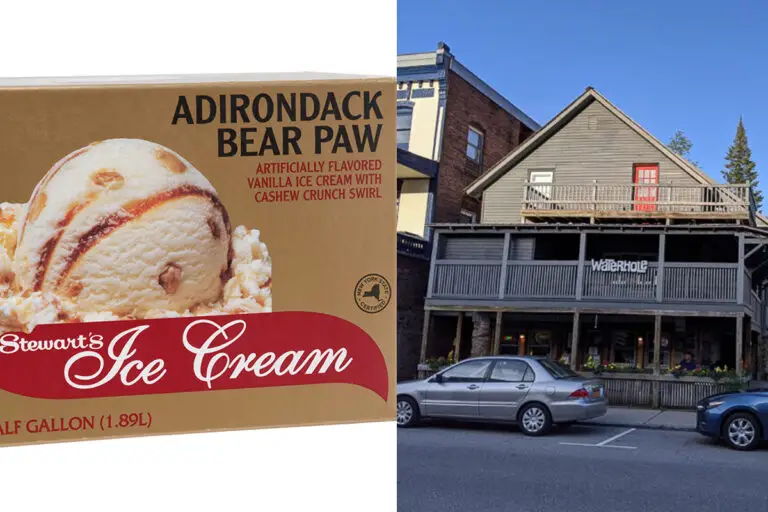 Kaydeross Kreme Light // Caffe Lena, Saratoga Springs
The classic creamsicle flavor is a throwback to summers spent in Saratoga Springs, with a twist. A classic Saratoga venue, Caffe Lena, has been a fixture in the Spa City since the 1960s, and new renovations in the building put a twist on the original! Available in a half-gallon at your local Stewart's Shops!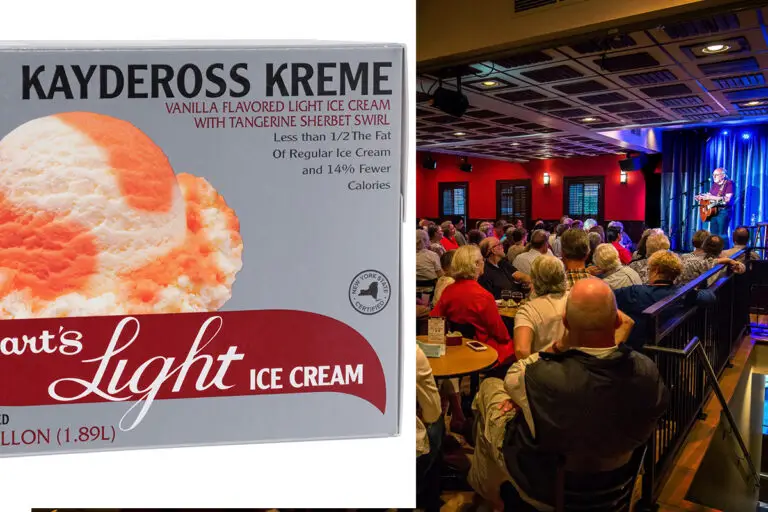 Colombian Coffee // Club Helsinki, Hudson
Like coffee, Club Helsinki has something for everyone, serving as a music venue, bar and restaurant. Open mic nights, both virtual and in person, welcome all people and talents. The many flavors of coffee can be found in this Columbia County venue that welcomes a variety of artists to the east shore of the Hudson River. Available in a cone or half-gallon.