Rochester twang bar king, Greg Townson, is back with another super fine collection of surf guitar instrumentals perfect for the hazy days of our post-COVID lockdown summer.  Called Off and Running! (High Tide Recordings), it features a cast of stellar supporting musicians, including his bandmates from the world renowned Los Straitjackets and NRBQ. Expert players all, they jell together wonderfully to breathe new life into classics like "The Locomotion" and "Just One Look" and Townson's authentically retro originals.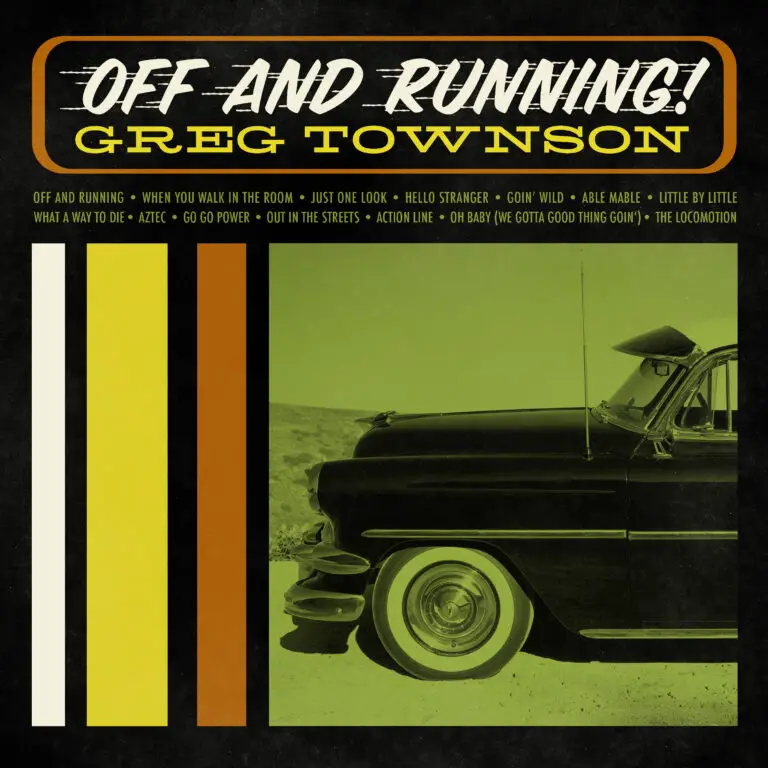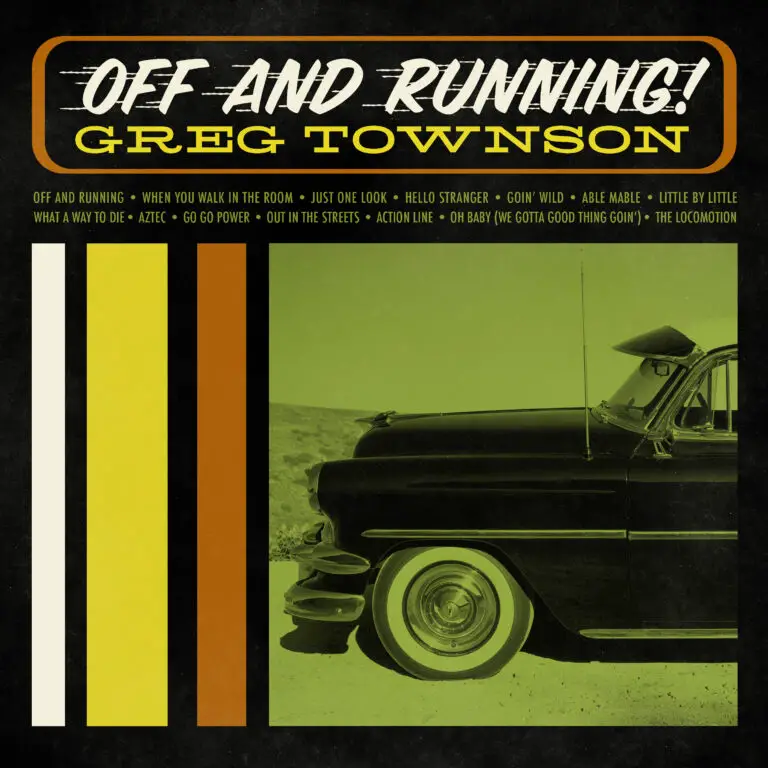 Greg has been making music most of his life, winning fans and making friends wherever he performs, from stages all across the United States to Europe, Scandinavia and beyond.  In 1998, Townson formed The Hi-Risers, a trio that put the spotlight on his singing, guitar playing, production and songwriting talents. Since then, he has continued to record and tour prolifically with that band, issuing nine records to date. The band's most recent release is the 45, Smooth Operator b/w Hot Banana, which came out last year on Hi-Tide Recordings.
2010 brought yet another dimension to Greg's work when he was asked to join Los Straitjackets, the Mexican wrestling mask-wearing instrumental guitar greats. In 2012 he contributed songs to Jet Set, one of the strongest records in the band's extensive catalog. He has since contributed his guitar and songwriting talents to five more of their releases. In 2015, Los Straitjackets and Townson teamed with legendary songwriter Nick Lowe. This dynamic union released several EP's, toured the world and appeared on shows such as CBS This Morning and Late Night with Conan O'Brien.
As a continuation of his instrumental guitar work featured in Los Straitjackets,  Greg teamed up with Hi-Tide Recordings for the Travelin' Guitar series of his own guitar-based recording. 2017's Travelin' Guitar and its 2019 follow-up, More! Travelin' Guitar, are now complemented by his latest, Off and Running!
The title track serves as a high-energy kick-off to the album. It boasts some cool stop-time drums, snapping leads and a very delicious ascending chordal bridge – a whole boatload of serious music, moods and fun clocking in at just shy of two minutes.  Townson's cover of the Jackie DeShannon-penned hit for The Searchers, "When You into The Room," launches with a play on Ringo's great intro drum beat from The Beatles' "Ticket to Ride," while his cover of the Little Eva then Grand Funk hit, "The Locomotion" is pure retro SoCal surf of the early 60s, something that could've come from the catalog of mighty The Ventures or The Trashmen.
Townson's reimagining of Barbara Lewis' 1963 R&B smash, "Hello Stranger" is one of my favorites and the most ambitious arrangements on the disc. It has an almost Space Age Bachelor pad vibe, with swirling organ and soft reeds (flutes and oboe?) that sound like a Brian Wilson Pet Sounds outtake.  Spanish modes a la Los Straitjackets drive "Aztec," while guesting background vocalists and a growly sax add pure fun to the straight-ahead surf of "Goin' Wild" and "Go Go Power."
On all these tracks, Townson is a master of taste, restraint and tone, the latter which must emanate from a garage-full of vintage gear and whole bunch of vintage vinyl digestion.  The covers give you another reason to love these wonderful songs, and add Townson's takes on them to your playlist.  And his originals are all faithful to the era that he obviously loves – a gentler, kinder time when you could take on the world armed only with the sweet twang and reverbed roar of a Fender Strat and Twin Reverb. 
Key Tracks: Off and Running!, When You Walk into The Room, The Locomotion, Hello Stranger