For those looking for some great live music to round out the summer, the Catskill Mountain Jubilee music festival is coming to East Durham, NY from August 12-14, 2021.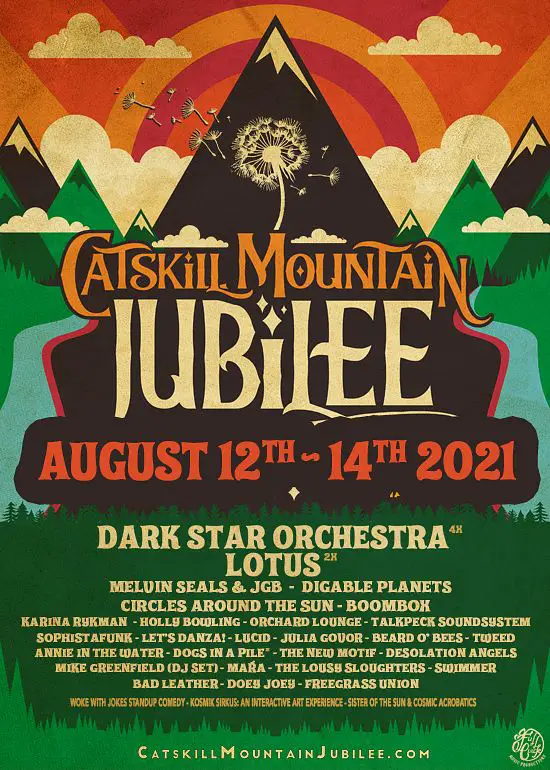 The Jubilee will take place at Blackthorne Resort, less than an hour south of Albany and less than three hours north of the NYC metro area. A few days in the Catskills is sure to be a fun escape, complete with the festival's strong lineup of many fan favorite artists.
Just announced additions to Catskill Mountain Jubilee include CIA (Clay Parnell, Ian McGuire and Allen Aucoin), Reed Mathis and Todd Stoops, TalkPeck SoundSystem – A tribute to Talking Heads, LCD SoundSystem and Vulfpeck (Jon Barber, Matt McNulty, Allen Aucoin, Mike Greenfield, Avery Acevedo, Miles Livolsi, Todd Stoops, Jeff Borg, Lowell Wurster).
Headliner Dark Star Orchestra covers both popular hits and deep cuts from the Grateful Dead's extensive catalog. Boasting over 3000 shows under their belt, DSO puts on an enjoyable musical experience for all ages. The Chicago band has featured guest performances from six original Grateful Dead members and even toured with longtime Dead soundman, Dan Healy.
Other headliner Lotus is an instrumental jam band based in Philly/Denver. Lotus blends many different genres in their groovy improvisation, including flares of funk, electronic dance music with an underlying rock sound. Their new studio album, Free Swim, comes out August 21.
There are dozens of other exciting acts to catch at this inaugural Jubilee. The team frequently shares news on their Facebook and there is a newsletter signup on their website to keep up with any updates.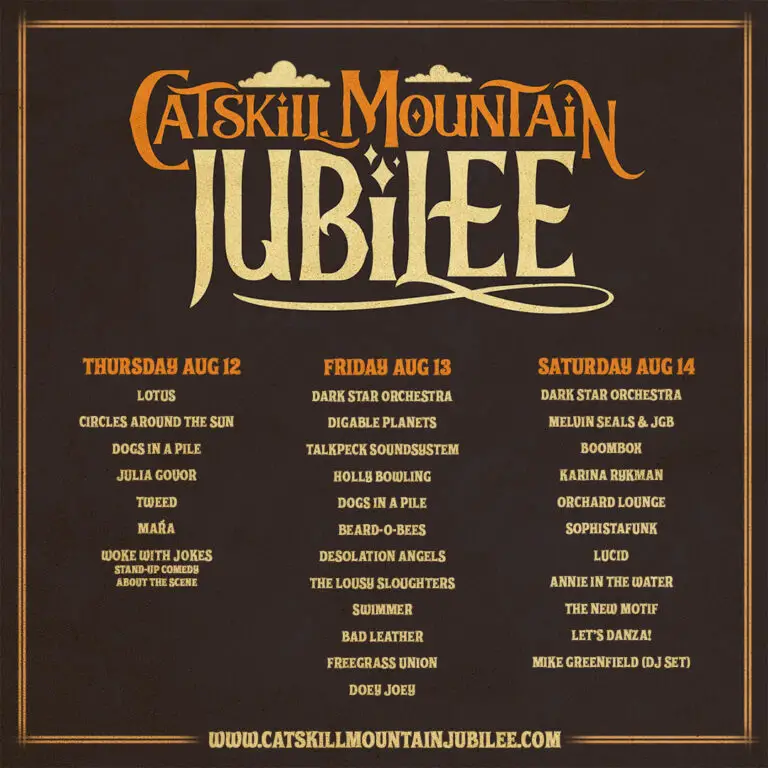 The festival will be home to over 25 musical acts whose style range from Grateful Dead rock-n-roll and hip-hop to livetronica, reggae and house music. This lineup is truly a collection of quality musicians who historically offer only the highest quality of performances, and we're grateful to have each and every one of them joining us for the first ever The Catskill Mountain Jubilee.

Catskill Mountain Jubilee Team
Tickets are available for purchase now with options for two and three day general admission passes. Lodging packages are currently fully booked.