Update – 7:57pm, August 21, 2021 – Rolling Stone Magazine reports the 'We Love NYC' mega concert has been canceled due to inclement weather.
New York's all-star 'We Love NYC: The Homecoming Concert' has officially been canceled due to inclement weather, organizers confirm to Rolling Stone.

— Rolling Stone (@RollingStone) August 21, 2021
The Central Park mega concert announced on last month, in celebration of New York reopening and pulling back COVID-19 restrictions, now has a lineup. Paul Simon, Jennifer Hudson and Bruce Springsteen will headline the concert. The show is tentatively set for August 21, 2021 on the Great Lawn. 

Mayor Bill de Blasio is planning this mega concert that will host multiple acts. Clive Davis has been chosen by the mayor to pull this mega concert together. Davis is a well known 89-year-old producer and music-industry eminence. Davis has quite a career that has spanned over five-decades. He has worked with big names like Janis Joplin, Bruce Springsteen, Aretha Franklin, Alicia Keys and Whitney Houston. He has hosted the Grammy Gala annually since 1976.
It's going to be one of the greatest Central Park concerts in history. This is something you do not want to miss. This is something for the ages.

Mayor Bill de Blasio
The New York Times had said Davis "is aiming for eight 'iconic' stars to perform a three-hour show for 60,000 attendees and a worldwide television audience." Some details on the event have been released though including it taking place at the Great Lawn, Live Nation will be involved with the production, and the majority of tickets will be free, although there will be some V.I.P. seating. 70% of all tickets will go to those who have received their COVID-19 vaccination.
The Great Lawn at Central Park has hosted lots of famous concerts in it's time. Some of the big names include Carole King who serenaded 70,000 people there in 1973. Elton John played back in 1980 and the following year Simon & Garfunkel reunited for an estimated 400,000 people. Diana Ross performed in 1983, Luciano Pavarotti in 1993 and the Dave Matthews Band in 2003.
The show is supposed to feel like a homecoming to New York City after the pandemic that has been gripping the world for the last year and a half. In an interview, Mayor Bill de Blasio said that, "This concert is going to be a once in a lifetime opportunity. It's going to be an amazing lineup. The whole week is going to be like nothing you've ever seen before in New York City."
The concept for the Central Park mega concert came to fruition recently. Davis said that the mayor called him three weeks ago and asked him to present a show in partnership with the city that would celebrate New York's reopening and emphasize the need to vaccinate more young people.
It is going to be a great moment for the city, marking our rebirth, marking our comeback. We're very excited, and it's going to be a historic event, to say the least.

Mayor Bill de Blasio
More details will be shared in coming weeks for the August 21 mega-concert. Stay tuned to NYS Music!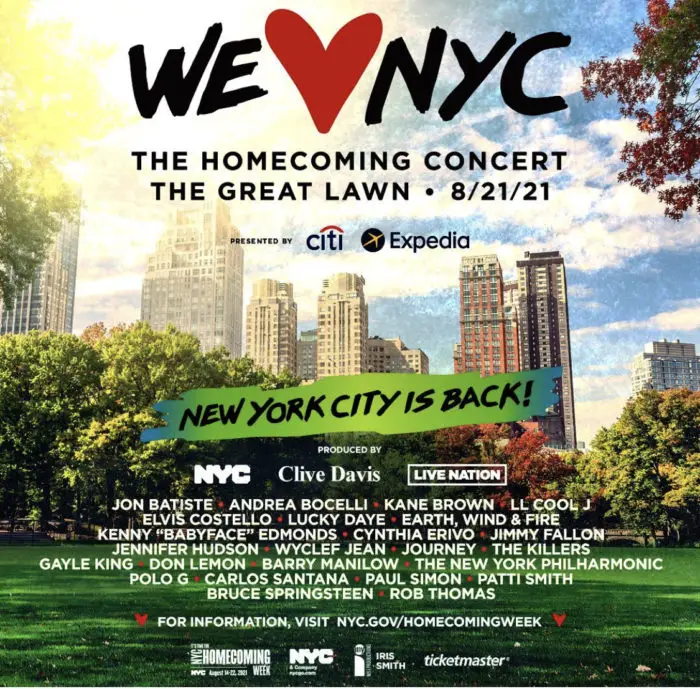 Update July 27, 2021: The full lineup was announced on July 27, 2021 by Mayor Bill de Blasio, Clive Davis, Live Nation/NYCEDC chair Danny Meyer. The free mega-concert will be taking place on the Great Lawn in Central Park on Saturday, August 21. Although Bruce Springsteen, Jennifer Hudson and Paul Simon were hinted as being the headliners previously now the expanded lineup has also been announced and includes big names like Jon Batiste, Andrea Bocelli, Kane Brown, LL COOL J, Elvis Costello, Lucky Daye, Earth, Wind & Fire, Kenny "Babyface" Edmonds, Cynthia Erivo, Jimmy Fallon, Wyclef Jean, Journey, The Killers, Gayle King, Don Lemon, Barry Manilow, The New York Philharmonic, Polo G, Carlos Santana, Patti Smith, and Rob Thomas.