Motörhead are one of the great metal bands of legend, with a long history of playing multiple gigs throughout the State dating back to their first US tour in 1981: New York City, Poughkeepsie, Rochester, Syracuse, Buffalo – these cities saw numerous Motörhead gigs in the years the band toured America.  Not Albany.
Oddly, this 2000 gig at Northern Lights remains the only headline show Motörhead ever played in the Albany/Saratoga area, EVER, in 40 years of being a band, almost 35 years of touring America.  I don't count Poughkeepsie in that – 1.5 hours south of Albany, a much smaller city, yet they first played there in 1981 on the 'Ace of Spades' tour opening for Ozzy, played again in '83 headlining with Robbo, and played The Chance and Mid-Hudson Civic Center many, many times since.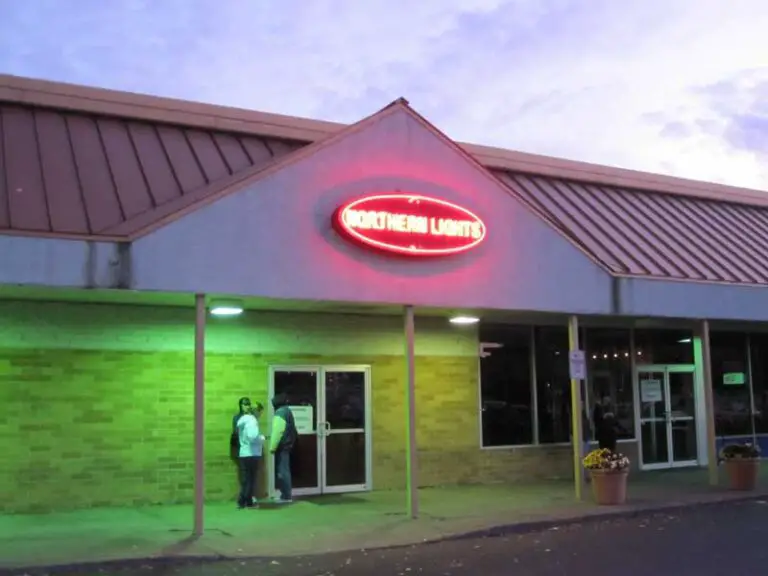 Lemmy and the boys played lots of times, in little, backwater Poughkeepsie, but they've hardly ever played in the much bigger Albany area (the only other times were opening for Ozzy at SPAC in '92 – Mikkey Dee's first-ever gig with Motörhead – and more recently at Glens Falls with Megadeth and SPAC with Slayer, both in 2012). Albany was rarely blessed with Motörhead.  You almost always had to road-trip.
Anyway, this was a cool bill. Speedealer opened (original name: REO Speedealer, until the classic rock band threatened suit), a band I've seen a few times, with Fu Manchu and (several times) The Supersuckers. Good band, noisy and punky, and they were good this night.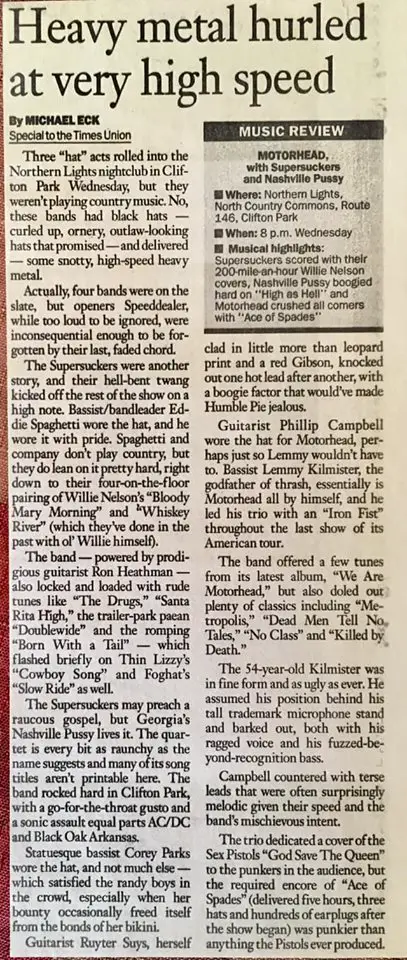 The Supersuckers, one of my favorite bands, played next. At the time they were pushing the fantastic 'Evil Powers of Rock'n'Roll' album, one of their best. I'd discovered them around the time of their 'Sacrilicious' album, but this was the first time (of many) I'd seen them. This was still the 'classic' Eddie/Rontrose/Thunder/Dancing Eagle lineup, and they crushed. Played like 15 songs in 40 minutes, one after the other, short, fast, no-nonsense real punk-metal-rock with a few funny stage raps from Eddie.
I don't know why more metal fans don't worship this band.  It was a well-balanced set, mixing new 'Evil Powers' songs (the set-opening title track, "Santa Rita High", "I Want the Drugs", "Gone Gamblin"), with some older blazers ("Beat to Shit", "Doublewide", "She's My Bitch", "Creepy Jackalope Eye", "Mudhead"), a few covers (WILLIE NELSON's "Bloody Mary Morning" and "Whiskey River", and a tease of THIN LIZZY's "Cowboy Song") before the concluding Satanic headbanging glory of "Born with a Tail".  Fantastic band, killer opening set.
Nashville Pussy followed. Liked the 'Double Live Gonzo'-inspired name, fun album titles like 'Let Them Eat Pussy' and their fuck-off attitude, but the music never caught me.  So, never really a fan of this band, don't dig the vocals, but I remember they did play AC/DC's "Kicked In The Teeth", which is a great cover choice, and everyone who was there remembers clearly inebriated bassist Corey Parks' boobs repeatedly falling out of her tank top. Other than that: eh.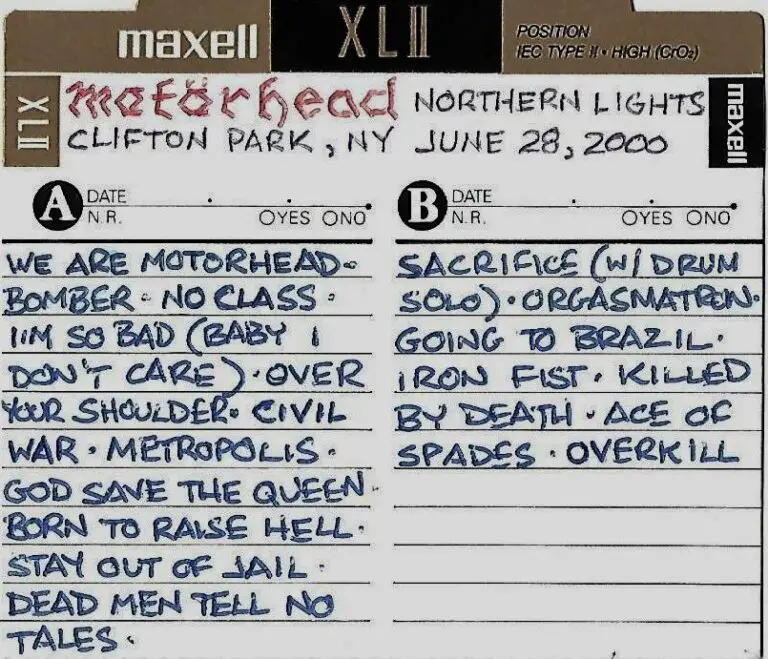 Motörhead of course then went on and conquered all. My recall is that the place was not anywhere near empty, but not packed to the rafters either. Maybe this is why Motörhead never play headline gigs here.
This was the 'We Are Motörhead' tour, a great album. The title track is one of my favorite Motörhead songs and a great opening number. In 2000 they were still playing a fair amount of 'newer' (i.e. post-1990) Motörhead songs, whereas by the end in 2015 they'd gone to the majority of the set being Fast Eddie-era stuff, which of course is some of the most classic metal ever, but leaves aside some great stuff. The cool 'deep album' track for the show was "Dead Men Tell No Tales", but they played many post-Eddie songs (a roaring "I'm So Bad (Baby I Don't Care)", "Over Your Shoulder", "Civil War", "Born to Raise Hell", "Stay Out of Jail", "Sacrifice", "Going to Brazil"), plus a slew of neck-snapping expected classics: "Bomber" and "No Class" early on, "Dead Men" and an all-conquering "Orgasmatron" mid-set, and the face-removing "Iron Fist" and "Killed by Death" to conclude the regular set, with "Ace of Spades" and "Overkill", as always the usual encore songs.  It was LOUD.  Lemmy presided over all like the undisputed king of volume and unassailable cool he was.  He is missed.  All hail the late, great Lem, and the almighty Motörhead.
Setlists
Supersuckers – Evil Powers of Rock'n'Roll, Santa Rita High, Luck, Beat To Shit, I Want The Drugs, Doublewide, Creepy Jackalope Eye, Mudhead, Gone Gamblin', She's My Bitch, How To Maximize Your Kill Count, Bloody Mary Morning, Whiskey River, Born With a Tail
Nashville Pussy: Struttin' Cock, Piece of Ass, Wrong Side of a Gun, 5 Minutes to Live, High as Hell, Shoot First and Run Like Hell, She's Got the Drugs, Go to Hell, Kicked in the Teeth, I'm the Man, Go Motherfucker Go
Motörhead: We Are Motörhead, Bomber, No Class, I'm So Bad (Baby I Don't Care), Over Your Shoulder, Civil War, Metropolis, God Save The Queen, Born To Raise Hell, Stay Out Of Jail, Dead Men Tells No Tales, Sacrifice/Drum Solo, Orgasmatron, Going To Brazil, Iron Fist, Killed By Death, Ace of Spades, Overkill