The Schalmont School District recently shared on their Facebook page this week that legendary glam rocker Gene Simmons virtually met with high school students on June 16.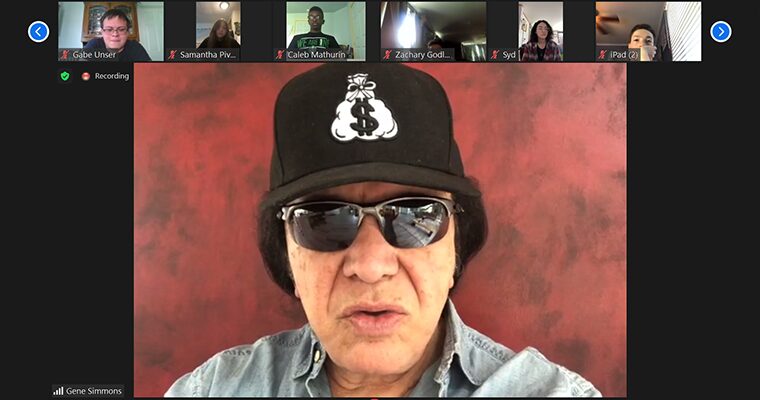 Once a New York City teacher himself, Simmons agreed to spend 30 minutes with the Schalmont rock history students to answer some questions. He ended up speaking for over an hour giving advice, sharing stories and engaging in jovial conversation.
The virtual meeting came together with the help of Schalmont High Senior Gabe Unser, who looked up the musician on his website.
I found a media contact online and said 'I don't know if I can ask this but we have a History of Rock Music class and we were wondering if Gene would be able to talk to our class.' She replied he'd be happy to.

Gabe Unser
According to Unser's teacher, Robert Renzi, Simmons does not usually answer to inquiries but was moved by the message and decided to take the opportunity.
Simmons recalled how committed he and the rest of KISS was to practicing endlessly in their small New York City apartment. He simultaneously worked various jobs during that time, including teaching 6th grade.
Simmons' key piece of advice was to ignore the naysayers and do what you love. But, he was quick to say to not quit your day job in the process. Simmons also noted he has never drank alcohol or used illegal drugs and encouraged students to do the same.
The thing we did right is we did what we envisioned and put together a band we had never seen on stage before.

Gene Simmons
When a student asked if they could get autographs, or at least for their teacher as a retirement gift, Simmons agreed to send each person an autograph. He ended the meeting by telling students they could do anything if they put in the time and encouraged them not to be afraid of failure.
This is not the first time Simmons got in touch with his teacher side. While filming his reality show, Gene Simmons Family Jewels, he visited public school music charity organization, Little Kids Rock.
Simmons ditched his celebrity status in the clip, interacting with the children one-on-one, sharing valuable advice similar to his meeting with the Schalmont students, and even playing bass along with them. Simmons teamed up with Fender to donate guitars and other musical supplies to the charity before he left.
After multiple decades and a successful music career, it seems Simmons never really quit his teaching day job!