Amy Helm will release her third album, What the Flood Leaves Behind, on June 18 through Renew Records/BMG.  Helm, the daughter of The Band's legendary vocalist and drummer Levon Helm and singer-songwriter Libby Titus, has successfully stepped out from behind of her parent's considerable musical shadows and has successfully staked her own claim in the highly competitive music industry.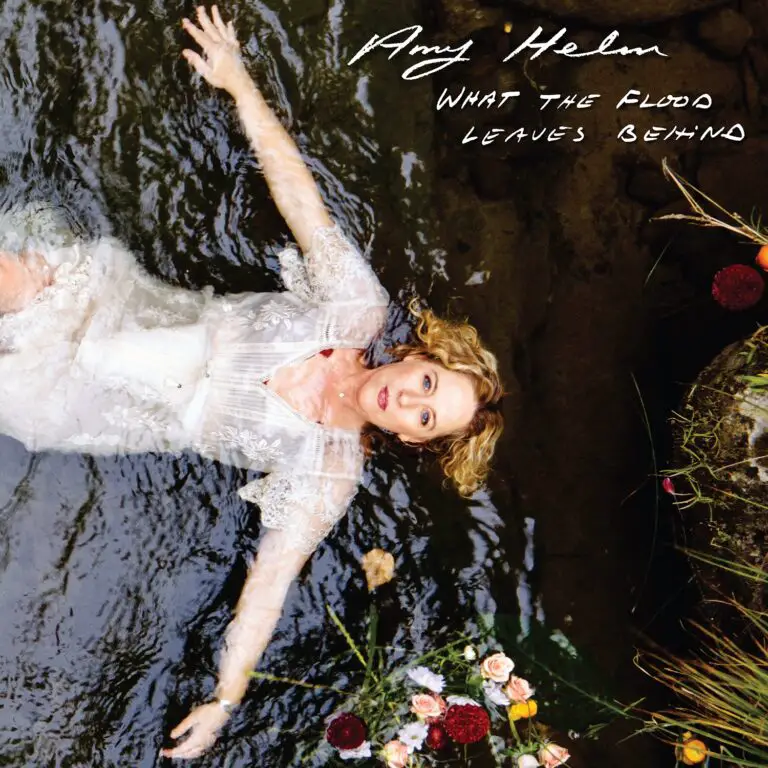 Helm's success comes from honing her craft and paying her dues as a founding member of folk group Ollabelle and additionally as a longtime member of The Midnight Ramble Band. The culmination of Amy's hard work and experience is apparent on this gem of a record which consists of ten tracks of new and reimagined material.  
What the Flood Leaves Behind was recorded at the historic Levon Helm Studios located on Amy's home turf of Woodstock, NY.  She also enlisted a group of incredibly talented players to contribute to WTFLB including Kaufman and Phil Cook (keys, harmonica), Michael Libramento (bass, organ, percussion), Tony Mason (drums), Daniel Littleton (guitar), Stuart Bogie (saxophone), Jordan McLean (trumpet), and her son Lee Collins (congas). Helm describes the experience of creating the album at the studio that her father built as a cathartic homecoming.
Going back to the place where I learned so much about how to express music, how to hold myself in music, how to listen to music," she begins, "it was humbling in a funny way. I could see clearly where I came from and where I am now in my life. I was singing from a different place now and for a different reason.

Amy Helm
Produced by Josh Kaufman, whose credits include working with an eclectic roster of musicians that includes Bobb Weir, Taylor Swift and the Hold Steady, WTFLB reflects a creative working partnership that fits like a glove between Helm and Kaufman. The evidence of this successful collaboration is apparent in adept and deft way that Kaufman focused on Helm's vocal ability, showcasing it as a major focal point on the record, he explains.
I wanted her to feel like she had that freedom to be herself on the recordings and she just filled up the whole room. Her singing was coming from this deeply rooted place of family and music and wanting to convey a beauty.

Josh Kaufman, producer of What The Flood Leaves Behind
This philosophy is executed brilliantly on "Verse 23," the first track on WTFLB, which is a soulful ballad from which the album derives its title.  The lyrics of the song evoke a rich religious sentiment that when beautifully delivered by Helm's ethereal voice. The results are sublimely divine. 
WTFLB is steeped in fusion of traditional roots, gospel and contemporary music.  This is probably most evident on the nineth track of the LP "Terminal B." The tune starts with Amy playing mandolin, which sets the sonic stage for the piece, which then leads into an organ accompaniment provided expertly by Libramento. The marriage of these instruments transports the listener to a front pew at a rural church service in Anywhere, USA. Lyrically it describes a remembrance of a fleeting Californian love affair that, retrospectively, one could look back on fondly. 
"Cotton and the Cane," WTFLB's third number also has a southern sleepy gospel feel to it. Injected with a heavy dose of Hammond Organ, this updated version of a fan favorite is a departure from previous renditions and is a fitting tribute to Helm's father Levon. It is a definite highlight of the record.
Amy Helm will be touring this summer in support of What the Flood Leaves Behind, kicking off with a pre-release live stream webcast scheduled for June 17. This will then be followed up by a sold out record release event at the Levon Helm Studios on June 19.
Key Tracks: Carry It Alone, Cotton And The Cane, Terminal B