On Sept 29, multi-faceted folk-rockers The Accidentals will kick off a long-awaited U.S. tour. Joined by their friend and collaborator Sawyer Fredericks, this co-bill tour will take the female-fronted, multi-instrumentalist power trio throughout the Midwest before heading east through New York and down into the Southeast.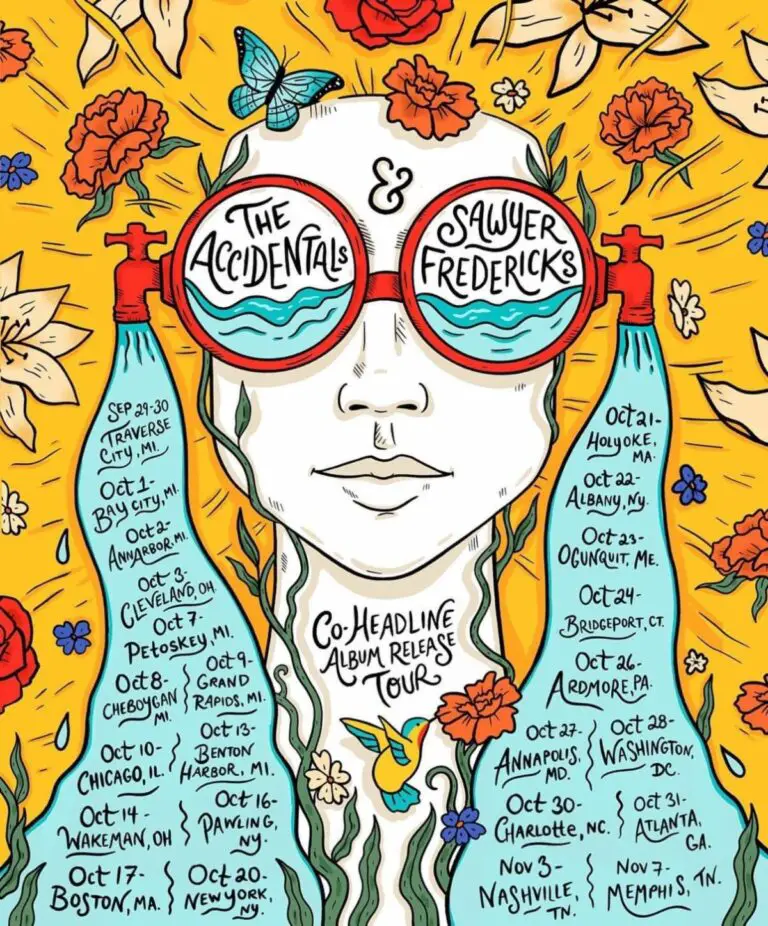 The Accidentals—Sav Buist, Katie Larson, and Michael Dause—are touring in support of their upcoming release Vessel, which is due out Oct 1. 
This tour is not the first time The Accidentals have collaborated with Fredericks. The Accidentals' Larson and Buist contributed two songs to Fredericks' recent Flowers For You album—"Lies You Tell" and "Days Go By"—and were also featured in the video for "Lies You Tell." 
"The Accidentals have great energy on stage and a very driven work ethic," says Fredericks. "In addition to the fun of touring with good friends, I also feel I will learn and grow a lot through working with them." Fredericks will perform solo from the first date in Traverse City, MI, until his band joins him at Chicago's City Winery for the duration of their tour.  
Fredericks hails from his family farm in central New York State. At the age of 13, he played local farmers markets, open mics, and iconic New York venues like Caffe Lena, the Towne Crier Cafe, and The Bitter End. At 15, with his deep, beyond-his-years original lyrics and melodies, raw, soulful vocals, and powerful live performances, he won season 8 of NBC's The Voice. 
Fredericks went forward with the release of his major label debut, A Good Storm, with Republic Records, an impressive blend of soulful Folk, blues, and rock. In 2018, after choosing to go independent, for more creative freedom, Hide Your Ghost was released, fully written and produced by Fredericks. Shedding the high gloss major label treatment, and staying true to Fredericks's honest and elegantly stripped down style, a self-described "free range folk", incorporating elements of blues, roots rock, and jazz with live instrumental arrangements throughout. 
May 1, 2020 Fredericks released his 4th album, Flowers For You. Two songs from Flowers For You won top awards from the 18th annual Independent Music Awards, "Born" won in the Folk/Singer-Songwriter category and "Amen" won the Vox Pop award in the Social Action Song category. "Born" was recently officially added to SiriusXM's Coffee House channel.
Female-fronted, multi-instrumentalist power trio, The Accidentals, (Sav Buist, Katie Larson, and Michael Dause) kicked off 2018 with the release of their debut album, Odyssey, with Sony Masterworks. They followed the album release with two-hundred days of touring nationally, seventeen festivals, sync placement with Turner Classic Movies and FOX sports, and a RAM Trucks BANDvan #tourtough commercial. 
In 2019, The Accidentals released a self-titled live album and toured the UK; all while scoring an indie film, teaching workshops across the country, playing with symphonies, and recording new music. In their downtime Sav and Katie are making a name for themselves as a go-to Nashville string team, composing, arranging, and playing string tracks for bands like BTS, Keller Williams, Flint Eastwood, etc. 
Catch The Accidentals and Sawyer Fredericks on Tour:
9/29 – Traverse City Opera House – Traverse City, MI * 
9/30 – Traverse City Opera House – Traverse City, MI *
10/1 – State Theatre – Bay City, MI *
10/2 – The Ark – Ann Arbor, MI *                         
10/3 – Beachland Tavern – Cleveland, OH *                        
10/7 – Great Lakes Center For The Arts (Blissfest) – Petoskey, MI *  
10/8 – Cheboygan Opera House (Blissfest) – Cheboygan, MI *
10/9 – Calvin University – Grand Rapids, MI *
10/10 – City Winery – Chicago, IL
10/13 – Lake Michigan College Mendel Center – Benton Harbor, MI
10/14 – Riverdog Concert Series – Wakeman, OH                       
10/16 – Daryl's House – Pawling, NY 
10/17 – Club Passim – Boston, MA                                   
10/20 – City Winery Loft – New York, NY                            
10/21 – Gateway City Arts – Holyoke, MA 
10/22 – The Linda – Albany, NY                                                 
10/23 – Jonathon's – Ogunquit, ME                                                          
10/24 – Voices Cafe Presents @ The Bijou – Bridgeport, CT        
10/26 – Ardmore Music Hall – Philadelphia, PA  
10/27 – Ramshead Tavern – Annapolis, MD                                            
10/28 – City Winery Main Room – Washington DC             
10/30 – Evening Muse – Charlotte, NC                      
10/31 – City Winery Main Room – Atlanta, GA          
11/3 – City Winery Main Room – Nashville, TN                       
11/7 – The Quonset – Memphis, TN
*Sawyer Fredericks solo opening set
For information on tickets and more, please visit theaccidentalsmusic.com.