Andy Frasco and The U.N. have announced their 2021 US tour dates, taking their live act across the country this fall. To open each night, Andy is featuring the World Saving Local Talent Search – a variety show searching for each city's most talented Frasco fans, hosted by Nick Gerlach.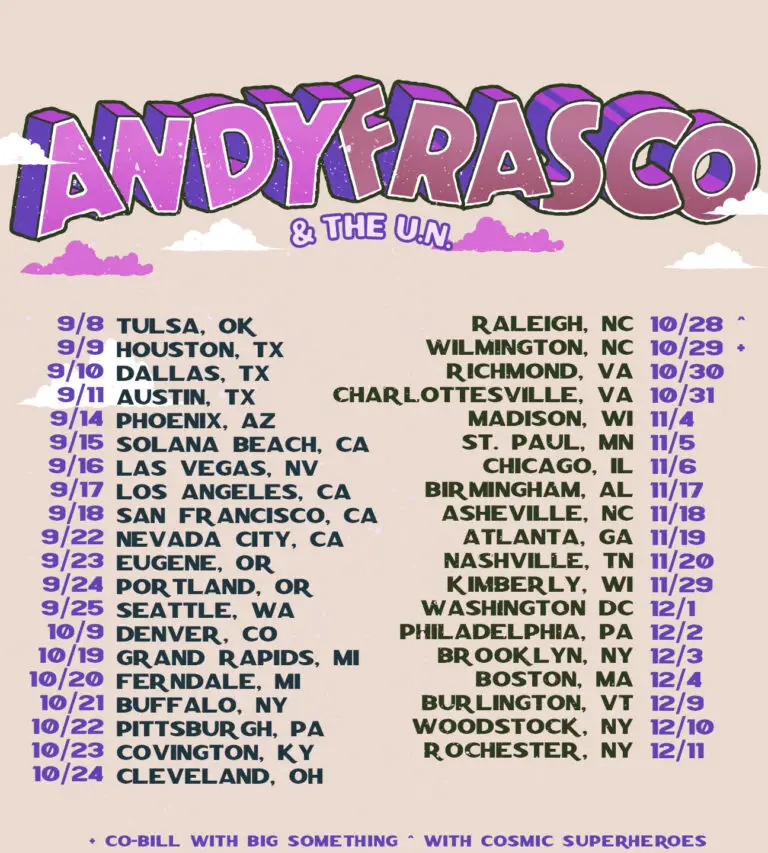 Andy Frasco & The U.N. have released a series of acclaimed records, share bills with the likes of Leon Russell, Galactic, Gary Clark, Jr., The Revivalists, and Marcus King among others, and slay festival stages everywhere from Mountain Jam in the U.S. to Rock am Ring in Germany and COTAI Jazz & Blues in China.
Frasco began writing poetry that eventually became songs. He wrote about despair and anxiety, about friendship and growth, about accountability and potential, transforming the poems into defiant rock and roll anthems. These songs became his most recent album 'Keep On Keeping On' released at the beginning of the pandemic in April of 2020.
Like many, the pandemic hit Andy hard. He was once again feeling that 'breaking point' and he quickly transformed his high energy road show into a year long digital blitz of new music, a 33 episode variety show (Andy Frasco – "World Saving Sh*tshow") which garnered 20 millions views, a digital Dance Party and Andy further developed his Andy Frasco's World Saving Podcast. His variety show and podcast included interviews and musical performances by many notable guests such as Tony Hawk, Kurt Vile, Nathaniel Rateliff, Kamasi Washington, Pigeons Playing Ping Pong and more.
Additionally, Frasco recently scored 'The Great Depresh,' an HBO documentary about Gary Gulman exploring the comic's struggles with depression that was produced by Judd Apatow and directed by Mike Bonfiglio). This summer, Frasco will perform at multiple summer festivals including Summer Camp, FloydFest and hopefully many more to be announced.
9/8: Cain's Ballroom – Tulsa, OK
9/9: Last Concert Cafe – Houston, TX
9/10: Deep Ellum Art Co – Dallas, TX
9/11: Antones – Austin, TX
9/14: Rebel Lounge – Phoenix, AZ
9/15: Belly Up – Solana Beach, CA
9/16: Jammin' On – Las Vegas, NV
9/17: Lodge Room – Los Angeles, CA
9/18: The Chapel – San Francisco, CO
9/22: Crazy Horse Saloon – Nevada City, NV
9/23: Sessions – Eugene, OR
9/24: Mississippi Studios – Portland, OR
9/25: Tractor Tavern – Seattle, WA
10/9: Ogden Theatre – Denver, CO
10/19: Elevation – Grand Rapids, MI
10/20: The Magic Bag – Ferndale, MI
10/21: Iron Works – Buffalo, NY
10/22: Spirit Hall – Pittsburgh, PA
10/23: Madison Theatre – Covington, KY
10/24: Beachland Ballroom – Cleveland, OH
10/28: Lincoln Theatre – Raleigh, NC
10/29: Greenfield Lake Amphitheater – Wilmington, NC*
10/30: Broadberry – Richmond, VA
10/31: The Southern – Charlottesville, VA
11/4: High Noon – Maidson, WI
11/5: Turf Club – St. Paul, MN
11/6: Thalia Hall – Chicago, IL
11/17: Saturn – Birmingham, AL
11/18: Salvage Station – Asheville, NC
11/19: Terminal West – Atlanta, GA
11/20: Basement East – Nashville, TN
11/29: Tanners – Kimberly, WI
12/1: Union Stage – Washington, DC
12/2: The Foundry – Philadelphia, PA
12/3: Warsaw – Brooklyn, NY
12/4: Brighton Music Hall – Boston, MA
12/9: Higher Ground – Burlington, VT
12/10: Bearsville Theatre – Woodstock, NY
12/11: Anthology – Rochester, NY
* co-bill with Big Something
To listen to the album "Keep On Keepin' On" including the singles "Love Hard" and "Feel It In Our Bones" follow the links.
Watch the band's Brooklyn Bowl Performance on Facebook. 
For more info on Andy Frasco, visit his website or follow his Facebook, Twitter, Soundcloud, YouTube, and Instagram.