Brooklyn Made, a brand-new music venue in Bushwick, will open this fall. Former Live Nation New York President Anthony Makes announced the launch of Brooklyn Made Presents, a concert promotion company, in the summer of 2020. This new addition of the company, a 500-capacity club, will see its first show September 30, with a performance by Jeff Tweedy.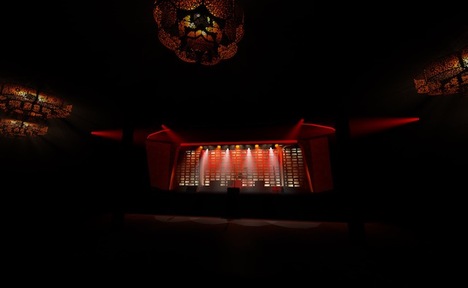 Located at 428 Troutman Street in the heart of Bushwick, Brooklyn Made will be a state-of-the-art music venue with lighting design by Jeremy Roth (whose credits include work with Wilco, Nathaniel Rateliff, and Mazzy Star) and sound by D&B Audiotechnik, including the Soundscape 3D object-mixing and room emulation platform.  
This venue is truly the headquarters for Brooklyn Made Presents. Myself and my partner Kelly Winrich wanted to create the most amazing club and I know we've accomplished this with Brooklyn Made. The bells and whistles with this place are so far ahead of anything we've ever seen and we know – every single artist and fan that comes here – is going to be blown away by the experience.

Anthony Makes
Connected to the music room is a bar called Connie's which features a horseshoe-shaped bar along with a pool table. The bar is sure to be not only the pre but the post hang spot for fans coming to Brooklyn Made. Connie's also has access to an outdoor courtyard along with a second level roof deck for taking your food and drinks outside. The bar will be open until 4 am, even on non-show days.
Right next door to the venue will be a café called Standing Room which will open at 7 am as a coffee house/café with pastries and breakfast and then turn into a cocktail/wine/tapas bar with a full kitchen in the afternoon until late into the evening. Outdoor seating will be available here as well.
Performers at Brooklyn Made will have exclusive access to a myriad of amenities, including a second level carriage house, private outdoor swimming pool, and multiple roof decks offering unobstructed panoramic views of the Manhattan skyline. There is also a lower level VIP area has a private bar and pool table.
Having played venues and festivals of all sizes across the world, there are a handful that really stick out. Our aim is to make sure all artists that come through our rooms have an unforgettable experience. From hospitality, to sound, to lights – we want it all to be next level.

Kelly Winrich, Delta Spirit band member
Jeff Tweedy will open the club with a special two-night run of shows on Sept 30 and Oct 1 followed by Greg Dulli on Oct 2 and Trombone Shorty & Orleans Avenue on Oct 4 and 5. Tickets for all of these shows will go on sale at noon on June 11.  
Brooklyn Made has partnered with the mobile ticketing platform DICE for the club's events. Along with purchasing tickets, the waitlist technology allows fans who were unable to get tickets during the initial on sale with another shot at it. If a fan can't attend a show after purchasing their ticket, they can request a full refund which allows the tickets to go on sale for the next person in the waitlist line.  
For more information visit Brooklyn Made Presents website or follow them on their social medias: Instagram, Twitter, or Facebook. For specific information about Bushwick follow their Instagram, Facebook, and Twitter.
UPCOMING BROOKLYN MADE SHOWS
September 30                           Jeff Tweedy
October 1                                 Jeff Tweedy
October 2                                 Greg Dulli
October 4                                 Trombone Shorty & Orleans Avenue
October 5                                 Trombone Shorty & Orleans Avenue
October 6                                 Okkervil River (Solo) & Damien Jurado
October 7                                 Spirit Of The Beehive
October 12                               Turnover
October 13                               Turnover
October 14                               Ron Gallo / Becca Mancari
October 15                               Robert Finley 
October 16                               Steve Earle
October 17                               A very special solo acoustic evening with Nathaniel Rateliff
October 18                               Band Of Horses
October 19                               Band Of Horses
October 20                               Band Of Horses
October 22                               City Of The Sun 
October 23                               Jesse Malin
October 28                               Menahan Street Band
October 29                               Budos Band
October 30                               Budos Band
November 3                             Whitney
November 4                             Whitney
November 6                             Aqueous
November 9                             Alejandro Escovedo
November 12                           Surfer Blood
November 13                           Luna
November 18                           Brandon "Taz" Niederauer
November 20                           The Soul Rebels
December 10                            Moon Hooch
December 31                            Guided By Voices (Special New Year's Eve Show)
January 22                               Fu**ed Up
February 4                               Memba
February 5                               Aaron Frazer
March 15                                 Reigning Sound
April 23                                   El Ten Eleven
May 19                                    Reigning Sound