Arizona jam band Spafford will make their way through New York on their Fall Tour, with a stop on October 28 at Buffalo Iron Works. After COVID-19 derailed live music in 2020, Spafford presents a renewed appreciation for life and live music, with a fall like never before.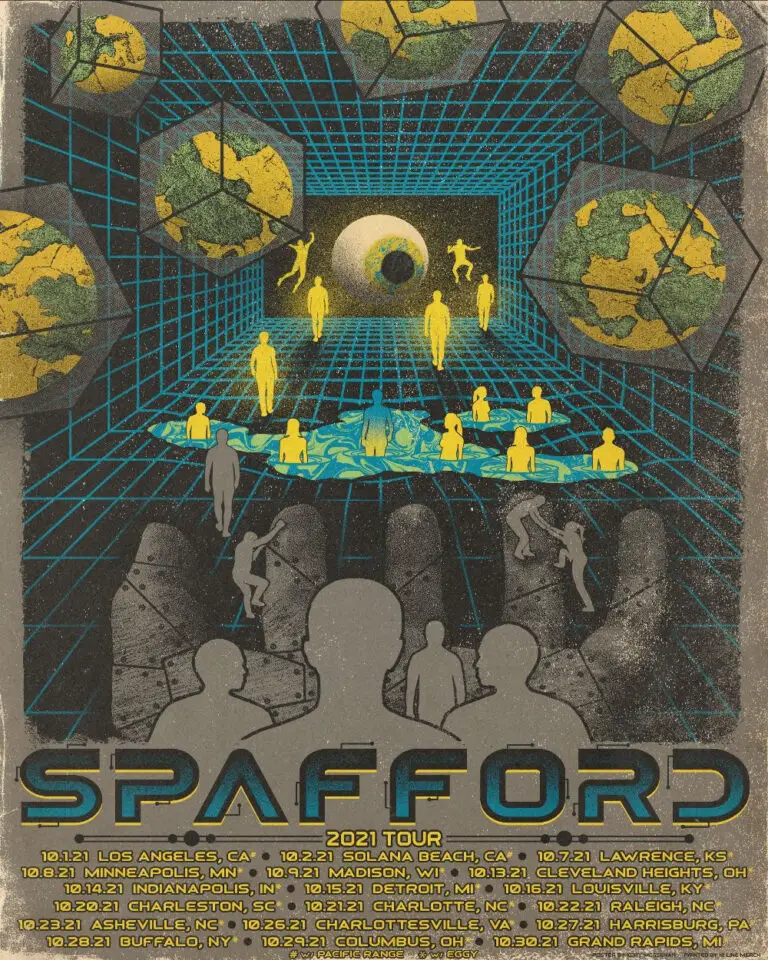 After a deadly pandemic revived our collective gratitude for music and togetherness, Spafford is incredibly grateful for the patience and constant support of their dedicated listeners and couldn't be more ready to bring new energy to each and every performance.
We've been very busy this last year and have taken the time to redefine ourselves, our music, and our message. We are excited to share the future of Spafford with you and can't wait to see your beautiful faces at a show.

Spafford guitarist Brian Moss
The group's 22-show Fall 2021 tour begins on October 1 at Teragram Ballroom in Los Angeles, before moving throughout the Midwest, Southeast and up the East Coast. The tour features three shows around North Carolina, a two-night run in Milwaukee, WI, culminating in Chicago, IL on November 6th at Park West.
Spafford has solidified themselves among the most creative and hard-traveled bands on the contemporary jam scene. Pairing complex compositions with extended improvisations, the rousing energy of the Southwest-based quartet — Brian Moss (guitar, vocals), Jordan Fairless (bass, vocals), Andrew "Red" Johnson (keys, vocals), and Nick Tkachyk (drums, vocals) — is matched by their outstanding talent, versatility of playing styles, and extensive catalogue of original music and innovative covers. Each Spafford show is a sensory expedition of extended jams — an interplay of lights, tones, cascading melodies, and balance that carries a ceaselessly-dancing crowd through the night.  
General on sale for all Spafford Fall Tour dates, including Buffalo, starts Friday, May 21st at 10:00 am local time. Artist presale tickets via Seated will be available beginning on Wednesday, May 19 at 10:00 am local time through Thursday, May 20 at 10:00 pm local time, using code "ALLIN." To purchase tickets or for more information on specific dates, head to spafford.net/Tour.
SPAFFORD FALL 2021 TOUR DATES 
Oct. 1 – Los Angeles, CA – Teragram Ballroom 
Oct. 2 – Solana Beach, CA – Belly Up Tavern 
Oct. 7 – Lawrence, KS – The Bottleneck
Oct. 8 – Minneapolis, MN – Fine Line
Oct. 9 – Madison, WI – Majestic Theatre  
Oct. 13 – Cleveland Heights, OH – Grog Shop
Oct. 14 – Indianapolis, IN – The Vogue
Oct. 15 – Detroit, MI – The Magic Stick
Oct. 16 – Louisville, KY – Headliners Music Hall
Oct. 20 – Charleston, SC – The Pour House
Oct. 21 – Charlotte, NC – Neighborhood Theatre
Oct. 22 – Raleigh, NC – Lincoln Theatre
Oct. 23 – Asheville, NC – The Orange Peel
Oct. 26 – Charlottesville, VA – Jefferson Theater
Oct. 27 – Harrisburg, PA – Harrisburg Midtown Arts Center
Oct. 28 – Buffalo, NY – Buffalo Iron Works
Oct. 29 – Columbus, OH – The King of Clubs
Oct. 30 – Grand Rapids, MI – The Stache at The Intersection
Nov. 3 – Des Moines, IA – Wooly's
Nov. 4 & 5 – Milwaukee, WI – Miramar Theatre
Nov. 6 – Chicago, IL – Park West