Alejandro Sanz' #LAGIRA is making a comeback in the United States this October. Spain's most international artist will visit 12 cities across the country alongside his grand show produced by Live Nation. One of these shows he is performing at is right here in NYS: Radio City Music Hall.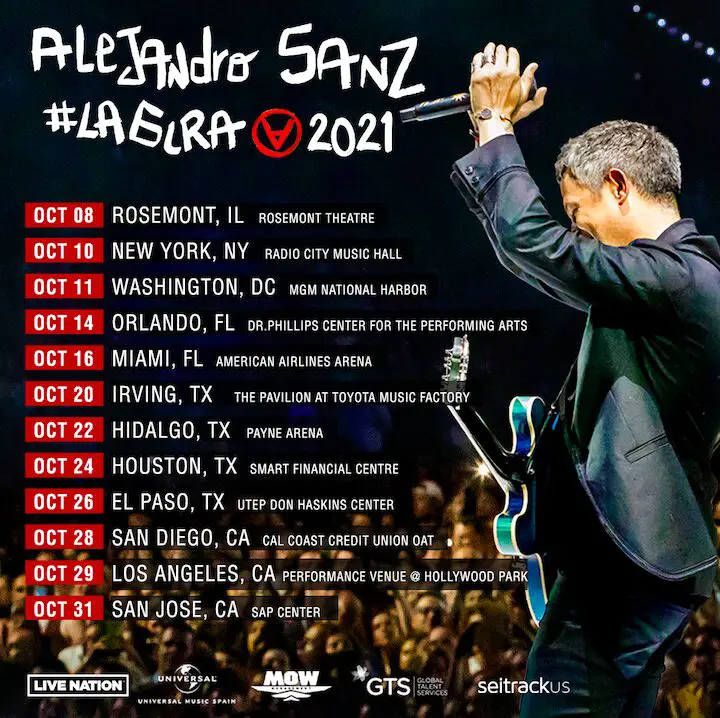 The artist will present his greatest hits as well as songs from his 3x Latin Grammy-winning and Best Latin Album Grammy-winning album, #ELDISCO. #LAGIRA has sold out numerous shows globally, including shows in Spain, the U.S., Mexico, Argentina, and more. Make sure to grab your tickets when they go on sale on April 29 through Sanz's site or Ticketmaster.
Projects Through the Pandemic
Alejandro Sanz has always had a close and unique relationship with his fans. Back in March 2020, Sanz offered a show streamed through a digital platform, #LaGiraSeQuedaEnCasa, alongside Juanes. Sanz was one of the first artists to do so, and the feedback was overwhelming. Nearly 5 million people around the world have viewed the video.
A week after #LaGiraSeQuedaEnCasa release, Sanz released #ElMundoFuera. This song paved the way for the creation of a documentary. People all over the globe were able to come together and share their pandemic stories. Over 4,500 videos were received through this platform and ultimately led to the largest collaborating project by a Spanish-speaking artist. The documentary was Spain's most sold music DVD of 2020 and is also available now on Amazon Prime Video.
Even though 2020 was a hard-hitting year for many, Alejandro Sanz made the best out of a challenging situation. He started off the pandemic with a surplus of well-developed projects and didn't fall short of his successes when the year ended. The international artist received his second consecutive Latin Grammy for Record of the Year. This award added to Sanz's collection of achievements. With 4 Grammy wins, and 25 Latin Grammy wins, Sanz became Spain's most Grammy award-winning artist.