Music is being served up bistro-style at Rochester's Lilac Festival this year. While it's not feasible to host the large open-air concerts the festival has become known for, organizers have found a way to reintroduce music while maintaining safety guidelines. 
Over the course of three weekends in May, they are dishing up sets from Big Blue House, Claudia Hoyser, JUMBOshrimp, acoustic-style Big Eyed Phish, and Mikaela Davis & Southern Star. A Lilac Blues & Soul review closes out the series, featuring Steve Grills and the Roadmasters alongside special guests Joe Beard, Cinnamon Jones, Debbie Kendrick, and Mike D'Aurizio.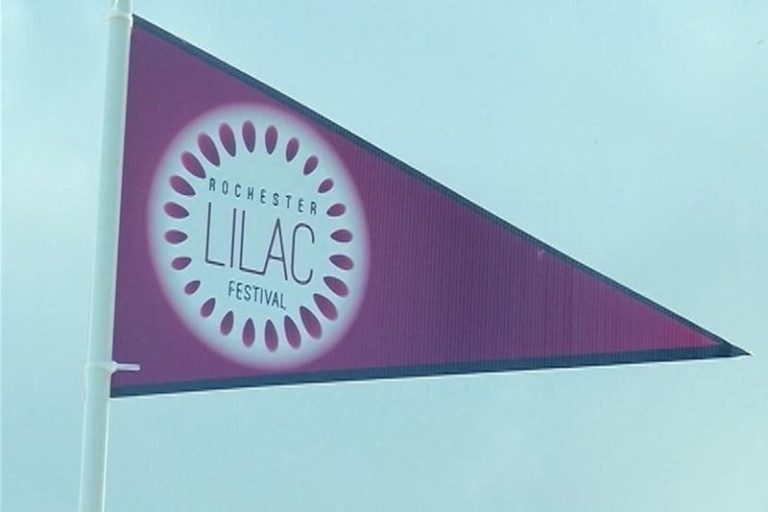 The events take place under an open air tent, where patrons can purchase tables that seat four to six guests. Relax and nosh in a supper-club fashion – tickets include an appetizer to share. Pair it with a wine or bucket of beer, and additional nibbles from a range of local restaurants. The shows on Mother's Day, May 9, are all ages, however the remainder are reserved for guests 21 and over (ID required). Tickets are for each event are available now.
Sunday: May 9, 2021: Mother's Day 
Big Blue House – Session: 11:30am 
Big Blue House is a raucous trio of seasoned musicians with experience in a variety of  genres, merging styles into a unique gumbo of folk, rock, blues, jazz and reggae. Offering a  blend of voices, acoustic rhythm and lead guitar, stand-up bass, and occasional mandolin,  banjo and resonator guitar. We often add percussion and a random horn or harmonica to fill  up the house. Our songs run a broad scope of time and genres but keep a consistency of  musicality, lyricism, imagery and tastefulness. 
Sunday: May 9, 2021: Mother's Day 
Claudia Hoyser – Sessions: 2:45pm 
American Country music artist, social media influencer, and hometown favorite Claudia  Hoyser is bringing it back to her roots at the 2021 Rochester Lilac Festival. Claudia has  blended her neo-traditional sound with social grace; her musical palette evokes
feelings through the gift of modern story or can bring on some dusty edge with barnburner  flair. Just Announced: Claudia will be opening for Toby Keith and Clay Walker at The  California Rodeo in Salinas, CA in 2021. 
On the heels of the success of her 4 chart singles, Claudia will be releasing her full-length  record this summer 2021. Be sure to tune in for her weekly video series "Hoyser Country  Monday" every Monday at 6 pm EST on Facebook. The series has rallied up over 120  million views! Claudia also has her own coffee, "Hoyser Country Blend," which can be found  chain-wide in Tops Markets, Hegedorn's, Herrema's, Breen's and in many local  establishments. 
Friday: May 14, 2021 
Jumbo Shrimp – Sessions: 4pm | 6:45pm 
Founded in 2006, just two guys, ALL LIVE! Tom on Vocals & Guitar. Ian on the  Clamsteamer (a.k.a. Cocktail Drum Kit of his own creation) 
A Rochester favorite, playing local bars, backyards and festivals for the past 15 years  strong. JUMBOshrimp is working hard to be the BIGGEST little band IN THE WORLD (or  Rochester, whichever comes first). While that's a pretty serious goal, you should also know  that they're very serious about not taking themselves very serious. 
JUMBOshrimp plays mostly current music but also mashes in favorite classics, always  committed to engaging their audience, having FUN, making music & friends!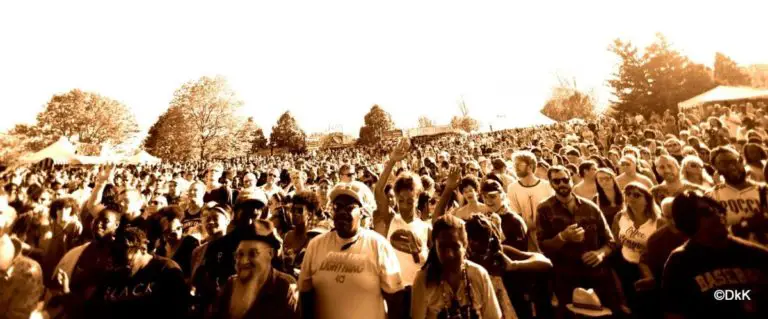 Saturday: May 22, 2021 
Big Eyed Phish's: Dave and Tim Acoustic Show
Sessions: 2:45pm | 6:00pm 
Ben and Jon are the "Dave and Tim" of Big Eyed Phish – The Dave Matthews Tribute  Band. Together they perform acoustic versions of DMB songs that everyone knows and  loves. Dave and Tim have played together in many venues and put out the infamous "live  at Luther College" CD set! Ben and Jon do the acoustic duo justice just as they do for the  full band when playing with Big Eyed Phish! Don't miss this awesome intimate acoustic  show! 
Friday: May 21, 2021 
Mikaela Davis & Southern Star – Sessions: 4:00pm | 6:45pm 
Back this year is Lilac favorite, Mikaela Davis with a new sound! Mikaela Davis & Southern  Star are bringing a taste of the Grateful Dead to the Lilac Bistro. Recently, Mikaela has not  only been playing Grateful Dead tunes with Southern Star but with Bob Weir himself!  Mikaela will be playing a set of Dead inspired Americana Folk with her own original tunes.
Sunday: May 23, 2021 
Lilac Blues & Soul Review – Sessions: 3:15pm | 6:30pm 
On Sunday May 23, the Lilac Festival will conclude with a Blues and Soul extravaganza  featuring Steve Grills and the Roadmasters along with special guests blues artist Joe Beard, singers Cinnamon Jones and Debbie Kendrick and singer and harmonica player Big  Mike D'Aurizio. Singer guitarist Steve Grills is well know as Rochester's formost Purveyor of  the Blues. Steve has played at the top blues venues and festivals across the country  including the Chicago Blues Festival. His CD release After Hours received tremendous  airplay leading it to chart at # 39 on the Top 100 Blues Albums of the year. 
Bluesman Joe Beard is truly a Rochester legend. His music has taken him all across the US  and he has also performed at some of Europe's most prestigious music festivals. He has  released numerous albums to great acclaim. Joe was inducted to the Rochester Music Hall  of Fame in 2017. He continues to thrill audiences with his powerful singing and intense and  fiery guitar work after more than 50 years.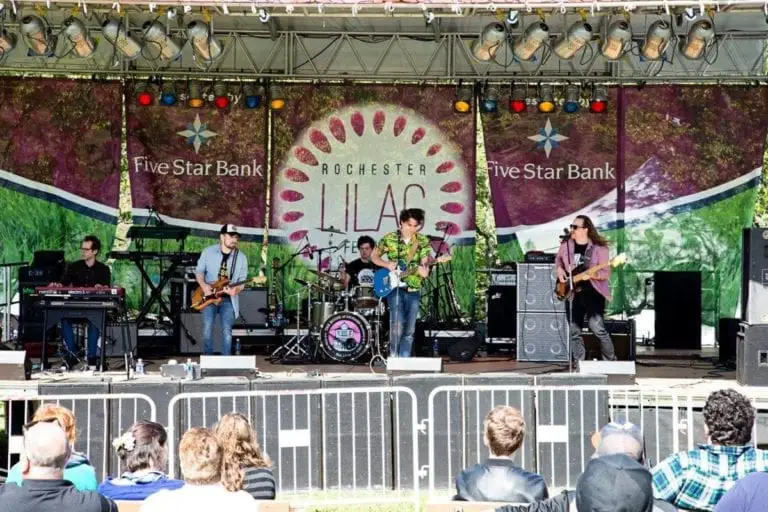 Singer Cinnamon Jones has built a tremendous reputation over the last few years through  her many spirited and soulful live performances. Once you see and here Cinnamon, you will  never forget her. Cinnamon toured extensively with the Campbell Brothers and has since  toured the US and internationally on her own. She began singing gospel in NYC where she  was born. Cinnamon later moved to the SF Bay area where her performing career grew,  leading her to be awarded Best Female Vocalist for consecutive years. 
Singer Debbie Kendrick has a personality that warms her audiences like the sun breaking  through the clouds. She has led her own group in Rochester for well over 10 years and has  built a great reputation with her blend of soul and blues music. 
Big Mike D'Aurizio is a singer and harp player who possesses a great command and  respect for traditional blues. Mike's powerful electric harp playing and singing is sure to  blow your blues away. 
Now in it's 123rd year, the internationally-known festival held at historic Highland Park features lilacs and gardens, runs, beer and wine tasting, and a kid zone. For more information visit the Rochester Events website.
To whet your appetite for the Lilac Fest bistro experience, here's a clip of Mikaela Davis playing with Bob Weir on NPR Music's Tiny Desk Concert series: