The Central Brooklyn Jazz Consortium is hosting the 22nd Annual Brooklyn Jazz Festival from April 16 to April 30th.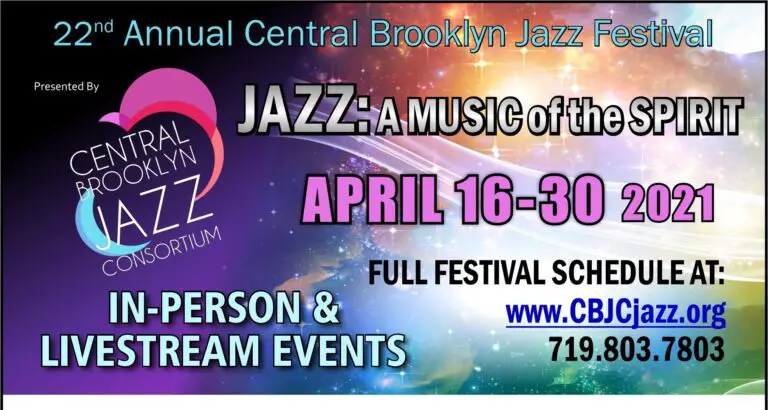 Brooklyn's longest continuously running festival dedicated to Jazz is excited to come back after taking 2020 off due to the COVID-19 pandemic. The series offers a blend of in person and and online musical events, with several pop up food booths being present at the conecerts. The in person concerts are located at restaurants located throughout Brooklyn in the neighborhoods of Bedford-Stuyvesant, Clinton Hill, Crown Heights, East New York, and Gowanus. All programs and concerts are free to the public and follow NYS mandated Covid Social Distancing Guidelines.
The festival offers a diverse array of performers, including the likes of Gerry Eastman Trio, The Mat Baker Trio, The October Revolution and Grammy Nominee Nicole Zuraitis. The festival simultaneously encourages people to experience the borough's unique ethnic enclaves and sample international cuisines. Participating institutions, organizations, and venues are Fusion East, Lila's Café, Nostrand Social, Kingsborough Community College, Rome Neal's Banana Puddin' Jazz, Sistas' Place, and Williamsburg Music Center.
The social impact remains long after this music series and is less noticeable. Building relationships among neighboring businesses, interactions among the different ethnic groups, and memorable experiences are some of the intangible advantages derived from bringing people together in this environment.

Clarence Mosely Jr, CBJC Chariman
Central Brooklyn Jazz Consortium is a nonprofit organization founded in 1999, provides services and is a presenter of live music events within Brooklyn's underserved communities. The Consortium was founded and organized by Torrie McCarthy, Viola Plummer and Alma Carrol. For the past 22 years, The Central Brooklyn Jazz Consortium has produced an annual jazz festival, established a Brooklyn Jazz Hall of Fame, and featured local jazz talent in its programming.
The full list of performers can be found here.