Bandits on the Run, hailing from New York City, premiere their brand new music video today for their song "Hurricane" on NYS Music.
A powerhouse trio, Bandits on the Run was formed in New York City. Adrian Blake Enscoe serves as both guitarist and percussion section, using a suitcase drum and foot tambourine. Sydney Shepherd is the cellist and writes string arrangements. Regina Strayhorn is the accordionist, melodica player, glockenspieler, and plays a mean shakey banana.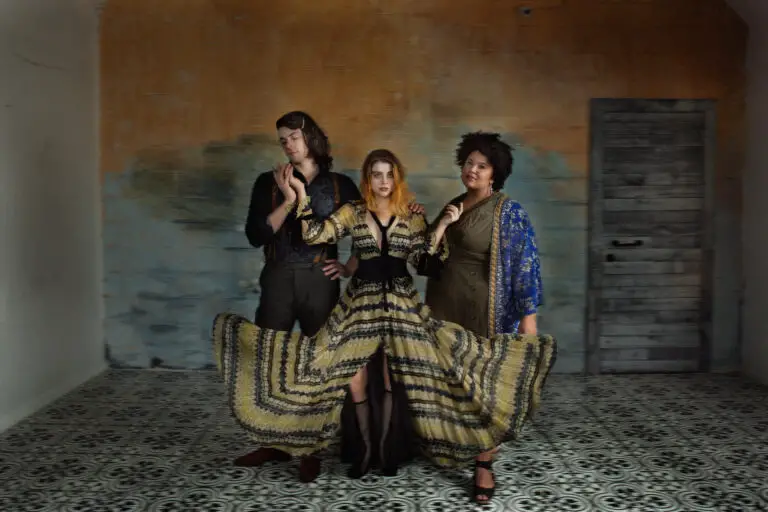 They have appeared at the ASCAP Cafe Stage at Sundance, shared the bill with artists like Aaron Lee Tasjan, Rain Phoenix, and Matt Berninger of The National. They'd been selected for SXSW 2020 and built a tour that included an appearance at The Kennedy Center and an opening slot for Larkin Poe at NYC's famed Webster Hall, before the pandemic struck down the best-laid plans of every mouse and man 'round the globe.
"Hurricane" is one of the singles off of their upcoming EP Now Is The Time which is dropping on May 21, 2021. This video has a much more conceptual approach than their other videos which is something the band was attempting to do. The video not only highlights the group's musical ability but their artistic vision. Between the overlaid colors, fluid dance moves, harmonies, and the swoopy white dress, the video definitely gives off some early Florence + the Machine vibes. 
For the video the band enlistment of choreographer and director Lane Halperin who helped create a clear and powerful and compelling story that resonates with the song's message and meaning. The video also used images from filmmaker and visual artist Ian McClerin that were projected on the wall, their faces, and on the big white dress. They used these images in tandem with the dance and movement to enhance the dreamlike and subconscious atmosphere of the story.
The music video was produced by Bandits on the Run who also served as the production company. It was filmed, colored, and edited by Bart Cortright. It featured Lane Halperin and Landes Dixon as dancers. Grace Pendelton was the camera assistant and Chris Weihert the First Assistant director. The band also gives special thanks to Luke Slattery, Sophia Schrank, Rebecca Handler & Ruby Bird Studios for their help with the video.
For more information on Bandits on the Run visit their website.