A year ago today, the Syracuse music scene lost a legend, the likes of which will not be seen again. Eli Harris, Jr., a fixture throughout Syracuse, especially University Hill and Downtown, was a street musician of renown well beyond the 315. You could find Harris performing across town, outside the Landmark and Westcott Theatres, bringing his positive spirit and wide range of musical stylings to crowds and passersby for decades.
Whether he was performing on Marshall Street – also known as Eli's Alleyway – near Hendricks Chapel or Crouse College before Syracuse Football and Basketball games, downtown in Armory Square, showing up for late night fraternity pranks and performances, Eli Harris was always a welcome sight to see, always with a song and a smile ready for you. While you may not have known Eli, his music or his presence in Syracuse, he made his mark and leaves a legacy behind.
Eli Harris died as a result of a pair of hit and run accidents on April 8, 2020. He was 62 years old.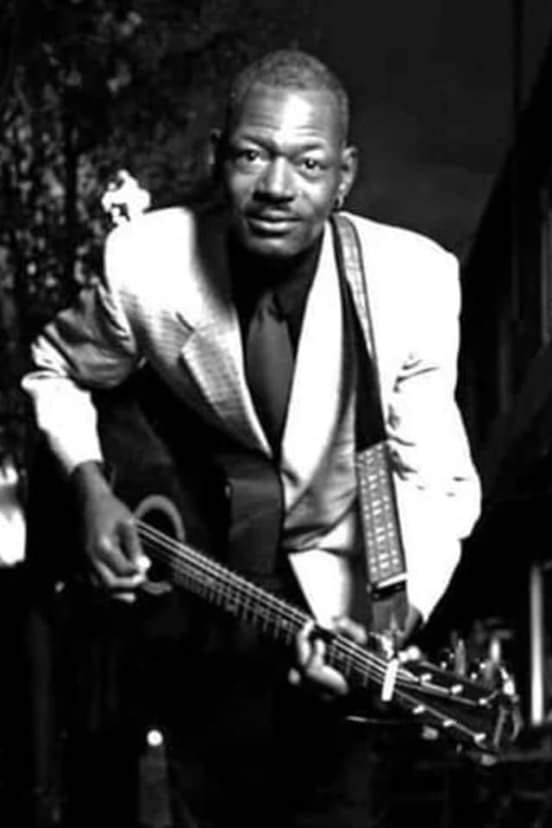 Eli was one of a kind. He had a wife and kids he loved and would talk about them the rare times he put his guitar down. From late nights at Chuck's or Faegan's when Eli would pop in for a nightcap, to summer evenings at NBT Bank Stadium or downtown in Armory Square, Eli had a significant place in the Salt City. Eli was a legend, a staple, a key ingredient to the city, and one of the most positive people you'd ever meet, always keeping his spirits lifted high so he could lift others even higher.
Elijah Harris, Jr. was born in Syracuse on August 19, 1957. A Marine veteran, serving proudly from 1974-1977 while stationed in South Carolina, Eli was father to 9 children and 35 grandchildren. No matter what life threw at him, Eli was resilient and turned struggles in life into music. In that regard, one could call him a blues musician, but Eli was much more than that. In a 2010 interview with the Post-Standard, Harris told the Post-Standard, "I do the '60s thing right up to hip-hop."
Considered by folk/hip-hop/singer-songwriter Joe Driscoll to be 'The Godfather of Syracuse music," a title few would contest, Driscoll first saw Eli when he was 11 or 12 years old.
We would ride our bikes down to Marshall Street, and watch Eli play for hours. I used to watch his hands to cop new chords, and learn the covers he was doing.

My first memories were of him doing medleys, blending five or six songs into one groove. Blew my mind. I vividly remember 'Sitting on The Dock of The Bay' by Otis Redding and 'Easy' by the Commodores as some of the first I fell in love with. His original "Eli's Alleyway" as well, where he would skat and chat about all the happening on M Street (Eli's Alleyway).

Joe Driscoll
Syracuse musician Joe Altier also first met Eli early in life, seeing him at SU events at the Carrier Dome.
No matter the weather, he was there, you couldn't help being drawn to this musician. He was soulful, upbeat, and had a positive vibe always. This guy is about as real as it gets.

Joe Altier
When Joe started playing Bull & Bear downtown around 2000, Eli would stop in and they'd play together. Whenever they saw each other, Joe got a huge shout out from Eli and always supported him, whether he was playing music or selling shirts downtown. 
It was really nice to get to know him on that level. Sometimes we just sat and had beers together at Blue Tusk and shot the shit.

He had already lived a rough life, he went through a lot of shit – personal, family, professional – but he woke up every day to sing, to hustle and to bring joy to the world. To see him pass, it was a gut punch for the town. It was unfortunate how we went out, totally preventable.

Joe Altier
Eli also served as inspiration for the song "Moon," written by Jamie Notarthomas. Jeff Tripoli, who played drums on the track, recalled the inception and recording of the song, with Eli being such a presence in the scene in the mid-90s.
Eli was the soul of Syracuse nightlife and culture. I can remember many winter nights below freezing when these city streets were warm with the sound of Eli's contagious vibe. He could always keep a crowd with his off the cuff lyric improvisations about "that guys goofy hat" or maybe a humorous lyric about some attractive ladies swiftly strolling by his sidewalk performances. And thats what I loved most about Eli, how present and passionate he was as a human in our society. More than just a seriously talented street musician, Eli was capable of spreading joy to every face that saw him. A lot more of these stories are detailed in a song written by Jamie Notarthomas we recorded together long ago called "Moon."

Jeff Tripoli
In 2012, Eli completed a inpatient rehab program at the Veterans Administration in Bath. In addition to battling drug and alcohol use, Harris fought hepatitis C and depression, after the death of his wife and son. He might share his struggles privately, but through his music, he let love and positivity reign.
More than a Street Musician
Eli's presence around town served as an influence on the next generation of Syracuse musicians, Driscoll among them.
Eli was definitely my biggest influence. Before Eli, I thought about James Taylor, Peter, Paul and Mary when I thought of acoustic guitar. 

Eli was ripping James Brown, Sugar Hill Gang, and Parliament Funkadelic on a 6 string. He revolutionized my view on music. My first sets were me doing Eli covers: James Brown, Otis Redding etc…

You can still feel loads of Eli in all I do. The funk chords, the mixing and medleying of funk, soul and hip-hop. The freestyle/chat with the audience, all of that evolved from my love of watching him everyday, studying his hands, and learning his craft of showmanship and engagement.

Joe Driscoll
In 2006, SU Recordings was founded, and brought the music of Eli to a wider audience, and now, posterity. A group founded specifically for music industry majors and minors, SU Recordings gave hands-on experience in running a label, including scouting artists, working with disc manufactures, developing artwork and organizing promotional events.
Eli was one of the first three musicians asked to be a part of the label. The first album released by SU Recordings was a biographical album from Eli and the album release party was held on April 18, 2006 at Chuck's.
A second album, Eli's Christmas Mission, featured three classic holiday songs – "Jingle Bells," "Santa Claus is Coming to Town" and "Rudolph, The Red-Nosed Reindeer" – as well as three originals – "Christmas Love," "Angel" and "Glory." The album was aptly released by Marshall Street Records.
Eli, man. Just that he was the nicest guy and I remember how excited he was when he gave me his 'album' and I played it in Faegans.

Scott Isaacs, '99
Eli performed the National Anthem at Syracuse Mets games, and would stick around to perform outside the stadium when fans headed for the exits. When Eli passed, the Syracuse Mets minor league team shared the following:
We've had the privilege of having Eli sing the national anthem for us occasionally over the years. If you didn't hear him then, there's a chance you've heard Eli playing while leaving the stadium. It is with heavy hearts that we mourn the passing of a Syracuse legend, Elijah Harris Jr. brought smiles to many and was a radiant soul that we will certainly miss.

Syracuse Mets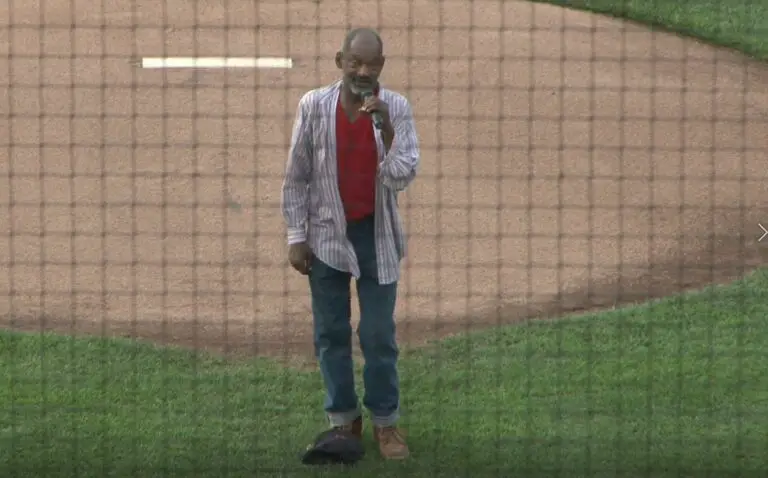 Legacy
Along with the praise of musicians and Syracuse locals, Eli was given even greater accolades as the years passed. At the 2019 SAMMY Awards, Eli was the recipient of the first ever Founders Award, a testament to his years of performing in Syracuse.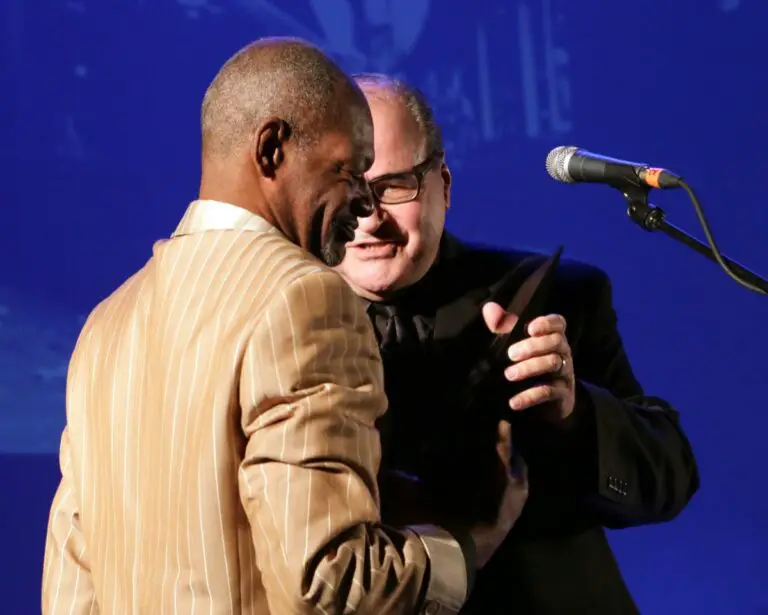 A scholarship in Eli's name was announced by Syracuse University in September 2020 and will begin supporting part-time music students this fall. Harris would regularly work the line "You stay in school, get some college knowledge" into his performances, and his family worked with SU to honor him with the Eli Harris Scholarship. Harris' daughter, Lakisha, said to The Daily Orange last year,
He gave what he had inside of him, so he could teach everyone else how to love through music. He used music to communicate that. They embraced my dad with open arms from day one.

Lakisha Harris
A mural of Eli, via art collective 315Alive!, will bring his legacy to life, close to the corner of Marshall Street and University Ave, near Marshall Street Mall. Jacob Alan Roberts of 315Alive! announced the project in July 2020, saying, "We're gonna use sort of an artistic approach to something that will be unmistakably Eli, using, say he always wore SU gear, so a baseball cap or, course, him playing his guitar." See a sketch of Roberts' mural here.
With Eli's death at the start of the COVID-19 pandemic, his funeral was private and tributes were limited to social media and online performances. One such tribute to Eli on Disruption Network brought Driscoll, Anthony "Zee" Donaldson, Jack Brown, former SU professor and Bandier program founder David Rezak and more together to honor him. Watch the tribute here.
In March 2021, the driver who hit Eli was brought to justice. During sentencing, Judge Stephen Dougherty said that while he "Can't compare one victim to another victim, we all knew Mr. Harris, knew him for the performer he was. He was a beloved member of the community." A GoFundMe continues to benefit Lakisha and Harris' family that continues to cope with the loss.
He was a legendary part of this town. Everyone knew him. You walked by and whether you stopped or not or tipped him, you knew him. There will never be another Eli. He did leave his mark, not just on me but so many others.

Joe Altier