Distrokid, a digital music distribution company, announces digital concert series, "Isolation: Concert for No One". The series focuses on several artist traveling to idyllic natural destinations throughout the Untied States playing concerts to an empty crowd.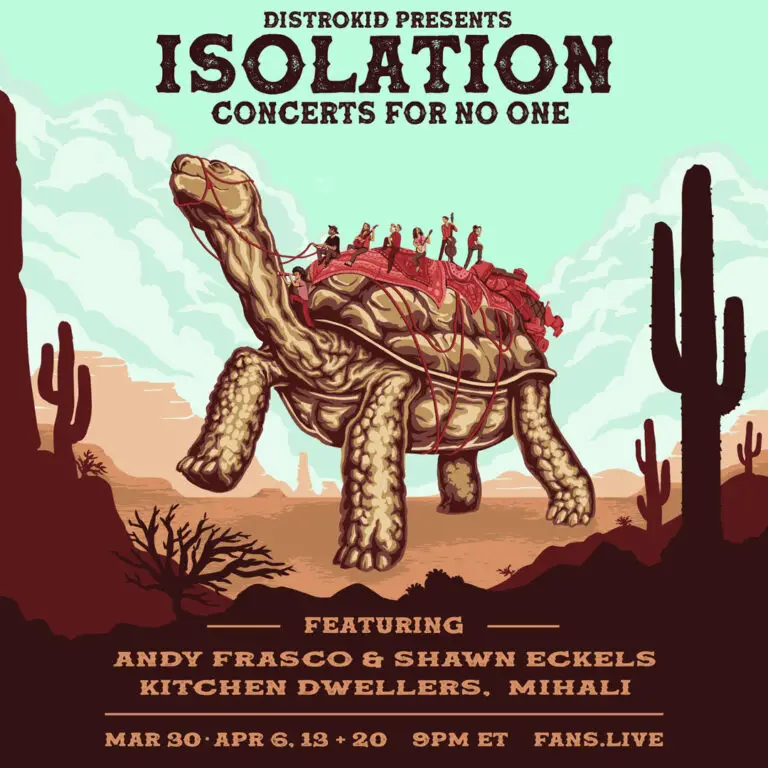 The bands began their roundtrip around the Southeastern Untied States in the fall of 2020 with the goal of trip to document their experiences and perform empty concerts in scenic wilderness area. The featuring artists include Andy Frasco, Shawn Eckles, Kitchen Dwellers and Mihali from Twiddle. The groups all traveled together, not only growing closer but honing their music chops on the way. The goal of these concerts is to emphasize the importance of isolation and being out and nature, ideas brought to light because of the current global pandemic.
We're doing this to show people that isolation is needed. Sometimes we need to go outside of our comfort zones and go outside of what we know; we are trying to experience something together that we haven't experienced in four months because we've been sitting in our houses.

Andy Frasco, Musician
Distrokid, in collaboration with Fans.Live, is hosting "Isolation: Concerts for No One" as a four episode concert series which filmed across the week-long caravan featuring sets from each act, never-before-seen collaborations, and behind-the-scenes footage. New episodes will air every Tuesday night beginning March 30 at 9 PM ET. Fans can purchase each episode for $10, or the full season for $30. Episodes will remain on demand through Sunday, May 25.
STREAMING SCHEDULE:
Episode 1: Lake Powell, AZ (March 30 @ 9PM ET)
Episode 2: Monument Valley, UT (April 6 @ 9PM ET)
Episode 3: Moab, UT (April 13 @ 9PM ET) 
Episode 4: Boulder, CO (April 20 @ 9PM ET)