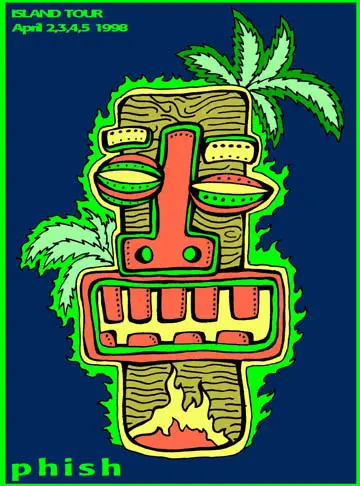 March – it comes in like a lion and out like it's been trampled by lambs and pecked by the dove. For Phish's next installment of Dinner and a Movie, they'll feature a show from the band's famed April 1998 "Island Tour," specifically April 4, 1998.
The show at Providence Civic Center is a perfect sample of how the cow funk from Fall 1997 continued four months later in a fan favorite run of shows. Reportedly the hardest ticket of the run, this show features must hear versions of "2001," "Brother," and "Ghost," not to mention the "Tweezer" show opener.
For the dinner portion of the evening, Chef Sara Bradley, the chef and proprietor at Louisville, KY's The Freight House, has prepared a menu for the evening. She has recently received runner-up honors on Season 16 of Top Chef, and is also a Phish fan. Sara offers up recipes for Melty Grilled Cheese with Piquillo Pepper and Tomato Soup, and Brown Butter Chocolate Chip Cookies for dessert. Find full recipes here.
While the webcast is free, fans are encouraged to make donations through Phish's The Waterwheel Foundation. The evening's beneficiary will be Northeast Organic Farming Association, with donations being split between the New York and Rhode Island chapters. The Northeast Organic Farming Association an organization of farmers, consumers, gardeners and environmentalists working together to promote organic farming and organic land care practices resulting in a sustainable regional food system that's ecologically sound, economically viable and socially just. For more information visit NOFA.org.
Dinner and a Movie will air on Tuesday, March 30 at 8:30pm ET at webcast.livephish.com.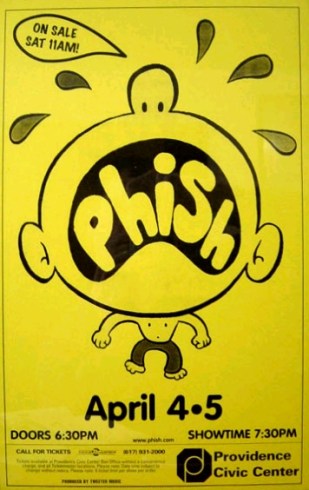 Island Tour Setlist courtesy of Phish.net
April 4, 1998, Providence Civic Center, Providence, RI
Soundcheck: Jam, Shafty, Roggae
Set 1: Tweezer > Taste, Bouncing Around the Room, Funky Bitch, Ginseng Sullivan, Limb By Limb, Lawn Boy, Character Zero
Set 2: Birds of a Feather > Also Sprach Zarathustra[1] > Brother[2], Ghost -> The Lizards, David Bowie
Encore: Harry Hood
[1] Unfinished.
[2] With short instrumental reprise.
2001 contained a Long Train Runnin' tease from Trey and was unfinished. Brother included a brief Dave's Energy Guide tease and was followed by a short instrumental reprise, which was announced as the "radio-friendly version." Trey contrasted this with the normal version, which was deemed un-radio-friendly due to its length. Ghost, which Trey jokingly remarked was also not radio-friendly because it is long and slow, included an I Can't Turn You Loose tease. This show is available as an archival release on LivePhish.com.