The Disco Biscuits' upcoming Orlando performances from Dr. Phillips Center's Frontyard Festival will be livestreamed on Couchtour.tv on Thursday, March 25 and Friday, March 26, starting at 7:30pm ET.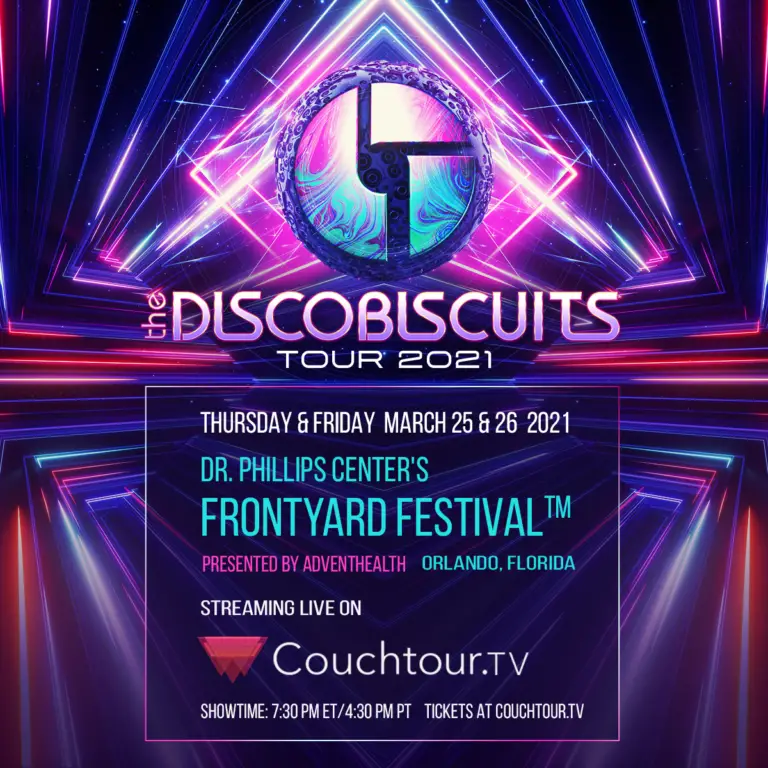 Couchtour.tv is a new concert streaming platform that gives artists the ability to create the highest quality concert livestreams available on the internet; filmed and delivered in 6k video and high def audio from anywhere on Earth – and all without the artist having to know a thing about livestreaming.
The Couchtour.tv team brings insight from many different facets of both the entertainment and tech industries. The senior team comes from leadership roles at companies The Disco Biscuits, JamBase, Splice, Gracenote, Full Circle Music Productions, Oracle and IBM. Still in it's infant stages, fans and artists can expect to see advanced features and new artists, shows and festivals announced in the coming months.
Disco Biscuits founding member and lead guitarist, Jon Barber, is the founder of Couchtour.tv. Thus, it made perfect sense for his band to perform on the startup platform when it launched in October, 2020.
Couchtour.tv wasn't a new idea, but time that would have otherwise been spent on the road opened up the space to finally bring Couchtour.tv to fruition. We've got a great team working on this, but it's still gonna' be a few months before we can roll this out in its complete form – bells, whistles and all – then it'll be available wherever fans go to get their apps.

Jon Barber, Disco Biscuits guitarist and founder of CouchTour.Tv
Tickets for the Disco Biscuits Orlando streams are on sale now and available at Couchtour.tv.