Thursday, February 22, 2001 was a frigid night in Syracuse, yet Armory Square was alive and well. With no Phish for the foreseeable future, and no New Year's Eve performance that past December, the energy this evening was unmistakably palpable as Trey Anastasio Band made their debut performance at Syracuse's Landmark Theatre.
Only their second show of 2001's Winter Tour, Trey Anastasio Band (TAB) offered fans a glimpse of what was to come from this new yet familiar cast of supporting musicians joining Trey, and how the void left by Phish's hiatus would be filled by the band leader.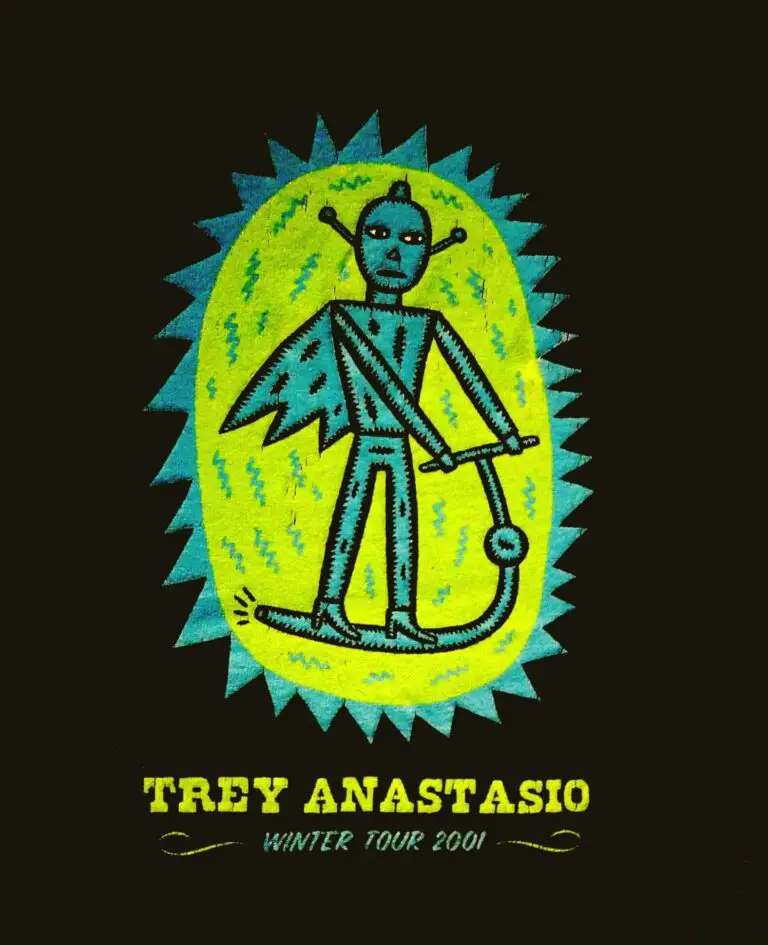 Trey had originally played with drummer Russ Lawton and bassist Tony Markellis in 8 Foot Fluorescent Tubes in 1998, making the trio the core of a band that continues to perform today, even through the pandemic. Trey added in a three-piece horn section alongside Russ and Tony, bringing in Andy Moroz (trombone), Giant Country Horns member Dave "The Truth" Grippo (saxophone) and Jennifer Hartswick (trumpet/tuba). The sextet was an early version of the TAB lineup Trey has modified over the years, and did not yet include soon-to-join members Ray Paczkowski, Natalie Cressman and Cyro Baptista.
The night began with the Chuck Berry number "In the Wee Wee Hours," a perfect way to start an evening where the setlist was anyone's guess. The first original of the night, "Push On 'Til the Day" would follow, and when the horns stepped out into the light, the crowd roared with approval. "Push On" segued neatly into "Tube Top Flop" (later Tube Top Wobble), and then the emotion-heavy "Sunday Morning" (later "Ether Sunday").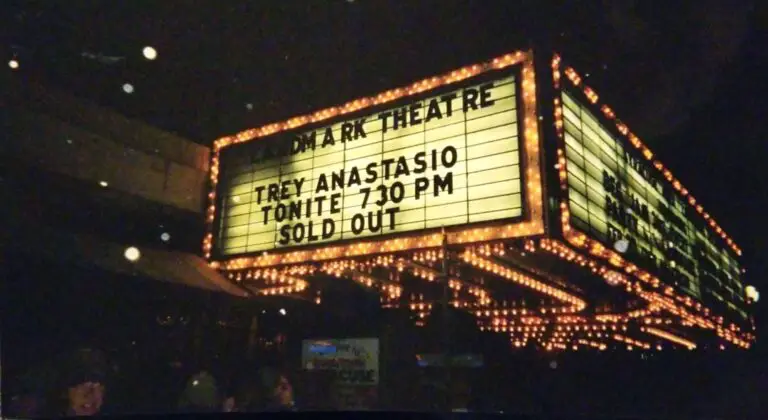 "Mozambique" was raucous, a funky tune with a big band-meets-Salsa sound; the prize in the early versions of these new compositions was how they allowed for room to improvise both individually and collectively. Althought not played this night, "Last Tube" would serve the same purpose in 2001 for TAB's cohesiveness.
The first Phish cover of the night, "Gotta Jibboo" included Trey's signature 'whale call' making an appearance early in the song and continuing on a loop as the band found a groove to tuck into for nearly 12 minutes. In the final two minutes of "Jibboo," listen closely and you can hear the band hinting at the song to follow, "Burlap Sack and Pumps," soon to be a funky fan favorite.
To close the set, Trey dispatched the band and brought out his acoustic guitar for "Guyute." With the audience whistling along, the attention focused on the Bad Lieutenant sitting center stage.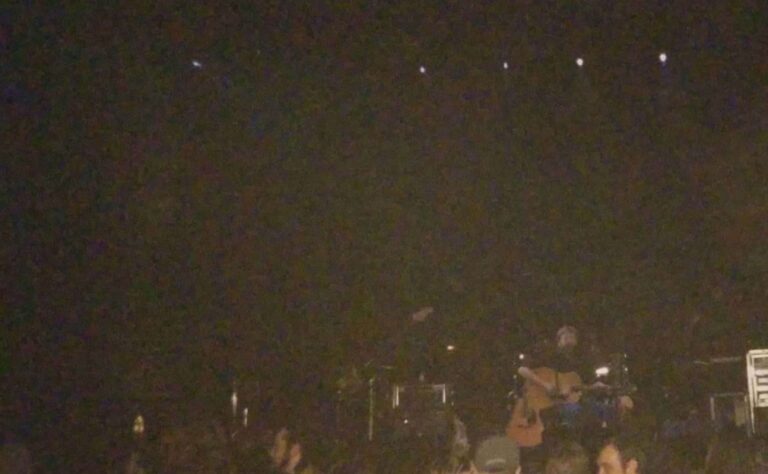 After a 43-minute set break, Set 2 began with a snare beat that perked ears up, signaling the start of Bob Dylan's "Rainy Day Woman #12 & #35," which the audience ate up and sang along to. An 18-minute "Sand" followed, with horns chiming in and Trey on keys, both soon to be staples of TAB shows.
The Band's "It Makes No Difference" felt especially touching, as did Bob Marley's "Mellow Mood," a cover debuted by Phish just a few months prior in Albany, and which Trey admitted the band had only practiced once prior to the show. Dedicated to sound engineer Paul Languedoc, "Happy Coffee Song," off Trey's initial solo album One Man's Trash, stayed true to the original recording and worked nicely for the larger band format.
Listen below, and if "Nothing But an E Thing" sounds familiar, that's because it eventually came to be known as "Pebbles and Marbles," debuted here as a fully instrumental piece, with horns taking turns on what amounts to the current "Pebbles and Marbles" intro section.
Rounding out Set 2 was another One Man's Trash track, "At the Gazebo," later outfitted for performance with orchestras and string quartets, and "Drifting," which included band intros, notably for Tony "the Meaning of Life" Markellis. An encore of Billy Preston's "Will It Go Round in Circles" would close the night, one that saw the start of Trey's next musical venture, one that continues to evolve and grow, 20 years later.
Listen to a recording of the show here.
Trey Anastasio Band, Landmark Theatre, Syracuse, NY – February 22, 2001
Set 1: In the Wee Wee Hours [1], Push On 'Til the Day > Tube Top Flop, Ether Sunday, Mozambique, Gotta Jibboo, Burlap Sack and Pumps, Guyute [2]
Set 2: Rainy Day Women #12 & 35[1], Sand, It Makes No Difference, Mellow Mood[1], Happy Coffee Song [3], Nothing But an 'E' Thing[3], At the Gazebo [4], Drifting
Encore: Will It Go Round in Circles
[1] TAB debut.
[2] Trey solo acoustic.
[3] Debut.
[4] Trey acoustic.
This show at the Landmark Theatre features the debuts of Happy Coffee Song and Nothing But an 'E' Thing, and the Trey Anastasio Band debuts of In the Wee Wee Hours, Rainy Day Women #12 and 35, and Mellow Mood. Gotta Jibboo contained Burlap Sack and Pumps teases. Trey performed Guyute solo acoustic. The Happy Coffee Song was dedicated to sound engineer Paul Languedoc. At the Gazebo also featured Trey acoustic.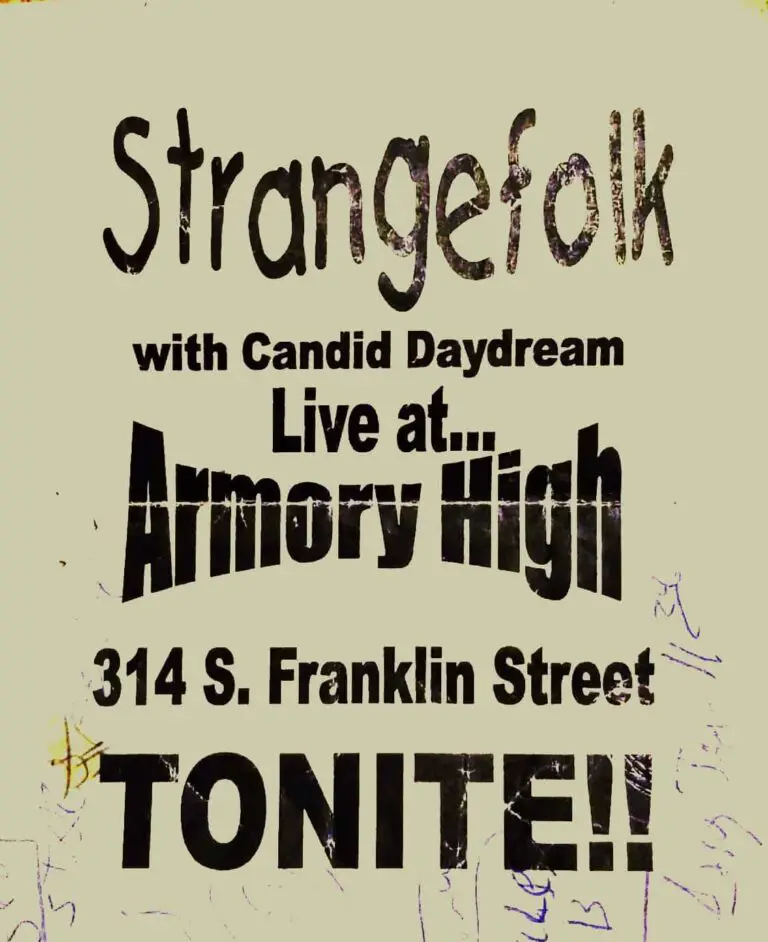 After the show, fans headed out into the cold night around Downtown Syracuse, with plenty of bars and restaurants to choose from. Over at Armory High (also known as Styleen's Rhythm Palace) Strangefolk was playing a post-show to a packed crowd. Trey stopped by around 12:15-12:30am, and joined the band for a jam in the song "Neighbor" before taking off. Give a listen here and read below for Strangefolk guitarist Jon Trafton as he recalls the night.
That was such a fun night. The story behind Trey's sit in is that a good friend of ours was Trey's daughters' nanny for several years around that time, and she put the bug in his ear leading up to that night. TAB was playing in Syracuse and the timing worked out perfectly because he was in a theater, so his show ended around 11 pm. We were in a bar with a 1 or 2 am curfew so it just lined up. We knew he might come by, but it was one of those things where we weren't expecting it to happen. It was cool to look up mid-song and see him standing by the side door. I think we were already into our song "Neighbor," which has a nice open jam section, so I waved him on. (Guitarist Luke) Patchen graciously switched to acoustic so Trey could play his Fender Strat, and off we went. My recall of it was that we stayed in kind of a mellow groove. I was sort of hoping we would launch into the stratosphere but we had a nice little floaty thing going for a little while. Then, just like he appeared, he was off again into the night.

Jon Trafton, Strangefolk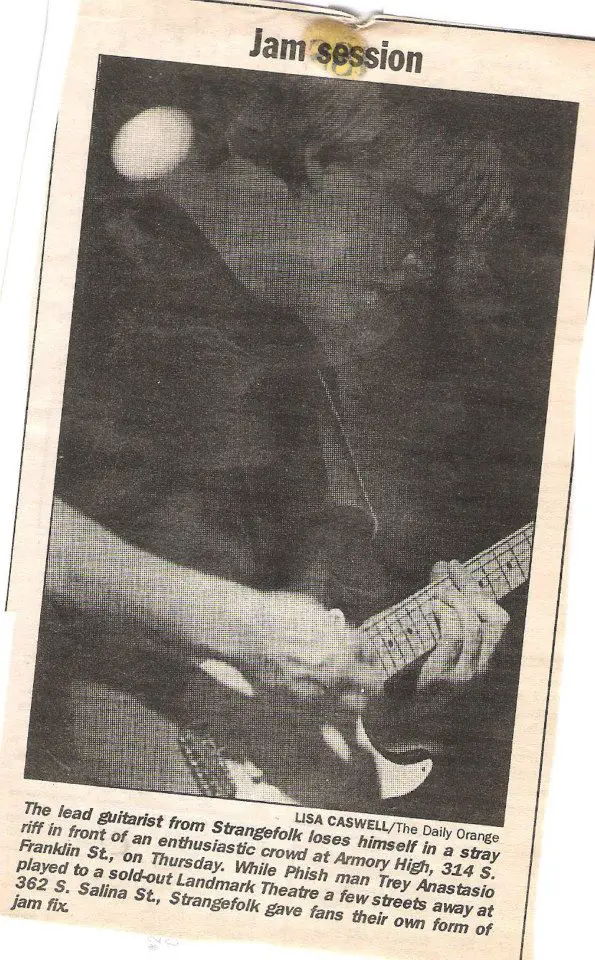 Although Trey was only on stage with Strangefolk for a few minutes, the memory and record of that night is one fans and band members alike have not forgotten. After the jam in "Neighbor," Strangefolk worked into a "Norwegian Wood" jam, as Trafton puts it, "a way of saying, 'Wow, that happened, and now he's gone, this bird has flown.'" That tip of the hat from Strangefolk saw Trey take off into the night and head downstate for the next night's show at Roseland Ballroom in New York City.