The music is starting to return… LonCon, a two-day music event to be held in the Southern Tier of New York's scenic Catskills will feature national touring acts at the legendary Arrowhead Ranch over August 27-28, 2021.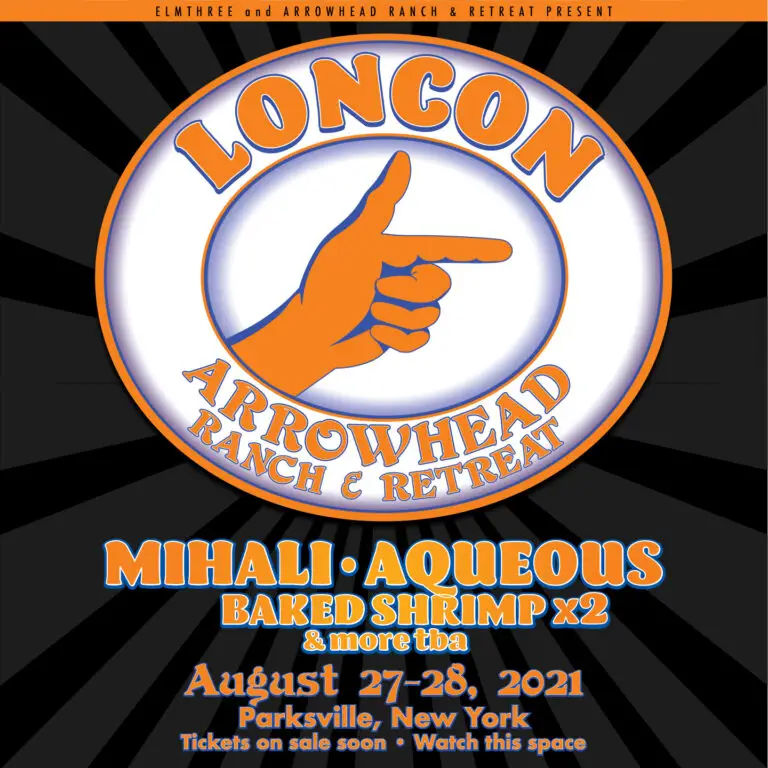 Arrowhead Ranch and ElmThree Productions, in association with hosts, Baked Shrimp, will bring artists including Mihali and Aqueous, as well as two Baked Shrimp sets and other rising regional acts to LonCon.
In 1991, music producer Bill Graham brought a vision to Arrowhead Ranch, making the summer of 199 legendary, with acts including Phish, The Band, Richie Havens, Billy Preston, Hot Tuna, Blues Traveler, Widespread Panic, and many more. 30 years later, LonCon will hold its inaugural weekend at the historic venue over Friday August 27 and Saturday August 28, 2021.
"The event is going to be so humbling to all three of us in Baked Shrimp. Being younger and going to outdoor music concerts in the mountains has been something we've all been doing for much of our lives, and we've always dreamed that one day Baked Shrimp would do something similar and keep it going for years to come. Now that we can finally announce that we're helping put together what will be a beautiful two-day event at such a historic venue, it's really a dream come true. The lineup is also filled with artists who we have looked up to over the years, so we are unbelievably excited to share the stage with them."

Jared Cowen, Baked Shrimp
Cowen also shared his thoughts on putting the event together in honor of Lon Conscious.
"The Live for Lon stream was so humbling in it's own way. Where we're at in the world is something no one could really prepare for. When Lon left us, we had to think of a way despite these hectic times to honor his incredible legacy and spirit. The stream was the best way we could have thought to do this. The night had a true sense of community, like we were all together, Baked Shrimp, our fans, family, friends, and so many of Lon's hundreds of friends who he meant so much to. The performers were incredible, and we were able to raise over $2,700 for a really great cause, the White Light Foundation. The stream was our way to honor Lon, to reminisce, to laugh, to cry, and everything in-between. LonCon is our way to continue the Lon Gellman legacy. LonCon is how we will make sure Lon is always remembered, and we're brainstorming things to include over the course of the two days and hopefully make traditions."

Jared Cowen, Baked Shrimp
Health and safety are the number one priority for attendees at LonCon. Promoters are dedicated to ensuring all proper COVID-19 restrictions in New York State that are in place at the time of the event are followed.