Singer-songwriter and multi-instrumentalist Janani Shankar is set to release her new single, "I Wanna Know."
In this track, Shankar speaks about deeply emotional issues such as abandonment, and pays tribute to her late grandmother Viji Shankar who she never met, and her late great grandmother Lakshmi Shankar.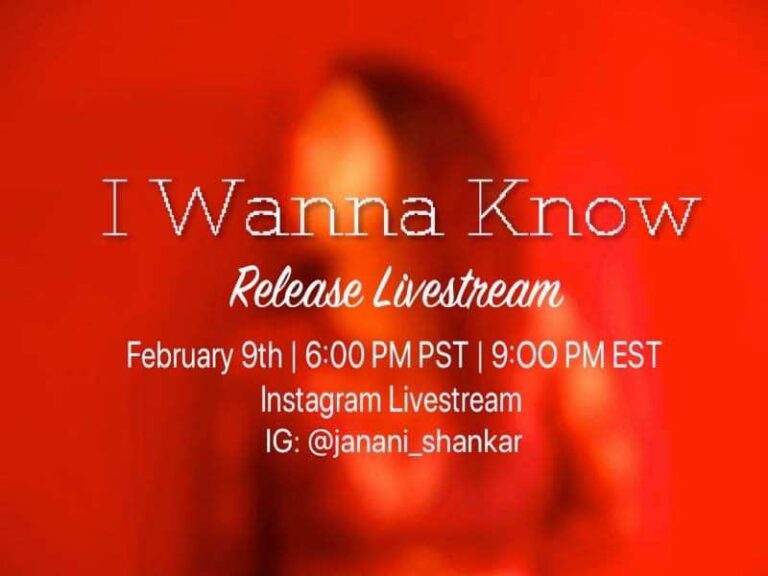 Janani's "I Wanna Know" touches on personal issues she has faced in her life. Shankar attributes these issues, such as loss and estrangement from close family members, to greed, jealousy, and death.
"I Wanna Know" is written from the perspective of a little girl longing for her family, asking why they left. By the end, the track speaks to a less empathic, more emotional feeling, driven by the accelerated drumbeat.
A singer, multi-instrumentalist and songwriter, Shankar started learning classical Indian vocals and violin at the age of three. Later on she picked up guitar, bass, and keys.
She began gigging in New York at the age of sixteen and went on to play in London, Los Angeles, and other cities around the world. Her style combines the nineties with folk, jazz, and indie influences.
Janani's songs "Wanderer," "Forgettable," and "Get Up" have been played on BBC Radio: The Asian Network. Her most recent single, "The World is on Fire," has been featured on radio stations and music blogs worldwide.
The track features Gingger Shankar on the double violin, Patrick Adams on trumpet, Mike Frazier (Brooklyn Tabernacle Choir, Escarioka) on drums, Nataliya Zaytseva on keys, Trevor Brown on bass, and Michael "Bull" LoBue on electric guitar.
Janani Shankar released "I Wanna Know" on February 9th, the day her grandmother Viji passed away, in her honor. Visit her on Facebook, Twitter and Instagram.