Dawoud Kringle, aka The Renegade Sufi and God's Unruly Friends, is one of the more forward-thinking, globally-centric and productive music-makers on the New York scene.  The latest evidence is the remarkable cache of seven full-length albums he has just dropped on Bandcamp.
Dawoud's music is a singular blend of East and West, acoustic and electronic, modern and ancient – sounds that transcend genre and time. Like the Sufi mystic/musician/author Inayat Khan, who inspired spiritually enlightened musicians like Coltrane, John McLaughlin and Dawoud, his primary interest is the psychoactive properties of music – the healing tenor that a sonic experience can bestow upon the listener.
The Milwaukee native/guitarist came to New York in 1983. On arrival, the 22-year old quickly secured a gig as a trainee engineer and studio musician at Shadow Sound, where he worked with artists like Kid Creole and the Coconuts. In New York, he also endeavored to deepen his guitar chops by taking private lessons with noted jazzman Kelvyn Bell (Ronald Shannon Jackson's Decoding Society) and master classes with the legendary Pat Martino. 
But it was the sitar, an instrument he purchased on his 18th birthday but returned to in earnest in the mid-90s, with which he would make his mark.
Called "the Jimi Hendrix of the Sitar," Dawoud boldly applied jazz technique and electronics to expand upon the Indian tradition of the instrument, as heard in releases like The Tao of Mystic Jaz (2000) and Renegade Sufi (2004). The latter is notable as it features a sitar synthesizer, something the crafty Kringle devised by modifying his guitar synth pickup and controller.
Dawoud would further his reputation by performing with notables like Lauryn Hill, Nona Hendryx, Brooklyn Massive Raga Orchestra, DJ Celt Islam and many others. In solo performance and with his ensembles, Renegade Sufi and later God's Unruly Friends, he appeared across Europe, Asia and the U.S.  In New York, he performed at top venues including the Brooklyn Academy of Music, Apollo Theater, Blue Note, Birdland and Town Hall.  He has also kept busy playing at yoga and meditation events, and with dance and theatre companies.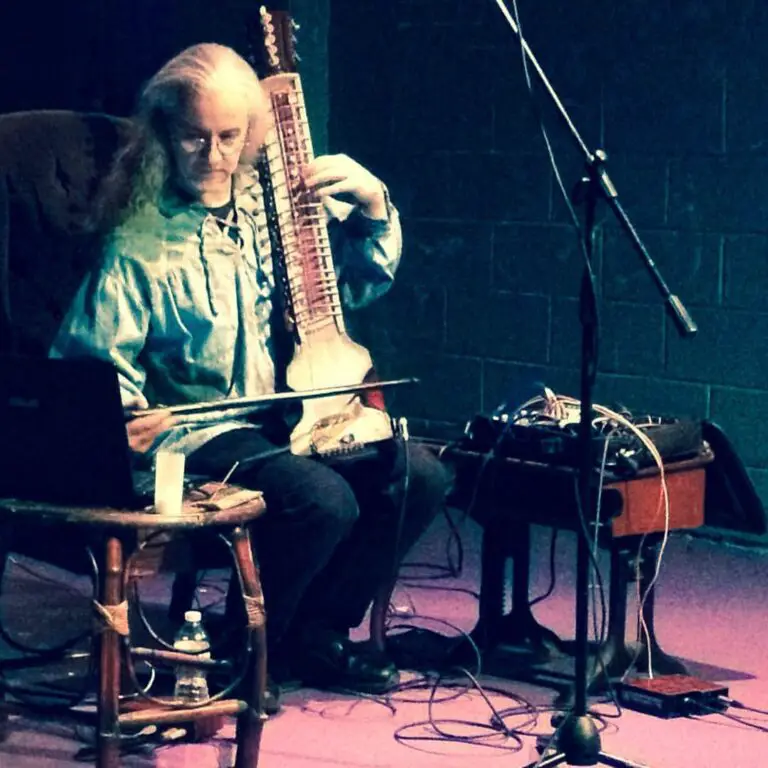 Seventeen of Dawoud's mind-expanding releases can be found at his Bandcamp page, including his newly-released trove of seven full-length albums.
Wonder, Love, & Power is my favorite among the new offerings – a diverse, pristinely recorded and engineered collection highlighted by its wonderfully mysterious and airy title track.  It's a jazzy, ambient, floaty things-that-go-bump-in-the-night vibe, where you are lulled into complete relaxation then brought back to attention by a periodic gong crash. "Awaiting Joy" is another bevy of sonic surprises – cinematic, spiritual and sort of sexy like all the tracks here.  Strings and a pulsing hammered autoharp reminiscent of Brian Eno discovery Laraaji at first swell, then are flipped backwards.  At times, this swirling backdrop sounds like the fade out of "I Am the Walrus." It is perfectly furthered by the eerie vocals of Chennano Manno and a gorgeous modal flute improvisation by Duane McCarthy.  Another standout track is "The Unveiling," where Kringle shows his melodic mastery of the dilruba, a bowed string instrument played in Sikh devotional music, over a synth pulse.
Dawoud's The SymphoSynth Improvisation Series is a collection of synthesizer improvisations based on templates taken from composers like Scriabin, Slominsky, Stravinsky, Messian and jazzer Yusef Lateef. Music of Another Mind is sound design for meditation, massage therapy sessions and the like, with long tracks the artist calls "deep explorations for altering states of consciousness."
A New Beginning is a collection of six impressionistic pieces, a tour through the emotional catharsis and ultimate acceptance of the artist's own divorce, with evocative titles like "Painful Clarity" and "Fighting Back the Tears." A Mansion with Many Rooms is a selection of more vintage tracks that Dawoud had time to complete during the quarantine.  Its closer, "For Yusef," is one of my favorites, with gentle bells and strings bathing his melodic sitar (possibly synth sitar?) melodies.
The artist calls Tales from Isolation "a collection of very dark stuff I did in total isolation during the quarantine." These are "guerilla recordings" according to Kringle, ones made during the long, lonely hours he spent on his radio engineering job during Spring 2020.  This is a collection of 20 sound poems, from two- to nearly 10-minutes in length, where Dawoud seems to have caged his darkest musical impulses – scratchy sounds and effects, weird oscillations, jagged time signatures and robotic percussion.  And they have killer titles too.  What's not to love about compositions with names like "What the Hell is Wrong with You?" and "Fighting Monsters in Nightmares!"
With The Legend of Sheikh Majnun, Dawoud returns with the second album from a fictitious character he first conjured in the Myspace days, his weird electronic artist alter ego, Sheikh Majnun. 
Get your Burning Man supplies in order for this selection of 11 tracks ideal for your next rave.  It's a cornucopia of beats and sounds and samples designed for dancing, tribal not disco!  There's a Brazilian Carnival space futurism vibe here.  It's the reggae samba rhythms of the mighty Olodum crossed with the outer space weirdness of the BBC's early synth wiz Delia Derbyshire, most evident in the album opener, "Dance of the Small Fuzzy Things."
As if this wasn't enough, Dawoud composed his first symphony, "Trees," a demo of which can be found here on his YouTube channel.
With these new releases and those that have come before, Dawoud has created a musical world that unites the past, present and future of sound.   For him, no borders seem to exist and the most distant of inspirations, the most seemingly warring thoughts can live in perfect harmony.  This is music as a healing and calming force, something the world needs now more than ever.  
Key Tracks: Wonder Power Love, The Unveiling, It's Not the Destiny, It's the Journey, The Dance of the Small Fuzzy Things