Vegan Phish fans, rejoice. Ben & Jerry's, the Vermont-based company and freezer staple who launched Phish Food in 1997, has announced the release of a non-dairy version of the beloved frozen dessert today.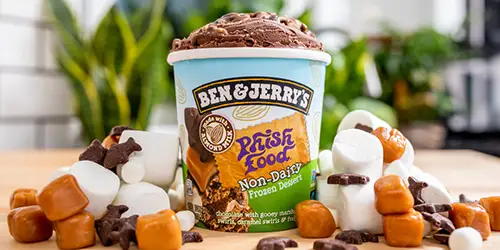 Featuring the same great taste with none of the dairy found in traditional Phish Food, the non-dairy version arrives thanks to fan requests.
We're so excited to finally give fans Non-Dairy Phish Food. It's been one of the most requested flavors for us to make vegan. And partnering with WaterWheel and Jim Pollock is the perfect way to celebrate the launch. We can't wait to see how Phish fans get creative with this contest.

Jay Curley, Global Head of Integrated Marketing at Ben & Jerry's
Ben and Jerry's has long maintained their relationship with Phish, starting with the launch of Phish Food in March, 1997, with a kickoff benefit at the Flynn Theater in Burlington. The Waterwheel Foundation serves as the beneficiary of all proceeds from the sale of Phish Food, helping to clean Lake Champlain and promote charitable organizations in towns where Phish performs.
In the past, Ben & Jerry's has held the world's largest cowbell ensemble in the band and ice cream maker's hometown of Burlington VT, and created special one-off flavors available only at Phish shows, such as Freezer Reprise at the Baker's Dozen and It's Ice Cream, in pre-pandemic days.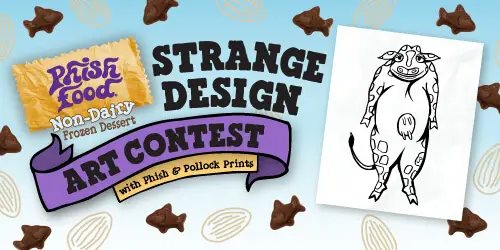 As a part of the release of non-dairy Phish Food, Ben & Jerry's invites fans to take part in a one-of-a-kind interactive contest. Phish fans will be able to win a chance to see a Phish show, original art from Jim Pollock, a year's supply of ice cream, and even score $2000 cash in their pocket to make it to the gig any way they choose. Enter by February 28th for your chance to win a Phish Food Non-Dairy Prize Pack or one of the above prizes.
Here's how to enter: Download the Jim Pollock line art and create your own art piece inspired by it, exploring the theme "cows on vacation" in celebration of new Phish Food Non-Dairy. Let your artistic spirit run like an antelope, out of control! We're looking for creativity, originality, and a clear connection to Jim's design and the "cows on vacation" theme.
Share your design as a still image to Instagram or Twitter using the hashtag #StrangeDesignContest before midnight ET on February 28, 2021. Then fill out the form, including a link to the post where you shared your art piece. We'll announce the winner on March 18th, 2021!
The contest kicks off at 12:01am on Wednesday, January 26. Official Rules can be referenced here.