Whether you know it or not, you've all heard the band Focus. You know that tune they spin on classic rock radio, in films, ads and during NBA and World Cup telecasts, the one with the demented yodeling and amphetamine shred guitar breaks, with the relentless riff that's as memorable as "Sunshine of Your Love" and "Smoke on the Water?" That's Focus playing one of the most unlikely Top 10 hits of the 1970s, "Hocus Pocus." And if you think that playful racket of virtuosity is all there was to this band than you've missed out on one of the most distinctive and eclectic bodies of work produced during rock's progressive era. 
That's something that Focus 50 Years (Anthology 1970 – 1976), the lovingly crafted, amazingly researched nine-CD, two-DVD set from Red Bullet Productions, aims to set straight. But first, a little backstory…
Focus commenced in Amsterdam in 1969. It was built around the massive talents of two main musicians, Thijs Van Leer and Jan Akkerman. Van Leer is a classically-trained flautist, keyboardist and occasional yodeler.  He was also a talented composer who raided the classics, the works of Bach, Bartok, Haydn, Monteverdi and the like, to create a cannon of tunes, especially the numbered "Focus" titled instrumentals, that are among the most melodic of the prog era.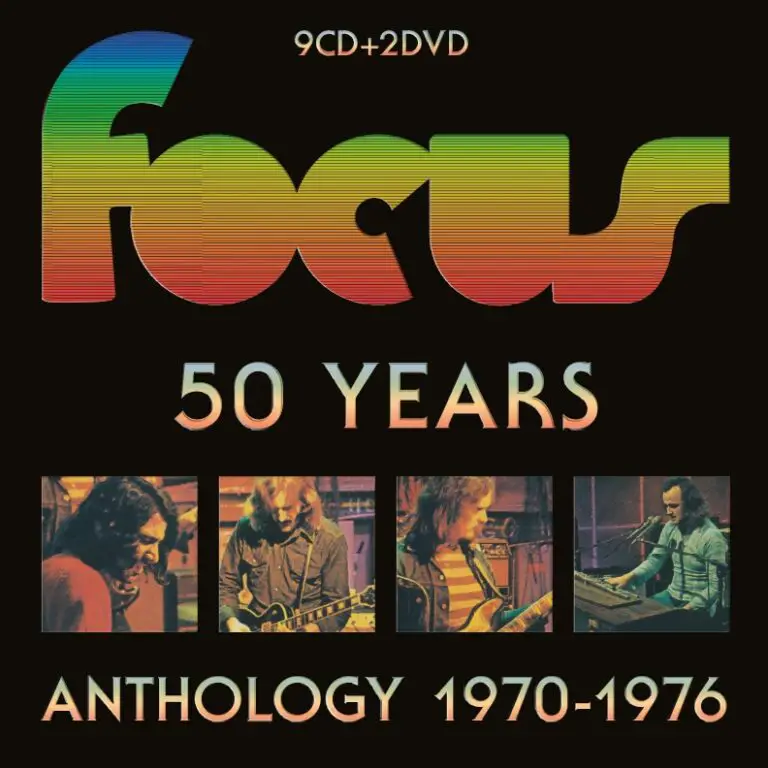 Van Leer's foil in Focus was Jan Akkerman. Still going strong today at 74, Jan was one of the most fearsome and versatile virtuoso guitarists of the Guitar God heavy 1970s. This was a man with a jaw-dropping technical mastery of jazz, rock, blues and classical forms, a talent that powered some of the most emotional and exciting soloing and live improvisation ever committed to tape in the rock idiom. 
Akkerman could spitfire fusion licks as swiftly as John McLaughlin or slow down to seductively squeeze every ounce of the melody out of a ballad, just like Santana. He could play psychedelic, blues-fired blasts that glowed as brightly as Hendrix and chromatic smears and screams like late '60s free jazz Coltrane. He, too, composed distinctive and maybe even more diverse originals than Thijs. Jan's tunes reflected his own acumen with the classics, from his five years of study at the Amsterdam Lyceum, something evidenced by his lute playing on several Focus tracks. Then, there were those fueled by his love of balls-to-the-wall rock, like "Hocus Pocus," and funk, like the latter day single, "Crackers."
Between 1970 and 1976, the Van Leer/Akkerman Focus recorded seven albums and toured relentlessly in Europe, U.S. and Asia, averaging well over 200 shows each year. Led by Jan's dazzling guitar work, the fiery drumming of the criminally-underrated Pierre van der Linden, Bert Ruiter's rock-solid bass and Van Leer's keys, flute and theatrical mugging, Focus pretty much blew everyone off the stage, wherever they ventured. 
The proof was in the accolades. In 1973, Akkerman was named "Best Guitarist in the World" by the U.K.'s top music weekly, Melody Maker, over Clapton, Beck, Page, McLaughlin, etc.  This was just a year after the same publication named the band its "Brightest New Hope." Jan's smiling mug also graced the cover of Guitar Player and, with his bandmates, Circus Magazine. Akkerman's legion of fans would grow to include luminaries like Carlos Santana, Brian May, Joe Walsh, Chick Corea, Michael Jackson, the Beach Boys (he did unreleased sessions with them while they were recording in Holland), B.B. King and Frank Zappa to name but a few.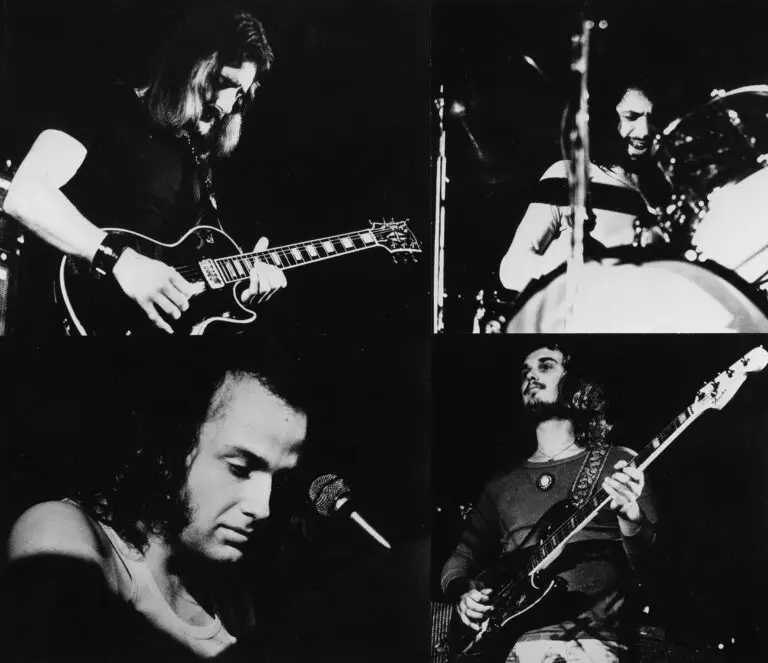 Although they seemed to bring out the best in each other, the Van Leer/Akkerman partnership grew stormy over time.  It finally fractured when the road weary guitarist left (or was fired) on the eve of a U.K. tour in early 1976.  Since then, Akkerman would go on to record two dozen, genre-leaping solo albums that are the height of the guitar art, all while choosing to remain happily out of the international limelight in Holland. Van Leer continues to revive Focus from time to time, with a rotating roster of guitarists who, while sometimes excellent, can never match Jan's wholly unique musical aura and skill.
With the dawning of the web, a global cult of "Focus fanatics" coalesced, devotees who trade and post audio and video of live gigs and TV performances, rarely-seen concert posters and other ephemera. Unlike some stars, Jan, Thijs and their bandmates proved more than happy to engage with their fans via social media.  For these folks, and anyone who loves great music of original intent, this brick of a boxed set will seem like Christmas morning. 
Curated by longtime Focus/Akkerman archivist Wouter Bessels, "Focus 50 Years" starts with 24-bit remasters from the original tapes of the first seven Focus albums, plus single, alternative and raw studio mixes, demos, unreleased live recordings and some real oddities, such as the quartet backing other artists in their early days.  Add to this two additional CDs of more unreleased live performances from 1971 – 1975, including the first official release of their fantastic "BBC In Concert" performance from 1973. 
The package also boasts two DVDs featuring the complete "Focus At the Rainbow" concert film from the live album of the same name, restored and remastered from the original 16 mm film, two BBC "Old Grey Whistle Test" broadcasts from 1972 and "BBC In Concert" from 1974. There's also "Focus Live in Dublin" 1973, the "Goud van Oud" reunion from 1990 and the 1997 "Focus II Classic Albums" documentary.  To guide you through the riches, Bessels has compiled an 80-page booklet with band history, liner notes, press clips and memorabilia.
The band's debut album, "Focus Plays Focus," finds the newly formed band still searching for an identity, with a few vocal tunes like the jazzy "Happy Nightmare (Mescaline)" in the mix. This was something that would be quickly abandoned in favor an all-instrumental approach, along with their original bassist and drummer, Martijn Dressden and Hans Cluever. This version of the album is notable for its opener, the stately instrumental "Focus I," the first of this numbered series of classically informed instrumentals by Van Leer, and the two bonus tracks. The first, Akkerman's flute-driven "House of the King," became their first chart hit in Europe, one often mistaken for Jethro Tull. The other bonus is a sizzling 37 minute live performance from 1970, an in-development version of "Eruption," the suite which would be the side-long centerpiece to their classic follow-up album, "Focus II/Moving Waves." It includes some of Jan's most fiery riffing, and in a spot where the band falls away for six minutes, he dazzles with slashing, quicksilver lines in exotic modes like the Hungarian minor and Indian scales.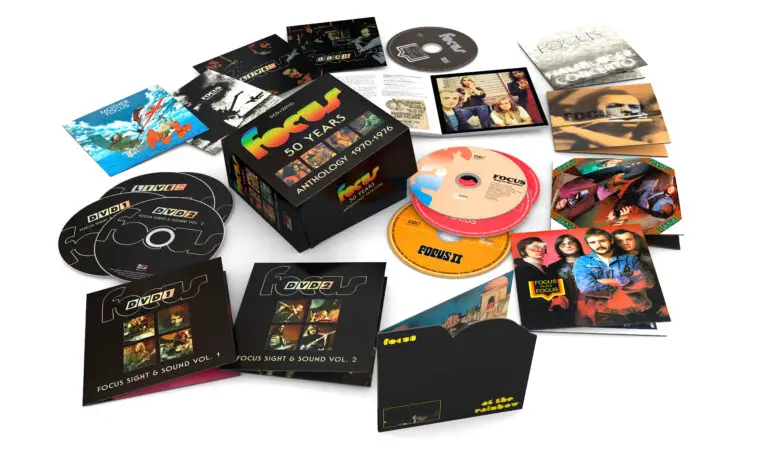 The band's sophomore effort commenced their prime era, with Akkerman's former partner in the bluesy band Brainbox, the jazz-inspired Pierre van der Linden, now in the drum chair.  The album kicks off with "Hocus Pocus," an Akkerman/Van Leer composition born out of a jam session at the band's rehearsal home in a Dutch castle.  This unforgettable fusion of manic speed metal, yodeling and jazzy drum solos became a surprise hit. It was the first smash for Sire Records in the U.S., pushing global awareness of the band and inspiring legions of nibble guitarists to come like Yngwie Malmsteen and Eddie Van Halen.  Akkerman's "Le Clochard" is a melancholy solo piece spotlighting his Segovia-like technique, while his "Janis," a gorgeous ballad dedicated to Janis Joplin, highlights Van Leer's multi-tracked flutes.
en.wikipedia.org/wiki/L'Orfeo(opens in a new tab)
The 23-minute, side-long "Eruption" is one of prog rock's most acclaimed epics, perhaps the most original fusion of classical themes and rock vigor. It is a hard rock version of the myth of Orpheus and Euridice, an update of Jacopo Peri's opera "Euridice." An uncredited melody from Monteverdi's "L'Orfeo" opens the suite, and a later segment includes the haunting ballad "Tommy," named after its composer, Tom Barlage of the Dutch fusion band Solution.  It's a show stopping ballad that Akkerman continues to perform in concert to this today. The Zappa-inspired "The Bridge" is an all-out jam session, culminating in some blazing guitar soloing reminiscent of "Hocus Pocus" and Zappa's "Willie the Pimp." "Euridice," penned by Eelko Nobel, is a classical lied which segues into the Gregorian chant of "Dayglow," then van der Linden's drum solo, "Endless Road." The suite ends with a reprise of its opening themes, then concludes with van der Linden's freeform percussion effectively evoking the sound of fireworks for the finale.  In live performance, the band also included quotes from Bela Bartok's "Concerto for Orchestra," something they were denied use of during the recording by his family.  Too bad…
The double-disc album "Focus III" followed. It featured more gorgeous melodies including Akkerman's "Love Remembered" and Van Leer's "Sylvia," which spawned another surprise hit, a #4 in the U.K. charts.  Van Leer's "Carnival Fugue" continues the fusion, with a bit of Bach, some cool jazz and even calypso all in the mix.  The keyboardist's "Focus III" and "Answers? Questions! Questions? Answers!," written by Akkerman and new bassist Bert Ruiter, are showcases for Jan's way with stating a melody and the improvisational dexterity of the whole band. Like "Eruption," they would become ever-evolving improvisation stoked workhorses of the band's live sets including their fourth release, the live album "At the Rainbow."  Akkerman's solo on this live disc's version of "Answers?…" is one of his finest. It's a study in melodic development and tension building that I have listened to hundreds of times over the years, one which you can view on the boxed set's first DVD volume.
More blazing jamtastic is on display in the third album with Anonymous II.  This is a re-recording of a track from their debut disc, which covered a side and a half of the vinyl of this release.  The album closes with Akkerman's first showcase on the medieval lute, "Elspeth of Nottingham."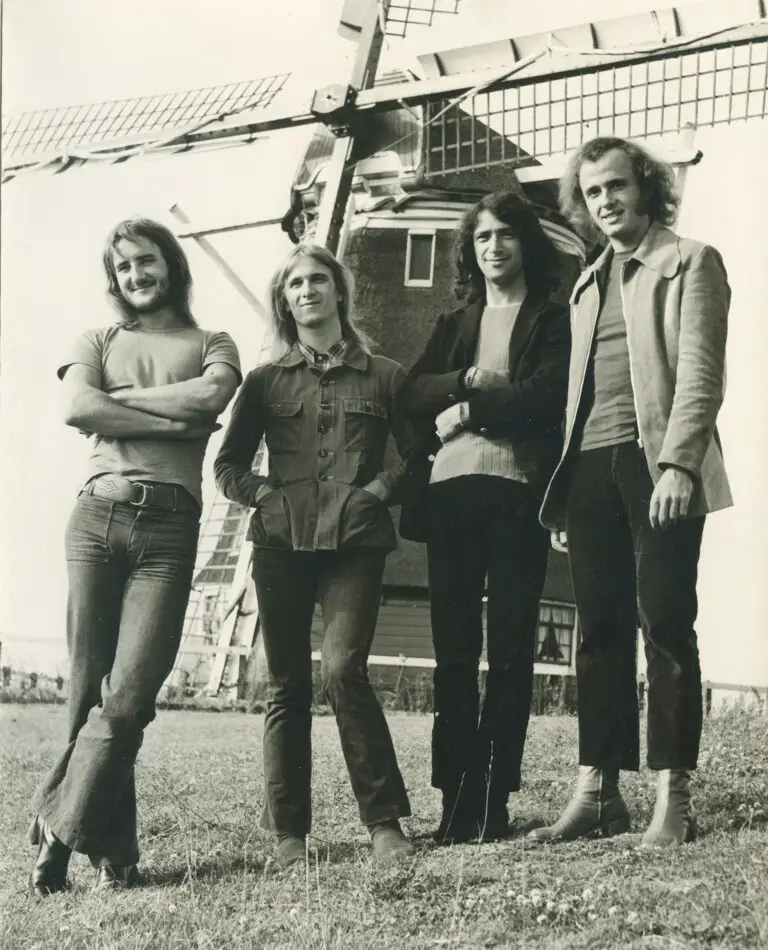 There's a New York groove, or at least birthing, in the album that followed their live fourth disc, "Hamburger Concerto." Akkerman's rocking refrain in this side-long epic was written while watching cartoons and eating a hamburger and Junior's Cheesecake at a NYC hotel. It's a power chord stomp drenched in watery, swirling Leslie speakers inspired by their then touring partner, Joe Walsh.  Together with Van Leer, he fashioned another powerful multipart suite, with quotes from Haydn, Brahms and Bach's "St Matthew's Passion" and plenty of room for burning flute, organ and guitar soloing.  Another chart success, the disc featured a quasi-follow-up to "Hocus Pocus" called "Harem Scarem," another dreamy Van Leer melody in "La Cathedrale de Strasbourg" and "Delitiae Musicae," another lute outing by Jan adapted from a work by Dutch composer Joachim van den Hove. By this time, drummer van der Linden was gone, replaced by Brit Colin Allen of Stone the Crows fame, who keeps it all anchored with a firm, rock steady beat.
With the studio album "Mother Focus," the band sort of heads off track, shedding some of its European classical spice for an almost soft jazz, easy listening vibe.  All said, the album still has some standouts.  Another New York connection comes with "My Sweetheart."  The upbeat Akkerman tune served as the theme song for commercials for popular NYC radio station WPLJ-FM for years.  There's also the Bert Ruiter penned "Hard Vanilla," where Akkerman solos at length with a talk box, ending it all, and maybe his time with the band, with a laughing guitar. 
The seventh album, Ship of Memories from 1976, is a collection of tracks done for an abandoned studio album around the time of "At the Rainbow," along with some intriguing singles and leftovers.  This album includes more beautiful melodies and spectacular guitar work, on the tunes like Van Leer's "P'S March," "Focus V" and the duo composition "Red Sky at Night," with one of my favorite Akkerman solos on the outro. 
The version of this album in the boxed set includes eleven intriguing bonus tracks. Featured are "The Shrine of God" and "Watch for the Ugly People," where the band backs Van Leer's onetime employer, Dutch cabaret artist Ramses Shaffy, along with rough mixes of "House of the King."  The former were recorded around the same time that the fledging group was serving as the pit band for the Dutch production of the musical, "Hair."
Archivist/curator Bessels will spin the heads of the Focus know-it-alls with the two live discs in the package.  He has unearthed a truckload of never-before-released radio and television performances and concert board tapes to present this improvisational monster jam band at the peak of its powers. 
The version of "Eruption" from Rotterdam in 1971 features the classic Akkerman, Van Leer, van der Linden and Ruiter lineup and clocks in at nearly 47 minutes.  Akkerman's first solo on "The Bridge" is a little more jazzy than usual, pushed by Van Leer's Hammond organ. But it's his solo spot starting at 20 minutes in that goes from gentle classical to slashing noise rock to full whirling dervish Eastern exotica. Van Leer almost gets a solo spot that shows his mastery of the classical and jazz forms on his flute, while van der Linden's drum solo swings as titanically and surehanded as any in the classic rock era.  The live discs also present some interesting performances and jams that I didn't know existed, from tours of Japan in 1974 and 1975.  The 1973 recordings by BBC Radio are naturally of impeccable quality, but Bessels has also done a masterful job cleaning up many of the other live rarities here.
The two DVDs of television performances are another thing that sets this package apart.  It's a real thrill to see this unique band of improvisational madmen in full flight, in their BBC and Live at the Rainbow performances.  The second DVD includes rarities like a 1970 spot of Dutch TV with the original quartet and an RTE TV performance from Dublin that hasn't been seen since its initial broadcast in 1973.  Also featured are television performances of "Hamburger Concerto" from Danish TV and the 50-minute "Classic Albums" special on "Focus II/Moving Waves."  Unfortunately, the latter is mostly Dutch, excepting the contributions from producer Mike Vernon.
After decades of being wrongly relegated to the backseat by rock's critical tastemakers, progressive rock, like that plied by Focus, is gaining a much deserved second look.  So the time seems right for this battleship of a collection from Holland's Red Bullet Productions.
If you already love Focus, you can buy this, enjoy much more of the band you thought you knew everything about, and die a happy man (or woman).  If you don't, you should give this purchase some serious thought.  You should also put aside some serious time to listen to, and enjoy live of your TV screen, one of the most underappreciated and uniquely talented bands of rock's most boundary pushing era.
Recommended listening: Hocus Pocus, Answers? Questions! Questions? Answers! Live, Eruption, Red Sky at Night, Focus II