This past Friday, December 11, Connecticut-based rock quintet Goose performed from a rooftop in Rockefeller Center for their annual Goosemas show. The livestream from Rockefeller Center was the band's seventh annual holiday concert, and was streamed exclusively on The Relix Channel on Twitch, drawing nearly 60,000 worldwide viewers while raising an astounding $45,000 for Save our Stages and Conscious Alliance.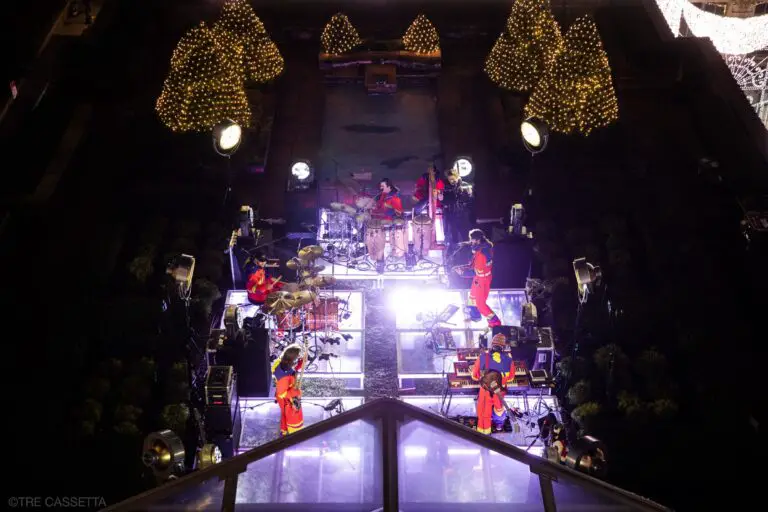 Donning matching red ski suits atop a roof adjacent to St. Patrick's Cathedral in Midtown Manhattan, Goose took to the stage just after 7 PM ET and kicked off an energetic, two-set performance highlighted by fan-favorite original tracks "Arcadia," "All I Need," and "Hot Tea." Known for their uncanny ability to recreate cover songs in their signature style, while upholding the compositional integrity of the original piece, the band also incorporated covers of Vince Guaraldi's "Linus and Lucy," Pat Benatar's "Love is a Battlefield," and Jackie Wilson's "Higher and Higher" into the setlist. 
The livestream benefitted two NIVA's Save our Stages, a national charity providing support to independent live event venues and promoters throughout the United States in these trying times; and Conscious Alliance, a nonprofit that connects a network of creatives to collect large-scale donations in order to combat hunger in historically underserved communities.
Donations made from Goosemas will help keep Conscious Alliance on the road this winter delivering 200,000 meals to kids and families in need. Every $1 donation = 2 meals to someone going without food this holiday season. Donations can be made at Goosemas.com through December 20th at 8pm ET.
In a year when music and its empowering spirit has been stifled for so many, Goose's performance was magic! And what better place to do this than from Rockefeller Center,  where culture and community come together to surprise and delight. A huge thank you to Goose and their amazing team, Peter Shapiro, and the Rockefeller Center team for making such a special evening possible.

Gus Field, Tishman Speyer / Rockefeller Center
Viewers were treated to pro-shot video and clever, dazzling holiday-themed stage design by Goedde Sound and Light, with multiple moving cameras capturing each band member in front of a breathtaking New York City backdrop.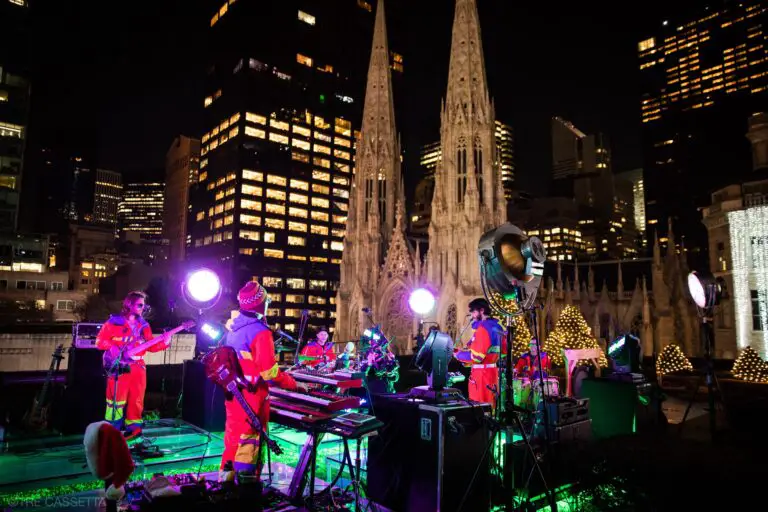 Fans will have the opportunity to watch a free rebroadcast of the performance this Saturday, December 19th at 8pm ET on the band's Facebook and YouTube pages as well as on FANS.LIVE. Goose plans to continue connecting donations to Save Our Stages and Conscious Alliance through December, 20th at 8pm ET at www.goosemas.com. 
We are so happy to have had the opportunity to host Goosemas, especially with all of the uncertainty this year, we're so grateful so many people tuned in and donated to two organizations doing incredible work."

Ben Atkind (Drums)
Setlist: Goose at Rockefeller Center, NY, NY – 12/11/20
Set 1: Arcadia, Linus & Lucy, Madhuvan, Turned Clouds, Earthling Or Alien? Love is a Battlefield, Slow Ready, Elmeg the Wise
Set 2: Seekers on the Ridge (Part 1), Seekers on the Ridge (Part 2), All I Need, The Empress of Organos, Hot Tea -> You and Whose Army? -> Hot Tea, (Your Love Keeps Lifting Me) Higher And Higher