Billy Squier had pretty much jumped the shark by '89 – he was constantly on rock radio in the early 80s, but his melodic hard rock throne had been usurped by hair metal bands by this time. His unintentionally hilarious, career-destroying 1986 "Rock me Tonight" MTV video did not help, in which he sashayed around like… well, go watch it on YouTube, and read the comments, which are fantastic and hilarious, much like the video itself. If this place held 2500 max, there were maybe 200-300 there. The world had moved on from Billy.
Clifton Park Arena, which was not far from where Upstate Concert Hall is currently, wasn't around for long – it was an ice-skating rink that hosted smaller arena-level gigs in 1989 and 1990. Alice Cooper, and also The Cult played some pretty well-attended shows there not long after this gig. This was not really a well-attended show.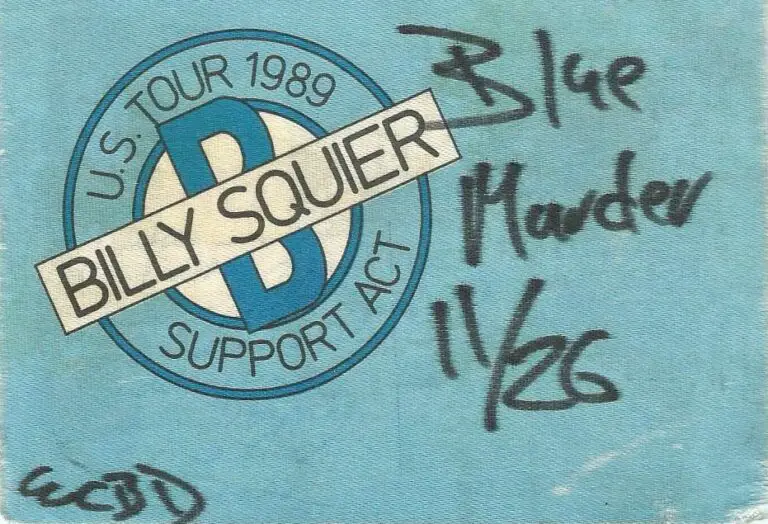 King's X opened, promoting their brilliant Gretchen Goes To Nebraska second record. They'd just played the area just two months before at Saratoga Winners, a pretty packed show, and played to many less people – dozens, maybe – during their early slot at this show. They did maybe six songs, that were excellent, but few were there to see it. One of the great, underhailed-yet-brilliant bands of loud rock. All hail King's X.
A few more people joined for Blue Murder, kind of an all-star outfit with leader/Btitish guitar hero John Sykes (previously with Whitesnake, Thin Lizzy and Tygers of Pan Tang), plus celebrity drummer Carmine Appice and ex-Firm bassist Tony Franklin. Sykes had made his fortune with Whitesnake's massive '1987' LP, which he had co-written and played on, and he was looking for a repeat with Blue Murder. It was not to be. BM were a pretty good band – that self-titled first record had some solid tunes on there, but nothing great. It was all very over-produced and Whitesnake-like sounds proved a bit dated these days. As fantastic as Sykes' playing is, by 1989 the public was moving on from that kind of thing.
Blue Murder's very produced, 'big rock' sound, with an image that looked like pseudo-glamorous, made-up pirates, was a couple years past the sell-by date. People wanted Metallica, Jane's Addiction and the Red Hot Chili Peppers. Big hair-big rock was on its way out, it just didn't know it yet. They played a bunch of songs from that first BM record and "Still Of The Night," which confused most of the sparse crowd, who didn't know that Sykes had played on it, because he hadn't been in the video.
A full report on Billy Squier those 31 years ago, is not possible. After the BM gig, I went and interviewed Blue Murder for my WCDB college radio show, and asked Sykes a ton of Thin Lizzy and Tygers of Pan Tang questions. He was very cool and friendly, telling lots of stories about Phil Lynott and early Tygers.
These days, Sykes is largely an international man of mystery – after Blue Murder dissolved, he toured through the later 90s and early 2000s with a reformed, tribute Thin Lizzy, made a few solo albums. For well over a decade he has been out of the public eye, occasionally teasing a return to action, but largely his mighty guitar has been absent from the world.
I didn't really see Billy Squier – never really being a fan, and only saw the first couple songs before we went to interview Sykes. He came out and opened with a couple of those hits they always played relentlessly on PYX-106 and MTV ("Lonely Is The Night," I think was one). While watching, Blue Murder's road manager found me and said "pretty good so far, eh?" I had to admit it was. "It's all downhill from here," he replied, before leaving to interview Sykes + co. I didn't bother going back afterwards. That said, a solid triple-bill before a less-than-packed house.