In the gatefold of "Freak Out!," his stunning double disc debut from 1966, Frank Zappa includes a telling quote from Edgar Varèse, the composer he idolized first and maybe above all others. It's a creative call to arms in seven words, one he lived virtually round-the-clock for most of his 52 years: "The present day composer refuses to die."
With Alex Winter's long in the works documentary ZAPPA, we get an all-access and bravely unvarnished view of the life of this epic American creator and thinker. It's the story of a man, a composer first and foremost, who would defy any obstacle to get the music dancing in his head out and heard. And the most important audience for it, the only one that really mattered though millions would come to love it, was Zappa himself.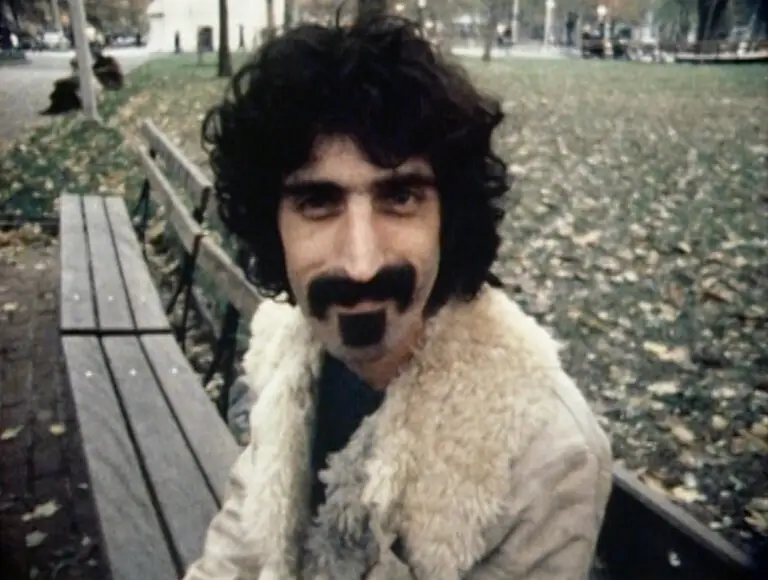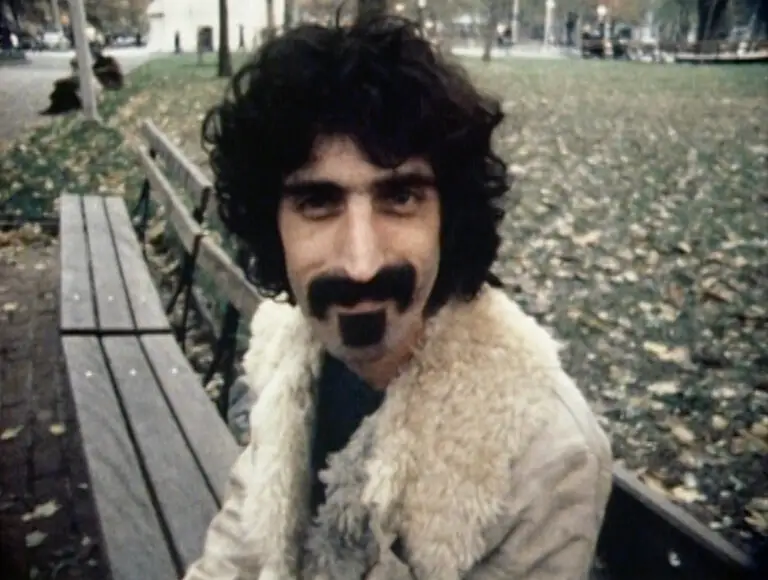 ZAPPA is anything but the formulaic rock doc of "rise-fall-rebirth" pioneered by the likes of VH-1.  It's a comprehensive and surprisingly honest look at a cliché, that holds a hell of a lot of water in this case – the agony and ecstasy of the artist. 
Winter's documentary follows every chapter of Zappa's struggles and triumphs, from his childhood and teens in Baltimore and the California desert, to the global adoration he was beginning to enjoy at the time of his death in 1993. In the end, Zappa was finally acknowledged as both a serious composer in the grand classical tradition and a singularly eloquent champion of freedom. This was for his almost solitary anti-censorship battle with the Parents Resource Music Council (PMRC) in America and Eastern Europe, where his free-spirited music helped power the "Velvet Revolution" against the Soviets.
Importantly, the doc also spotlights the sacrifices and conflicting emotions of many musicians who worked to bring his challenging music to life, and the family that took a backseat to the ceaseless writing, recording and touring his muse demanded.
Through Zappa's widow Gail, Winter and his creative partners were granted exclusive access to a voluminous collection of unreleased recordings, concert footage, incomplete films, unseen interviews and home movies. It's the latter, spanning his childhood through his final days, which really shed a fresh, relatable viewpoint on this genius music giant.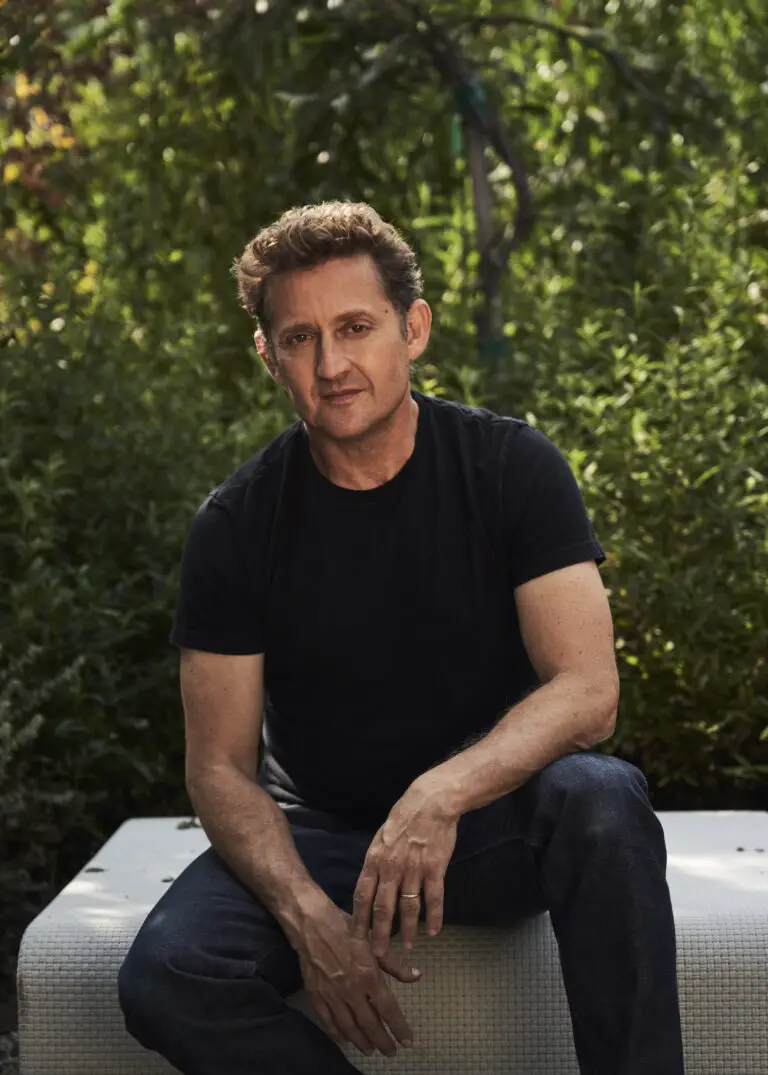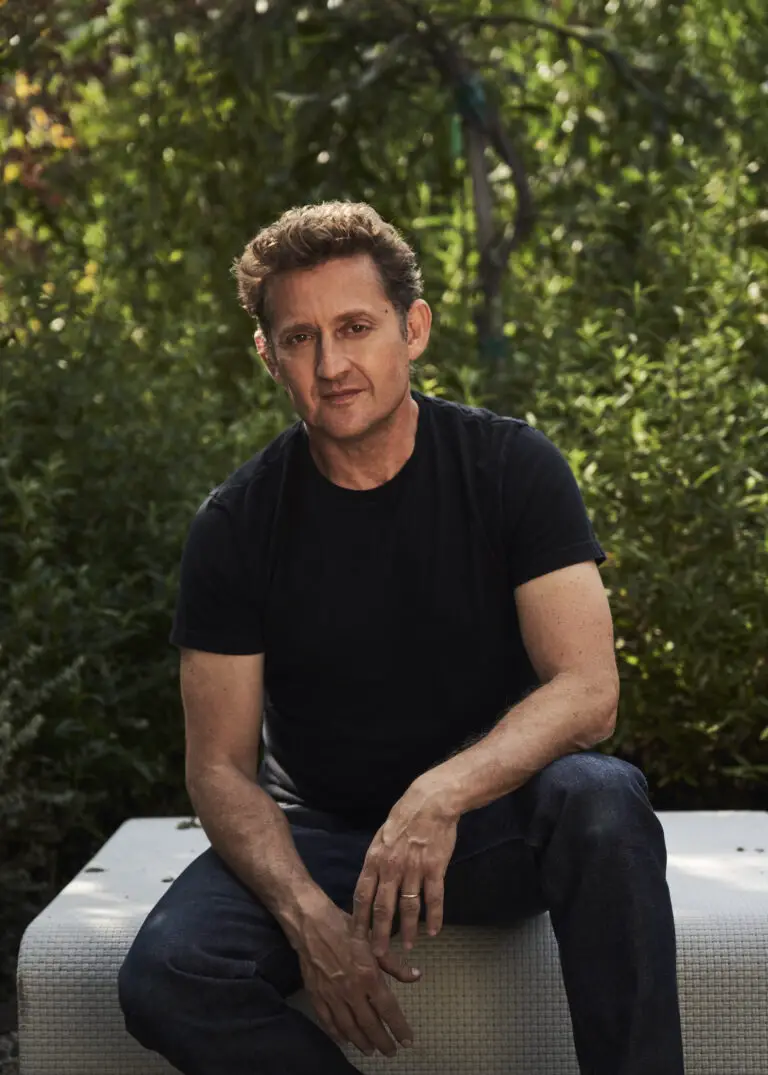 The film begins at the end, with Zappa at his final public performance in Prague in 1991. Here he is playing guitar for the first time in three years to help the Czechs, who had a special love for him and their Zappa superfan President, Václav Havel, celebrate their independence. Then come clips of the many news stories worldwide that marked his passing. Following is a scene of Frank walking the corridors of his vast "Vault," an archive containing tens-of-thousands of hours of music, film and other artifacts, the entirety of nearly 40 years of his creative labor.
From there, Winter takes us to the beginning, with some remarkable home movies that humanize this larger-than-life figure as a child. There's young Frank in the kitchen with mom and dad, in the backyard cavorting with brothers and sister. He's an all-American boy for sure, but one already carrying an all-knowing smirk, even then. There are also scenes from a goofy horror movie he made with his dad's film camera in 1956. Experimenting with his dad's 8-millimeter gave Frank a love of editing and splicing, something that would go on to inform much of his musical output.  It is the flowing editing of all the unearthed material above smartly juxtaposed with his many eras of diverse music to it, that makes this film such a rewarding and dreamy viewing experience.
Perhaps inspired by his dad's work as a munitions scientist, Frank developed a love of chemistry. He reminisces in the film about learning how to make gun powder at 6, and his last experiment, when he was suspended for attempting to blow up his high school at age 15.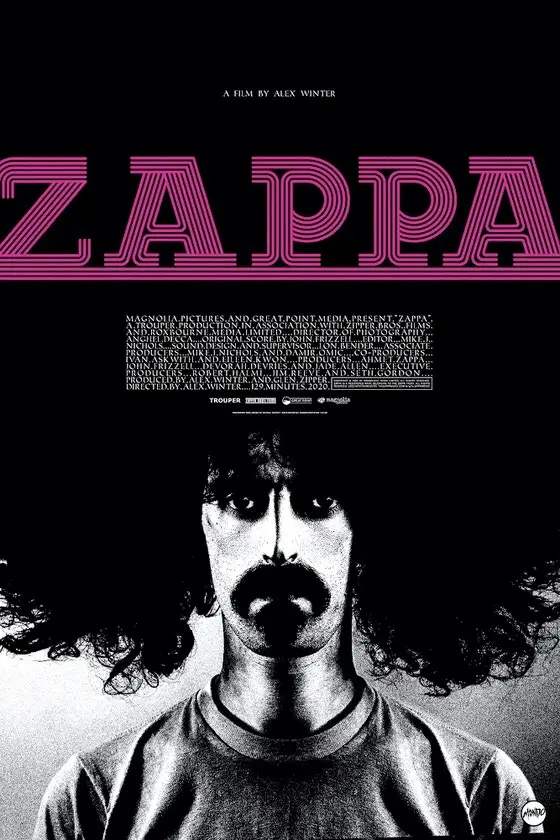 It was another thing that went boom, the work of Edgar Varèse, that drew Zappa to music. The fun loving Zappa just had to seek out an LP that a magazine claimed was the "ugliest" and "most frightening "music ever committed to vinyl, Varèse's 13-percussionist heavy "Ionization."  With this as inspiration, Zappa takes up the drums and states his intention to become a classical composer, just like his idol. Watch for the great footage of a military haired Frank banging away on the trap kit, with pork pie hat on his head and ciggie in mouth, with his first real band, The Blackouts.
The film then proceeds in chronological order through the many chapters that seeded his career, told with a remarkable collection of unseen footage, interviews and sounds. 
There's the teen years in the California desert, where he discovers a love of R&B with his good pal Captain Beefheart. Don't forget his experimental days with his own recording facility, Studio Z, which he bought with the proceeds from scoring two films. There's more intriguing footage from a never-completed sci-fi film he worked on with Beefheart. Also, the details of his bust for obscenity, for making a racy audio tape for an undercover cop who wanted to shutter his studio. According to Zappa in the film, "that little escapade was the most informative part of my political training." There's also great images of the Mad Magazine-inspired greeting cards Zappa created in his day job as commercial artist, all to supplement his musical aspirations.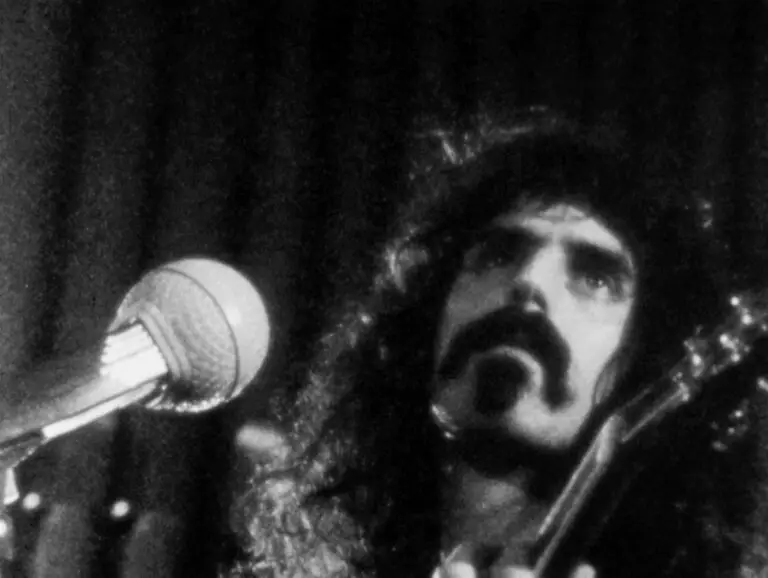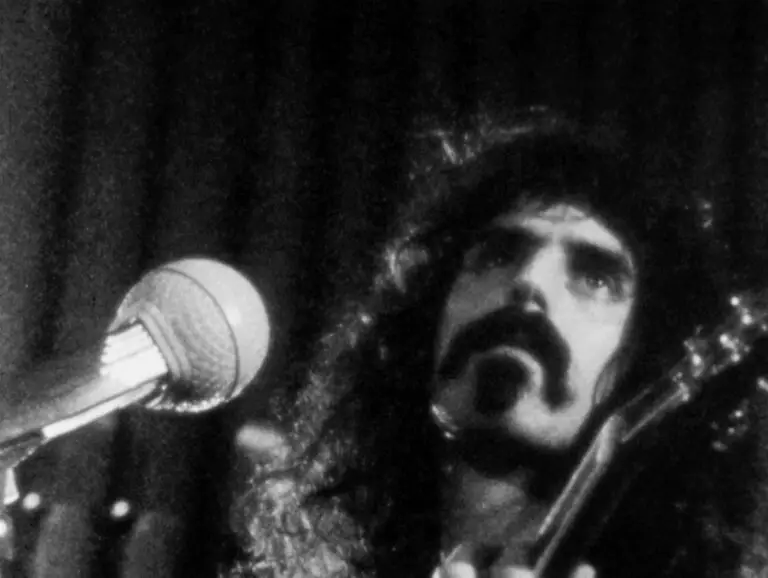 "If I was ever going to hear what I wrote, I would have to put a band together"

Zappa
This quote leading to some suitably psychedelicized footage of the early Mothers at the LA's Whiskey A Go Go and their six-month, nightly stint at the Garrick Theater in New York in 1967. It's the latter that proved most formative to the non-musical parts of Frank's oeuvre.
"The Garrick was like the Beatles in Hamburg," says Zappa's wife Gail. "The attention to the theatrical side grew because they needed to do a new show, every night. It was like the theater of cruelty… the same people came again and again. But it really helped him perfect what he could get away with on stage."
Two of the most meaningful interviews in the film come from early Mothers, saxophonist Bunk Gardner and Ian Underwood, Zappa's musical second through the early '70s.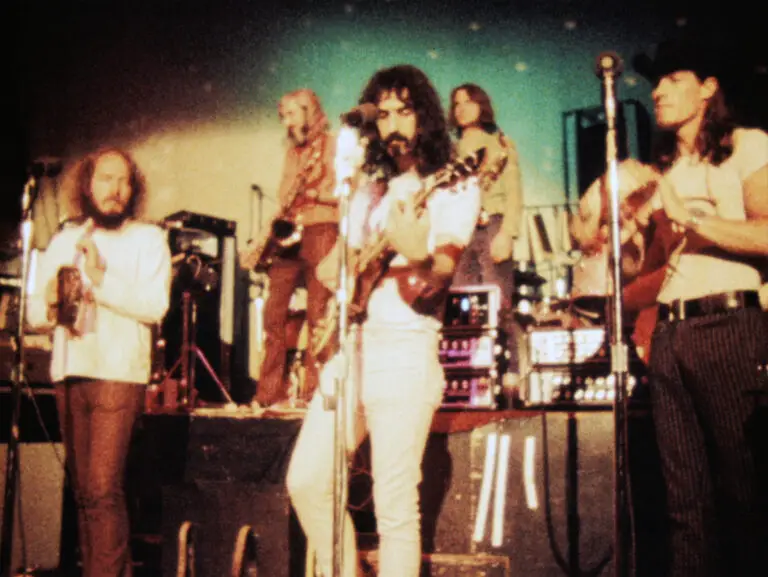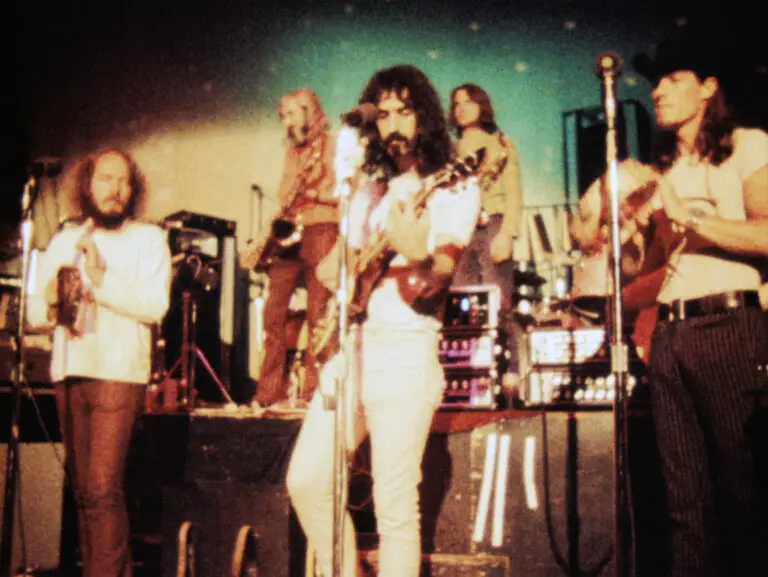 "Not too many bands had horns, and no bands were playing Stravinsky, which made me feel good about what we were doing," says Gardner.  "Perfectionism became our duty.  We would go in for eight, 12 hours, him drinking black coffee.  He didn't stop. It didn't matter if it was Christmas or Thanksgiving, we were going to rehearse. He was writing all the time, introducing new stuff."
"But in the four years I was with him,' Gardner laments, "he shook my hand and said, 'good job' maybe once."
Underwood states the bottom line: "The band wasn't anything other than Frank's ideas, and each show was like a new composition."
The film tells of Zappa's decision to break-up the much-loved original Mothers in 1969. He was $10,000 in debt and didn't want to be responsible for other people. He wanted to make new and varied musical statements and would put together the ideal musicians, often undiscovered virtuosos, to make them happen. It was an ever changing lineup, one that made the careers of new stars like Adrian Belew and Steve Vai along the way.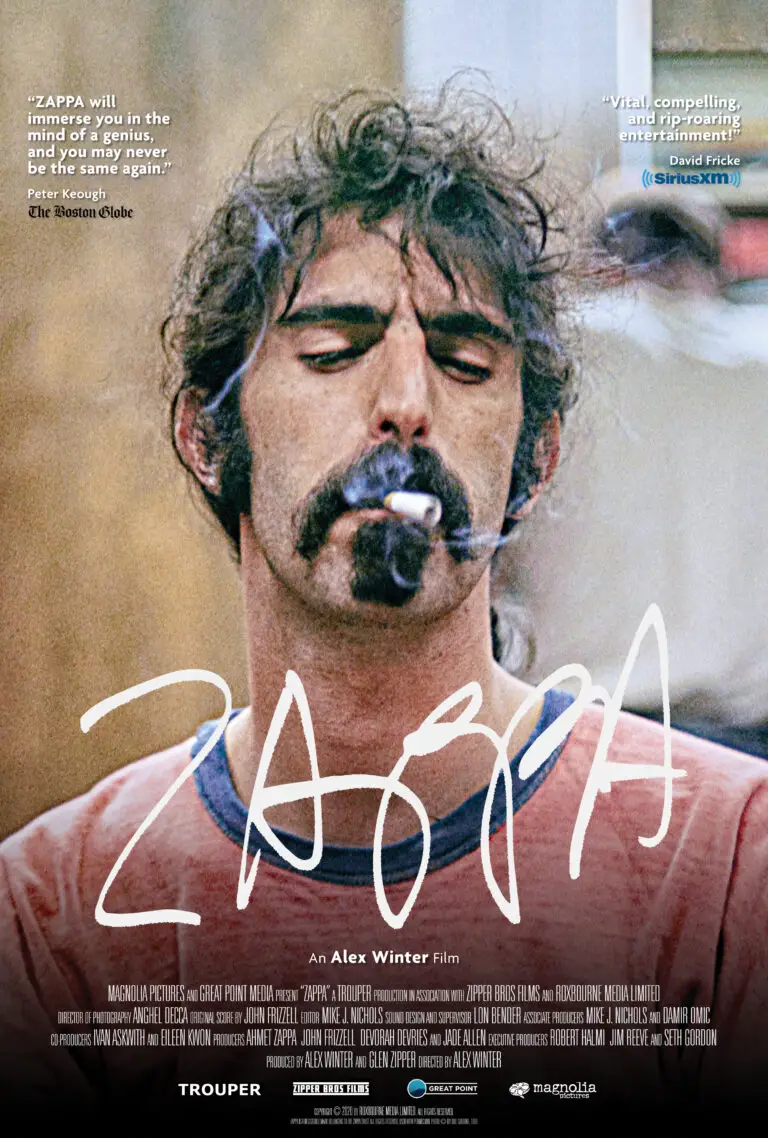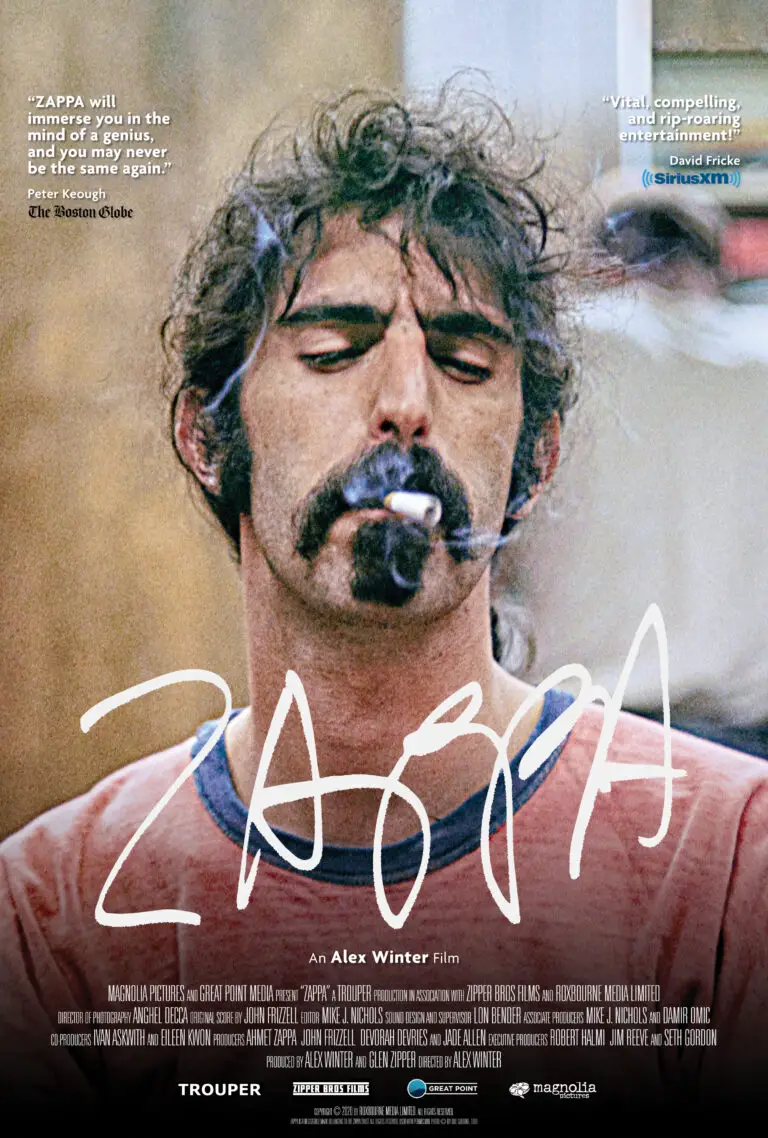 The film closely details the many musical chapters and aggregations that follow. There's his film "200 Motels" with his band with the Turtle's Flo & Eddie and their Fillmore East jam with John and Yoko. There's the "Waka Jawaka" jazz big band, the incredible fusionoid "Roxy & Elsewhere" band with George Duke, Ruth Underwood and the Fowler Brothers thru to his final 1988 ensemble which broke up in the midst of what would be his final tour.
"I was a tool for the composer and (Zappa) used his tools brilliantly. Frank was a slave to his inner ear.  He tried to manifest it in a world of limitations, financial and performance limitations. That led to a lot of suffering for his art."

Steve Vai observes
Ruth Underwood, the brilliant percussionist who was with Zappa on and off from his Garrick days, recalls. "He was a mass of contradictions, but very consistent with them.He had great feelings for us. He was human, at times cruel, but very passionate. He had real love, and the people he loved he kept bringing back."
ZAPPA is perhaps the first officially sanctioned Zappa content that doesn't sugarcoat the emotional impact of Frank's workaholism on his marriage and children.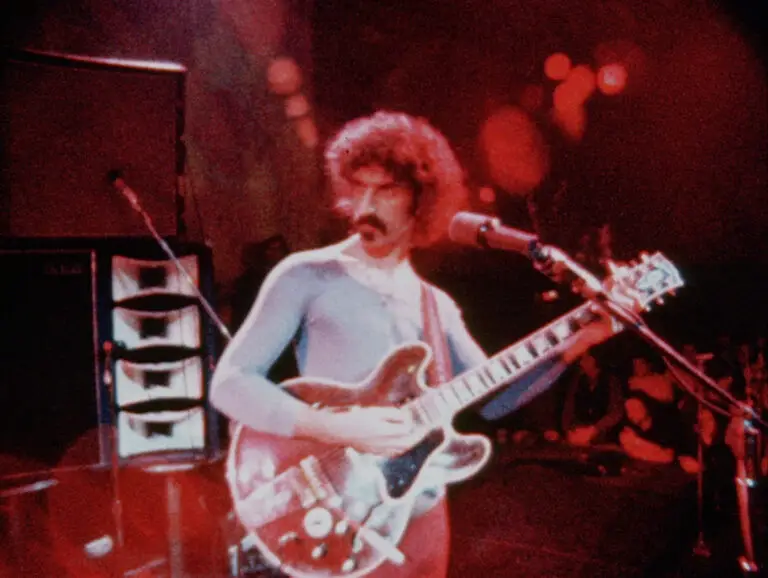 One thing I was clear about is that I married a composer, and you have to be out of your mind to take it on. There's no guarantee you will earn an income and nobody cares, the odds are pretty fantastic.

Gail Zappa
The film has more unseen home movies and details, provided by super groupie and Zappa family nanny Pamela Des Barres, about Zappa's time at his famed "Log Cabin" in Laurel Canyon.  His home served as the "centrifugal point" for homegrown stars like Jim Morrison and The Byrds and visiting rock royalty like Mick Jagger and Jeff Beck. 
Des Barres, Gail and Frank himself confirm what had been kept somewhat mum until now – his horn dog ways as a touring musician. "She didn't like it, but she knew," says Des Barres of Frank's affairs on the road. And in a never-before-seen interview, Zappa says of his time on the road: "I'm a human being, I like to get laid."
Ruth Underwood observes, "Frank had a polarity of passion. He couldn't wait to get out of the house and go on road, but he was happy when he got to come home."
When Zappa was home, he was largely away from his family, working the night shift in his basement studio, then sleeping all day. One poignant chapter in the doc is the genesis of his only Top 40 hit, "Valley Girl."  This came about when his daughter Moon figured that the only way she would get to spend time with him was to suggest they make music together. She slipped a note under his door telling him this, and their collaboration led to mainstream acceptance and a Grammy nomination. Another beautiful scene is of baby Moon being cuddled by her parents and they dance to the strains of a classical favorite that Zappa quoted often, Stravinsky's "Firebird Suite."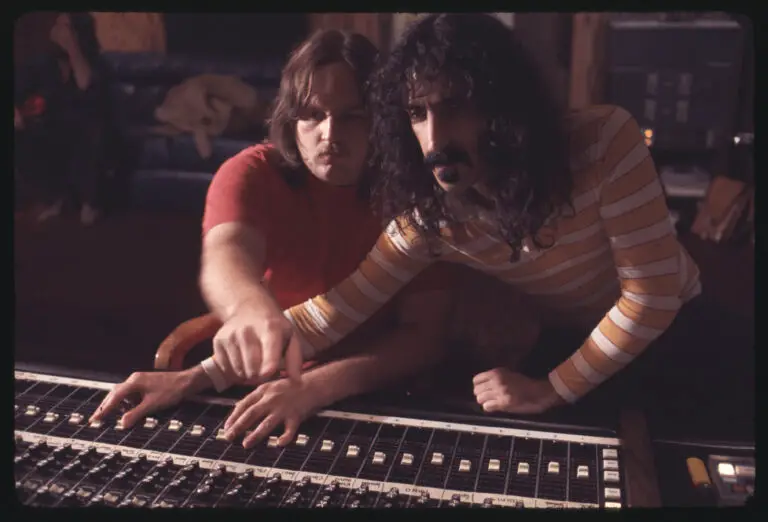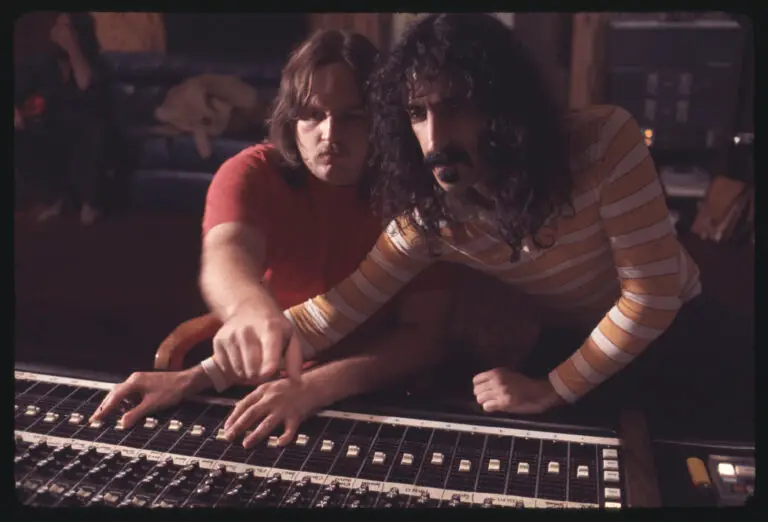 The film makes clear Zappa's true obsession. "My desires are simple. All I want to do is get a good performance and a good recording of everything I ever wrote, so I can hear it. If anyone else wants to hear it, that's great too. Sounds easy, but it's hard to do."
A good portion of the final third chronicles Zappa's classical works, and the struggles to not only finance their production, but to have them performed on a level that would meet his exacting standards. It spotlights his work with the London Symphony Orchestra and Kronos Quartet, whose David Harrington puts Zappa in league with "American experimentalists like Harry Partch and Sun Ra, who reimagined what music could be." Also covered is his explorations of doing it all by himself, with the then edge-cutting computer music station, Synclavier, with snippets from the final work released in his lifetime, "Civilization Phase III."
The film ends with a positively jaw-dropping 13-minute sequence of the Ensemble Moderne performing Zappa's acclaimed "Yellow Shark," at his last public appearance in November 1992. With Ensemble Moderne, Zappa felt he had finally nailed it in the classical realm. And here, this remarkable music serves as backdrop for a lengthy montage, where the scenes of his life rewind before viewer eyes in true Hollywood tradition. After a music and dance encore of his treacherously beautiful "G-Spot Tornado," and a 20-minute standing ovation, Zappa winks to the audience and concludes: "I guess there's no accounting for taste."
In the end, whether it was his true feelings or a put-on, Zappa gives this advice to aspiring composers. "Get a real estate license. If you want to be a composer, you must have another job to support your habit." 
I would be remiss not to add a few more important thoughts about this movie. The first is that it is a product supported by the fans, by a two-year crowdfunding campaign that raised more than any other documentary, nearly $900,000 which went to restoring the archival material.  And all the fans who put up their hard earned cash up receive mention in the lengthy credits.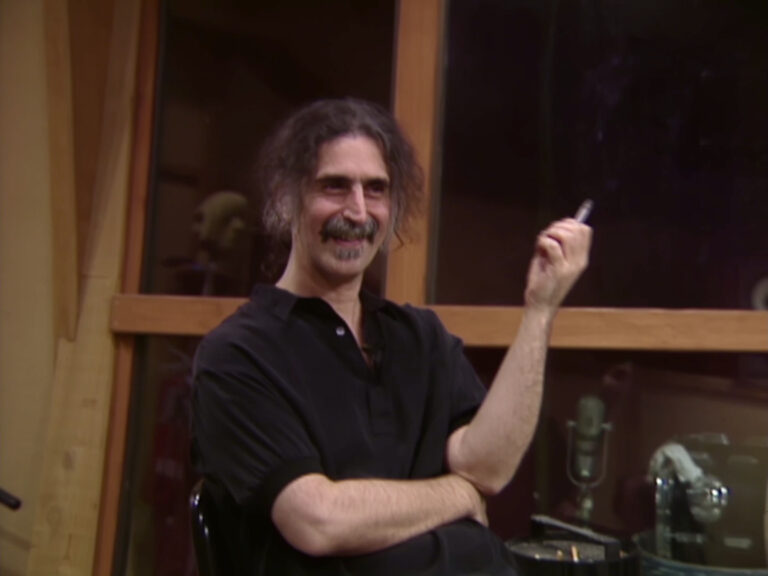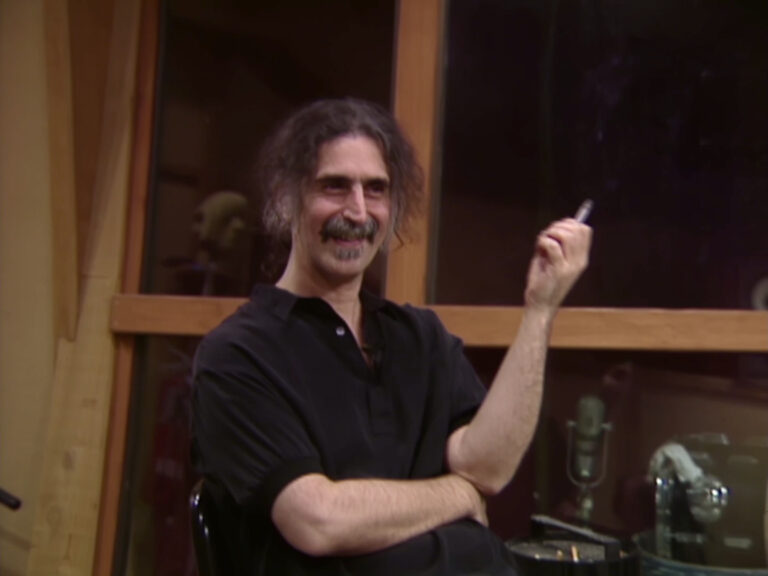 Unlike recent rock documentaries like "Once Were Brothers: Robbie Robertson and the Band," this film is all the stronger for not being afraid to show Zappa's missteps and personal failings, the people who also suffered and might've felt slighted as he pursued his sonic calling. Unlike the aforementioned documentary, where Robertson does a somewhat dishonest job of PRing his own contributions and sweetening over his massive conflicts with his bandmates, there's none of that here. And with Frank being the control freak he was, this documentary could've only been done in such a way after his passing.
For a Zappa lover like me, this film was a truly rewarding and emotional experience. Zappa's music was and still is an important soundtrack to my life. It's the work of a fearless free thinker and experimenter, a self-reliant visionary who inspired me seek out sounds and thoughts from out of the mainstream. 
For those not in the know, it's the perfect primer. It's an artfully constructed, comprehensive cinematic introduction to a man who made as broad and lasting an impact as any 20th Century musician.  It's also a study of the resourcefulness and fortitude needed to succeed in any creative endeavor, and a salute to a brave and much missed warrior for the causes of creativity and freedom of expression.