Big Picture Media have teamed with Kevin Lyman Group + Dynamic Talent International to announce a special one time event. 'The ADAPT Conference' will focus on entertainment professionals who have found ways to adapt to the changing climate. Attendees can expect a "crash course" on entertainment's pandemic business models.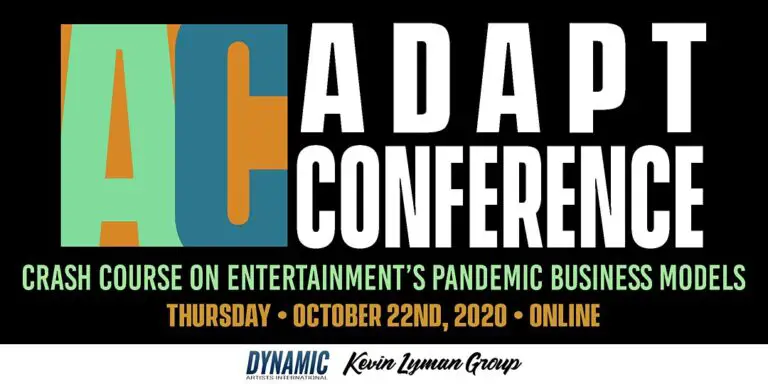 The one-day ticketed event will occur on October 22 via the Whova Conferencing App. Tickets are currently on sale at  https://adaptconference.eventbrite.com/ Industry Professionals: $149 Industry 4-Pack: $400 Students: $49.
Scholarships have been made available for industry professionals who are currently unemployed due to COVID19. Approved applicants will receive 50% off conference registration and a spot on the "Open To Work" directory. Applications for the ADAPT Unemployment Scholarship are now open here.
March saw a screeching halt of a majority of the entertainment industry including live events due to the COVID-19 pandemic. A significant amount of the world's economy frozen but all sense of normalcy was lost. Even though things have reopened the entertainment industry faces the reality of being denied reopening major revenue streams. While several businesses are forced to shutter their doors permanently, a new sense of urgency has been risen to create new "normal" ways to operate.
Classes and topics at the ADAPT Conference will include Live Streaming in the age of COVID-19, Inside the Label's Mind, Socially Distant Live Shows, and more. Each class will be taught by a top entertainment business leaders including Kevin Lyman (Vans Warped Tour), Trevor Swenson (Dynamic Talent International), Joel Madden (Veeps + MDDN), Brian Rucker (Twitch), Eric Tobin (Hopeless Records), and more.  
Founded in 2007 in the heart of New York City, Big Picture Media an entertainment publicity agency .  They specialize in publicity and buzz-building services for bands, festivals, events, soundtracks and more.

Current Event Agenda:
9:00am PT – From Obstacle to Opportunity: A conversation with Kevin Lyman, Laura Hutfless + Jeremy Holley (co-founders of FlyteVu)
9:30am PT – Class #1: Managing through Rocky Waters: creating new revenue opportunities + keeping a lean overhead
11:00am PT – Class #2: Inside the Label's Mind: releasing new music, breaking through the noise, and what they're looking for today
12:30pm PT – Class #3: Evolution of the Venue: from March, to now, and the Future
2:00pm PT – Class #4: Socially Distant Live Shows: the comeback of Drive-Ins
3:30pm PT – Class #5: Live Streaming in the age of COVID-19
5:00pm PT – Networking Breakout Sessions hosted by industry professionals