The new Couchtour.TV livestream service will offer a taste of what's to come with Disco Biscuits Drive-In Broadcasts, starting tonight from Yarmouth, MA.
Disco Biscuits founding member and lead guitarist, Jon Barber, now has a new title – Founder of Couchtour.tv. Thus, it makes perfect sense his band will test the startup platform. Tonight they will take to intergalactic heights – literally zapping a live feed into space then crashing down to your living room as you sip Dogfish Head on your couch.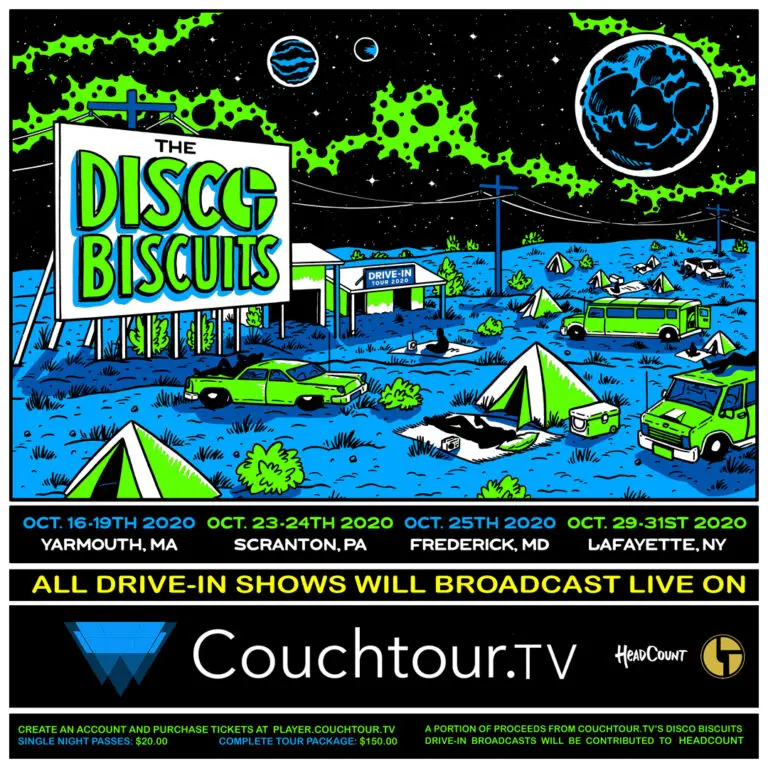 The whole aim here is for you to enjoy the show responsibly – going on the most epic concert trip, without moving an inch. However, Couchtour.tv won't stop there. For the adventure seekers, delve into their chat feature and engage with everyone. Get stoked on Couchtour.tv as it is far from it perfected final form.
The beta launched October. 3, featuring live performances from Chicago house trio Orchard lounge and electronic breakbeat exploration, DrFameus. Get it while it's hot. Couchtour.tv isn't holding back that they're the new kids on the block. As they work through the 'bells and whistles,' now is the best time to experience a raw, upcoming stream service.
The project boasts their contributions to HeadCount, helping register voters and promote non-partisan democracy through the power of music. In addition, the multi-faucet idea will take on role of a promoter. It's an all in one.
Go to Couchtour.tv and sign up to access pricing and see your purchase options. 
Couchtour.tv wasn't a new idea, but time that would have otherwise been spent on the road opened up the space to finally bring Couchtour.tv to fruition. We've got a great team working on this, but it's still gonna' be a few months before we can roll this out in its complete form – bells, whistles and all – then it'll be available wherever fans go to get their apps.

Jon Barber – Disco Biscuits
Couchtour.tv can be summed into two words. High Def. They guarantee above the rest with the highest quality stream, real-time customer service and the ability to host events literally anywhere. Their state-of-the-art satellite tech can zap converts from anywhere with a plugin. Maybe the Biscuits will be on a boat or teetering on the edge of a mountain, according tho the official press release on Wednesday. There are no limits.