Hudson Valley Votes (HVV) announces their third annual Get-Out-The-Vote virtual concert encouraging voter turnout. The virtual concert will take place on HVV's YouTube and social media channels on Saturday, October 17, 2020. The lineup includes big names like Natalie Merchant, Norah Jones, Emily King, Antonio Delgado, Michelle Hinchey and more.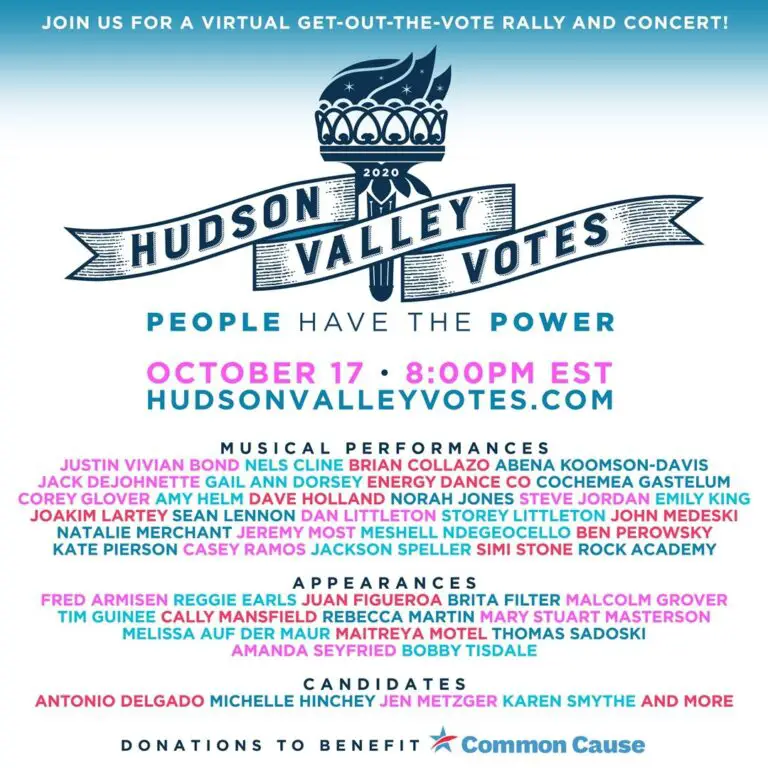 The event will include musicians, candidates, actors, students, and activists from the Hudson Valley area and beyond. The event encourages people to come together, celebrate, and defend their right to vote in what they call, "the most important election our country has ever faced." The concert will take place online and will be free to the public. Donations via ActBlue are encouraged, with net proceeds to benefit Common Cause New York. As in years past, all of the performers and artists have donated their time to get out the vote and promote election integrity.
Performers on the docket include: Justin Vivian Bond, Nels Cline, Brian Collazo, Abena Koomson-Davis, Jack DeJohnette, Gail Ann Dorsey, Energy Dance Co, Cheme Gastelum, Corey Glover, Amy Helm, Dave Holland, Norah Jones, Steve Jordan, Emily King, Joakim Lartey, Sean Lennon, Dan Littleton, Storey Littleton, John Medeski, Natalie Merchant, Jeremy Most, Meshell Ndegeocello, Ben Perowsky, Kate Pierson, Casey Ramos, Jackson Speller, Simi Stone, and Rock Academy.
Special Guests include: Fred Armisen, Moraya Seeger DeGeare, Reggie Earls, Juan Figueroa, Brita Filter, Tim Guinee, Cally Mansfield, Rebecca Martin, Mary Stuart Masterson, Melissa Auf der Maur, Maitreya Motel, Thomas Sadoski, Amanda Seyfried, Bobby Tisdale, and Uma Thurman. 
Candidates making an appearance include Antonio Delgado, Michelle Hinchey, Jen Metzger, and Karen Smythe. The event was originally going to take place at the landmark Opus 40, but inclement fall weather shifted plans and Hutton Brickyards generously donated its space in which to film the socially distanced concert reel, which will be shown virtually, interspersed with satellite performances and speakers. Earlier this year due to the COVID-19 pandemic, the original Hudson Valley Votes canceled it's plans for its live event, which had been originally scheduled for October 17 th at Ulster Performing Arts Center (UPAC) in Kingston, donating remaining funds to FAMILY of Woodstock. 
The event will be airing on Saturday, October 17 th at 8PM, via HVV's YouTube channel and social media, as well as via Radio Kingston, Radio Woodstock and others. This is the third annual concert-rally that features incredible local and international talent.
For more information on the event visit Hudson Valley Votes' website.