Phish has a storied history at Nassau Veterans Memorial Coliseum, one highlighted by Island Tour performances in April 2 and 3, 1998, and one of their most notable performances of the '2.0' era, February 28, 2003. The Uniondale venue has played host to Phish seven times, most recently on December 1, 2019. 1999

Phish would return to Uniondale on October 7 and 8, 1999, nearing the end of their Fall Tour, with two shows to follow in Albany that would close the tour. Newsday reviewed the first of the two nights, saying, "The Britney Spears of the world come and go, but Phish, the shaggy Vermont jam-band that has never had a hit on the radio or video, is proof that quality music can survive in a mass marketed world."
The first set on October 7 was highlighted by three songs – an 18 minute "David Bowie," a "Gotta Jibboo" with an ever-rare "Dave's Energy Guide" tease, and to follow, a set closing "Fluffhead." The second set would feature an inventive 'Mike's Groove,' with a nearly an hour of music packed in between "Mike's Song," (featuring Trey on keys) "McGrupp," "Prince Caspian," "Golgi Apparatus" and "Weekapaug Groove."
Also notable was the encore, which featured three songs – "Rocky Top," "I Am Hydrogen" and "Julius" – the stand alone "I Am Hydrogen" being played outside of the typical "Mike's Song" > " Weekapaug Groove" for the first time since Halloween 1987, and almost as rare, being played in an encore slot.
October 7, 1999 Setlist via Phish.net
Set 1: NICU > My Soul, Dirt, David Bowie, Frankie Says > Possum, When the Circus Comes, Gotta Jibboo, Fluffhead
Set 2: Boogie On Reggae Woman, Heavy Things, Tube, Back on the Train > Mike's Song[1] > McGrupp and the Watchful Hosemasters, Prince Caspian > Golgi Apparatus > Weekapaug Groove
Encore: Rocky Top > I Am Hydrogen > Julius
[1] Trey on keys.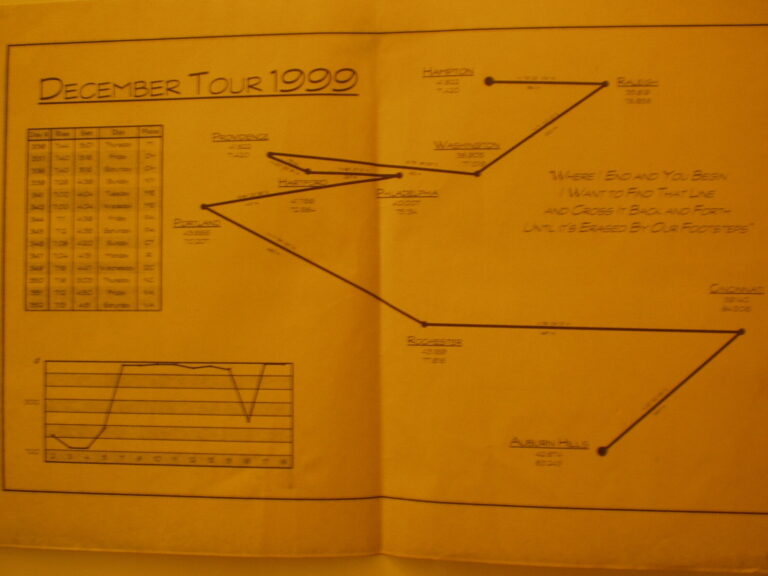 After the barn burner of the night before, October 8 would still have some tricks up its sleeve, particularly in Set 2. The first set was somewhat standard, beyond a "Meatstick" that brought Sofi Dillof to the stage for the dancing portion of the millennium tune.

Set 2 opened with "Halley's Comet" and then ventured into a 20-minute "Tweezer" which featured a jam that was reminiscent of the Siket Disc tune "My Left Toe."
After a fantastic mid-set "Harry Hood," Phish began to play the opening notes of The Who's "We're Not Gonna Take It," and appropriately brought to the stage Phish lyricist Tom Marshall, singing "My name is Tommy" to a rapt audience. The track from Tommy was played to perfection, as Phish is well versed in The Who's catalog, particularly Quadrophenia from their Halloween 1995 show at Rosemont Horizon in Illinois. Turning into the "Listening to You" portion of the song, the energy in the room can still be felt as Marshall belts out the remainder of Townshend's lyrics and Phish tears through the rock n roll overture.
Even though Nassau Coliseum is shuttered for the time being, and may not reopen, the performances Phish and others have made there have secured the venue's legacy for generations of music lovers.
October 8, 1999 setlist via Phish.net
Set 1: Piper, AC/DC Bag, Suzy Greenberg, Meat, Meatstick, Run Like an Antelope
Set 2: Halley's Comet > Tweezer, Bug, Fee, Harry Hood, We're Not Gonna Take It[1] > Chalk Dust Torture
Encore: The Squirming Coil, Tweezer Reprise
[1] Phish debut; Tom Marshall on vocals.
Phish Nassau 1999