Although the coronavirus pandemic has left Broadway shut down until next year, the Friends of Hallets Point and Stark Production have teamed up to introduce Radial Park, a drive-in theater in Queens with a Broadway twist.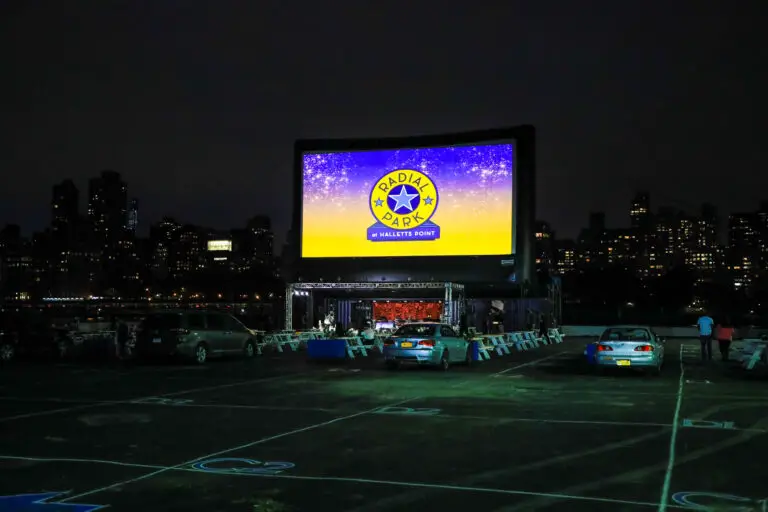 Starting this month, Hallets Point Play has begun to offer Broadway experiences, from big screen movies to full scale live productions. Radial Park's first show, a live production of Andrew Lloyd Webber's Phantom of the Opera, officially opened this month. An 11-piece orchestra brings this show to life along with talented actors Ali Ewoldt (Les Miserables National Tour and Broadway, The Phantom of the Opera Broadway, and The King and I Regional Tour and Broadway) and Derrick Davis (The Phantom of the Opera National Tour, The Lion King National Tour). Ice cold beverages and movie theater snacks are available.
Radial Park is taking extreme measures in order to maintain their guests' safety. All have their temperature checked upon entry, and can choose a glow in the dark wristband to make others aware of his or her comfort level: green bracelets for go, yellow for being cautious, and red to tell others not to come near. Fans can enjoy the show from their own cars, but those without vehicles are welcome to rent a socially-distanced picnic table complete with a boombox for audio. There are COVID "lifeguards" on duty all night to ensure that everyone practices social distancing.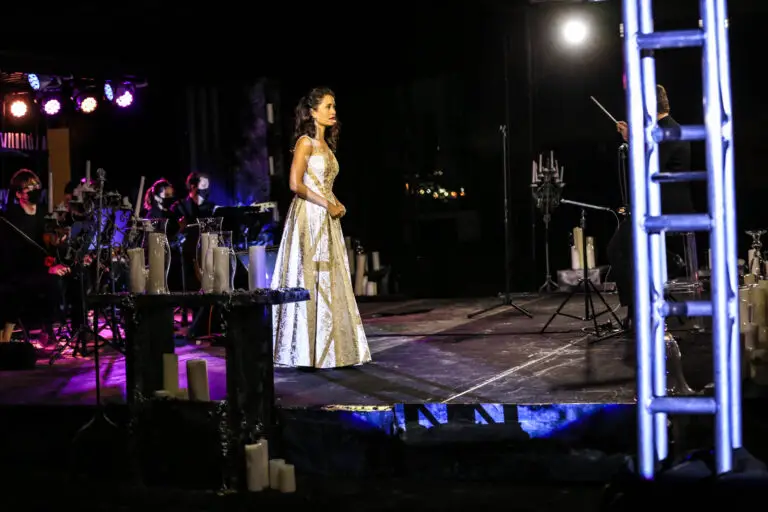 "The Durst Organization is thrilled to host such a creative concept from Stark Productions," said Helena Rose Durst, Principal at The Durst Organization. "Radial Park will provide a unique live entertainment experience that we are all craving during these difficult times, but in a safe and responsible way." The Durst Organization also holds 20 tickets each performance for Astoria Houses residents. A portion of sales goes to Friends of Hallets Point, a nonprofit organization that improves the community life and beauty of Hallets Point.
"As the saying goes, 'The show must go on!'" commented Jeremy Shepard, Stark Production Group Founder and President. "We are thrilled to be able to be presenting Broadway at the drive-in and are grateful to our partners, Friends of Halletts Point and the Durst Organization, for making it all possible." Radial Park is personal to Shepard, and he hopes that it can help lighten New Yorkers' spirits during quarantine. "I chose Broadway because it has been a part of my life for the last 10 years," he says. "It seems a shame it is shut down when we all need it the most. Can't wait to see you at Broadway at the drive-in!"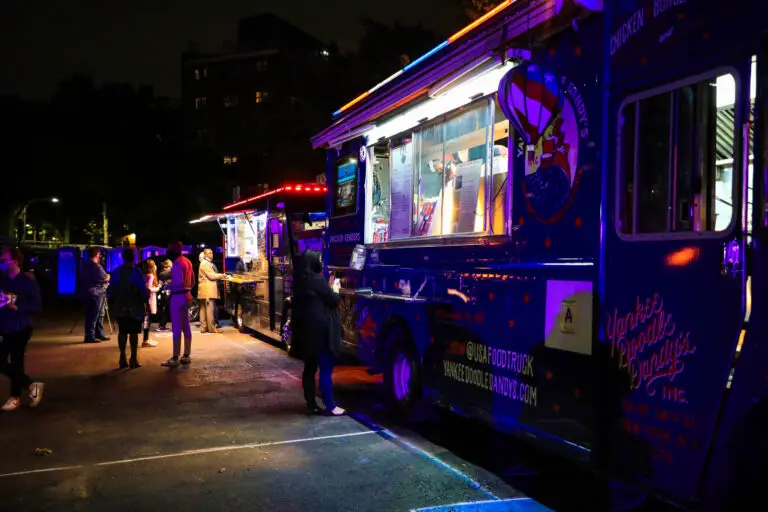 Starting this weekend, a full screening of Purple Rain will run until October 25. Audiences will watch the film along with nine live numbers performed by the Radial Park Band, American Idol Finalist Aaron Marcellus, Broadway's Nick Rashad, and Burroughs and Grammy award nominee, Lenesha "Sister" Randolf.
Tickets are available for Phantom of the Opera and Purple Rain now. Prices are per car (up to 5 people) or per picnic table (up to 4). Sign up for Radial Park's mailing list and don't miss news and exclusive offers.