LiveXLive, based out of New York City, is hosting the Vote Ready Festival livestream event on Oct. 2 at 8:00 p.m. ET/5:00 p.m. PT. The partnership of Atlantic Records' ATL Votes Initiative, Elektra Music Group, and the voter outreach organization HeadCount will host the three-hour virtual event. The festival will be available to watch for free on LiveXLive's site and apps.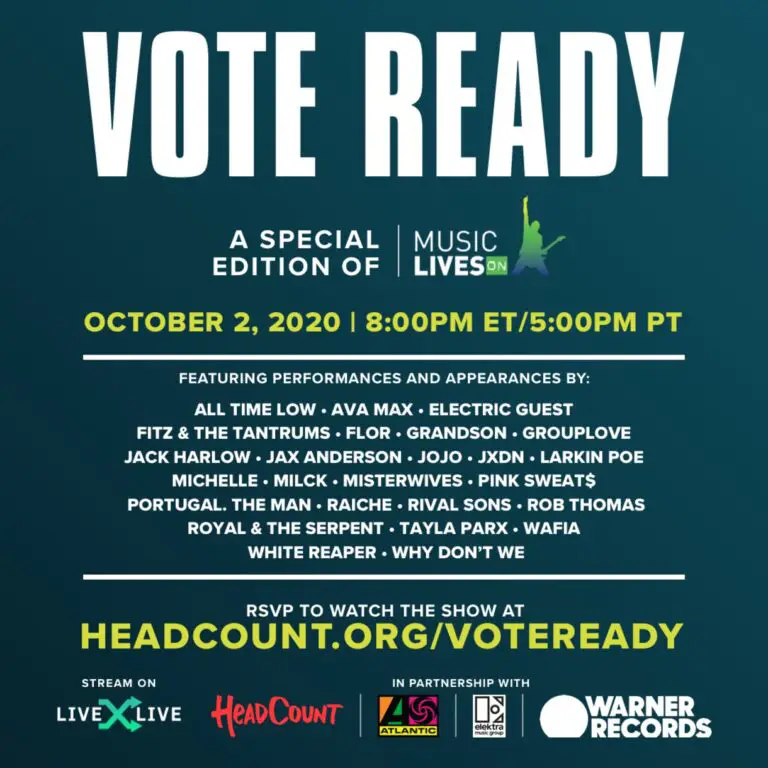 The Vote Ready Festival will include special appearances from Jack Harlow, Jojo, and Why Don't We, along with the featured performers listed above. LiveXLive's has already seen abundant success with its "Music Lives On" festival series that launched back in May of this year. The series has included performances from 90 artists reaching over 165 million fans. In addition to livestream events, LiveXLive's global platform elevates artists and celebrity voices to cover topics including music, comedy, and pop culture through videos and podcasts.
Music is a uniting force that we've watched bring the global village together during this pandemic and every other major movement in history. Joining forces with Atlantic Records on the ATL Votes initiative in association with Headcount to encourage Americans to vote is an important partnership as we head toward Election Day.

LiveXLive's President Dermot McCormack
The goal of The Vote Ready Festival is to increase support for Headcount's mission of encouraging fans to register and get out to vote with the help of artists. HeadCount is a non-profit organization that promotes participation in democracy through music, culture, and digital media. Headcount has already registered over 200,000 voters for the 2020 election.
ATL Votes, created by Atlantic Records, encourages voter registration by utilizing the labels' roster of artists. ATL Votes has incorporated Headcount's voter registration tools into Atlantic artist websites, email lists, and livestreams. Elektra Music Group, a sister label group of the Atlantic records subsidiaries, will also work closely with ATL Votes and Headcount to encourage fan participation in democracy.
Click here to RSVP for the livestream event.
Democracy–and in turn, our country–doesn't function properly without full participation from its citizens. We are very fortunate to have incredible artists, managers, and partners like Elektra Music Group, Warner Records, HeadCount, and LiveXLive to work alongside us in executing a truly special event we are all proud to be a part of."

Nick Harvey, Atlantic Records' Director of Digital Marketing