Goose wrapped up a run of Drive-Ins around the Northeast with two nights at South Farms in Morris, CT. Over September 16 and 17, fans spaced out on individual grids to properly socially distance during the show. The remote location in Western Connecticut is conducive to limiting a large amount of fans from descending on the show, as we slowly recover from the industry wide live music shutdown.
With this past June's Bingo Tour the last fresh Goose for hungry fans, they played two shows in Cape Cod at Yarmouth Drive-In prior to South Farms, and next plays Drive-In shows at Essex Junction, VT on October 2 and Swanzey, NH on October 3.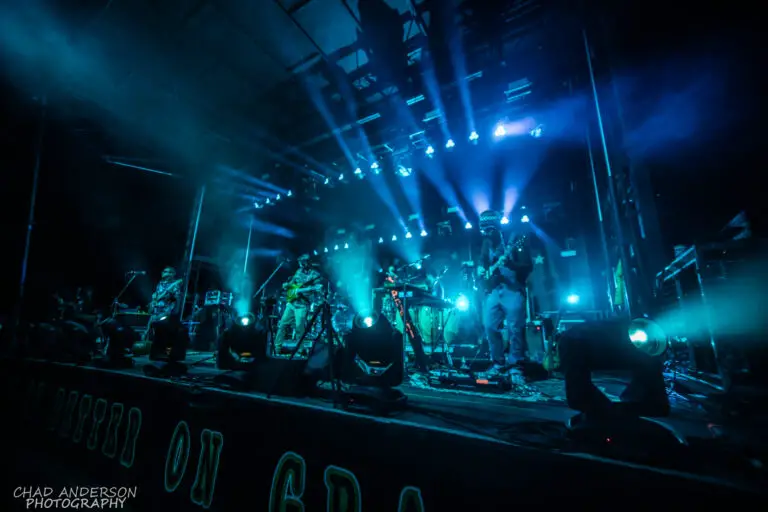 Having added percussionist Jeffrey Arevalo to the lineup in recent months, the five-piece group kicked off a funky night one with "Me and My Uncle," a John Phillips tune popularized by the Grateful Dead.
Night two featured a handful of notable covers, include Rick Mitarotonda singing Jim James level vocals on My Morning Jacket's "State of the Art (A.E.I.O.U.) to close the first set. The second set kicked off with 25+ minutes of original "Indian River" -> "Crosseyed and Painless" by Talking Heads.
Setlist South Farms, CT, September 16, 2020
Set 1: Me and My Uncle (1), Flodown, Western Sun > Tumble, Jive II -> Jive Lee, Electric Avenue (2), Echo of a Rose (3)
Set 2: Travelers > White Lights > Bob Don > Madhuvan
Encore: Disco Inferno (4)
(1) John Phillips
(2) Eddy Grant
(3) W/ Vocal Ending
(4) The Trammps
Setlist South Farms, CT, September 17, 2020
Set 1: Switchin' (1) > Doc Brown, Wild Night (2), Elizabeth, Rosewood Heart, This Old Sea, State of the Art (3)
Set 2: Indian River -> Crosseyed and Painless (4), Lead The Way, So Ready, Arrow
Encore: Arcadia
(1) Wes Montgomery
(2) Van Morrison
(3) Jim James, FTP
(4) Talking Heads Goose South Farms CT