PearlPalooza Music Festival will go virtual for their 2020 celebration on September 19. It will feature exclusive performances, interviews, and more. PearlPalooza will be free and available to everyone via live-stream.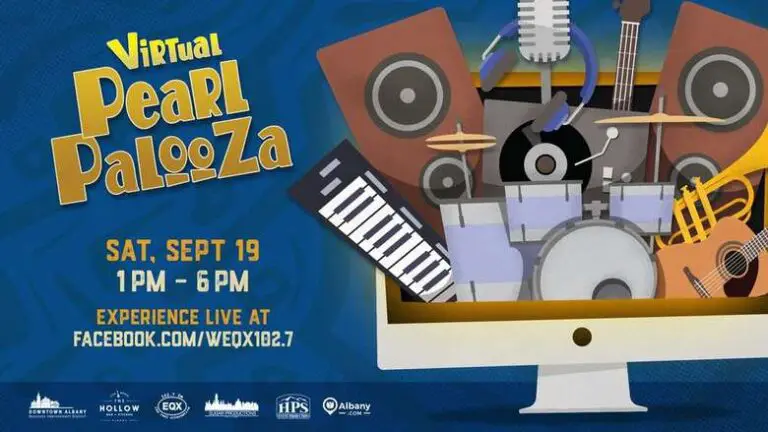 PearlPalooza generally takes place on Pearl Street in downtown Albany. The festival hosts musical performances, food, and more and organizers calculated that in 2019 over 10,000 people attended the festivities. This year's Virtual PearlPalooza is presented by 102.7 WEQX – The REAL Alternative, Sugar Productions, Downtown Albany, New York BID, The Hollow Bar + Kitchen, High Peaks Event Production, and media sponsor Albany.com. 
Although this year is being presented on the virtual cloud it will still bring that community feeling by being live streamed in restaurants throughout downtown Albany. People can enjoy the music and PearlPalooza specials while enjoying a drink or meal at The City Beer Hall which opens at 4:00 PM, Dawn's Victory Sports Cafe which open at 4:00 PM, The Excelsior Pub, Far Shot Albany, The Hollow Bar + Kitchen, Loch & Quay, Parish Public House, Pearl Street Pub, and The Yard Hatchet House & Bar which opens at 4:00 PM. For those looking to stay home it will also stream it on live on 102.7 WEQX Facebook page.
This year's Virtual PearlPalooza will feature performances from some of Albany's favorite musicians. The performances will start with a performance from MIRK at 1:00 PM. Then Victory Soul Orchestra will take the virtual stage at 2:15PM. The Wild Adriatic will then perform at 3:30PM. Then wrapping up the live performances Eastbound Jesus will take the stage 4:45PM.
PearlPalooza is teaming up with MVP Health Care to present YogaPalooza 2020 on September 19, 2020 at 11AM. People can join for a free, socially-distanced outdoor yoga class celebrating wellness and community at two Downtown locations. On the lawn at the SUNY System Administration Building at 353 Broadway and at Tricentennial Park at Broadway & Columbia Street.
For more information on the virtual 2020 PearlPalooza Music Festival visit Downtown Albany's website.