High Holidays live-stream was announced by the Because Jewish organization. The High Holidays celebration series for 2020 will stream for two weekends starting on Rosh Hashanah on September 18 at 7PM and the 19 at 10AM and on Yom Kippur on September 27 at 8PM and the 28 at 10AM. The celebration will include performances from people like Jeremiah Lockwood, Armo, Eric Slick (Dr. Dog), and Reid Genauer (Strangefolk). All four events will be broadcast for free live from New York's Brooklyn Bowl.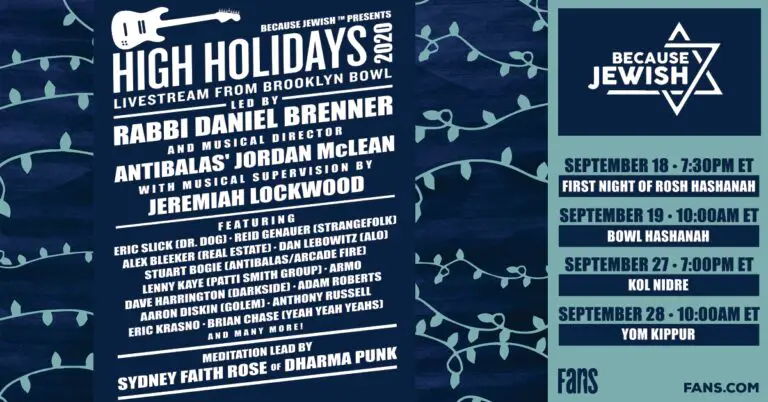 The event will be led by Rabbi Daniel Brenner with Antibalas Jordan McLean acting as it's musical director. The festivities won't have a live audience at the Brooklyn Bowl unfortunately due to COVID-19 but people can attend the via Fans.com where it will be live- streaming. This will be the ninth annual High Holidays, Because Jewish is hosting. The aim is to  host a suite of musically and spiritually driven High Holiday services. 
Eric Krasno, Disco Biscuits' Aron Magner, Guster's Brian Rosenworcel, Dap-Kings saxophonist Cheme and guitarist Bryan Grone are the latest additions to the lineup, part of the array of musical guests appearing throughout the services. Some will be live while others will be pre-recorded performances.
Some of the anticipated artists include Jeremiah Lockwood, Armo, Eric Slick (Dr. Dog), Reid Genauer (Strangefolk), Alex Bleeker (Real Estate), Stuart Bogie (Antibalas/Arcade Fire), Dan Lebowitz (ALO), Lenny Kaye (Patti Smith Group), Dave Harrington (Darkside), Adam Roberts,  Aaron Diskin (Golem)  Anthony Russell, Brian Chase (Yeah Yeah Yeahs) and a number of others. Each service will also include traditional prayers, a guided meditation, and instrumental offerings from a number of notable New York jazz musicians.  
Because Jewish is an organization that promotes, "Emotional, intellectual, mind-firing-on-all-cylinders exploration of God and faith and Judaism in this crazy modern world we live in. We explore through ritual, we explore through Bible study, we explore through delta blues, we explore through art, we explore through meditation. We explore through offering ourselves to something greater than ourselves. We aim to unsettle you. We aim to challenge you. We accept no easy answers." According to their website.
The event will be free to the public this year but donations are greatly appreciated from those in a position to donate during these difficult times. For information on how to make a donation you can Because Jewish's website. To stream the service visit the Fans.com event page and input your email for access for streaming.
For more information on the event visit Because Jewish's website.