Music venues across the United States plan to light up in red on the evening of September 1, 2020 demanding the passage of The Restart Act. The red lights illuminating the venues across the country will symbolize being in a 'Red Alert' as part of the the #RedAlertRESTART as a call to action to help venues during the coronavirus pandemic.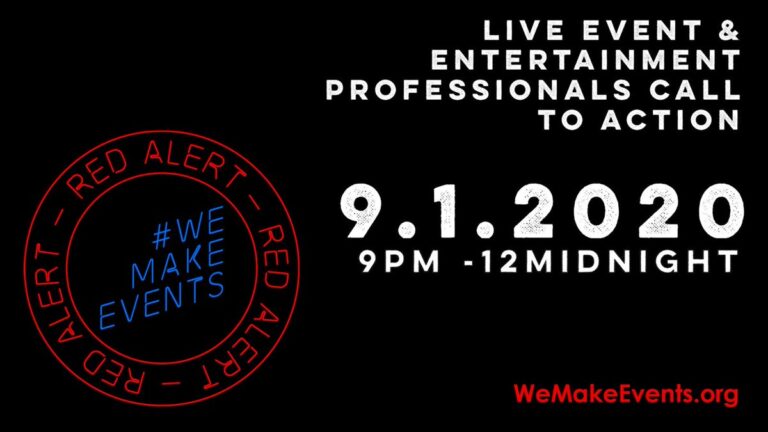 The purpose of this demonstration is to try to convince Congress to pass the Restart Act. The act, if passed, would provide much-needed assistance for millions of Americans who have lost income due to the coronavirus pandemic sweeping across the world. The call to action is being spearheaded by the #WeMakeEvents coalition. The #RedAlertRESTART campaign's purpose is to try to bring awareness to the fact that live music and venues are being disproportionately affected by the COVID-19 pandemic and need support desperately. 
In the recent Billboard article it explains why this act is so important. This relief bill, if passed, will offer, "up to 90% forgiveness for loans to companies that have high revenue loss and doesn't penalize industries that rely on part-time employees. In addition, rather than basing loan amounts on payroll, the Restart Act includes grants that are made to eligible recipients in an amount equal to 45% of gross revenue from 2019, with a cap of $12 million" according to the article.
On Tuesday night from 9PM – 12AM PST music venues across the nation plan to light up in red to highlight that the live events industry, particularly music venues, are on red alert for their survival. This lighting up will involve venues physically lighting up their facilities in red light in any and every way possible.  
 Brad Nelms, director of WeMakeEvents North America, explained in a release reasoning behind the campaign saying, "The entire live events industry is on the brink of collapse. Without financial relief, many businesses stand to permanently close, and families risk bankruptcy and homelessness. We want to take this opportunity to show the world the scale of what it takes to make live entertainment events happen and demonstrate how much this crisis has affected our community. This is a human issue, not a political issue, and it requires immediate action. While we realize there are a lot of issues going on right now, and other organizations will be staging events on other dates, we feel very strongly we must act now to save our industry."
People looking to participate and support the movement can follow these simple steps posted on the WeMakeEvents' website. There is three steps to follow. First, contact your representatives below using the Action network widget. Second, post a red-tinted photo of your favorite live event to your social media with the following caption: "#RedAlertRESTART: the live events we love may never recover from the pandemic, we need to take action! Take two minutes to contact your representatives here, and post a red photo of you at your favorite event, too.  You can turn your photo red here. And lastly, check out the hashtag #RedAlertRESTART and share/RT images of venues and live events workers you love.
For more information on this call to action visit WeMakeEvents' website.