Located in Manhattan's West Village on Barrow Street, Cafe Bohemia originally opened in 1955 and is an historic landmark and jazz club. Frequented by music legends the likes of Miles Davis, Charles Mingus, Canonball Adderley and many others, the venue closed in 1960, and was revived at its original location in October 2019.
One notable story about Cafe Bohemia comes from June 19, 1955, when Julian and Nat Adderley arrived in New York on a trip as Julian was to work on his Master's Degree at New York University. That first night in the city the brothers went to the Café Bohemia to hear the Oscar Pettiford band, the house band at the time. The night would prove to be a turning point in Nat's career.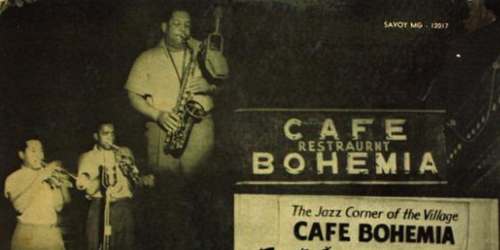 Jerome Richardson, the group's regular saxophonist was unavailable that evening due to a recording session. Pettiford asked Charlie Rouse – who was in the audience – if he would sit in, but Rouse did not have his saxophone with him. Pettiford then noticed another audience member, Adderley, who had a saxophone case with him and told Rouse to ask this unknown man if he could borrow his horn.
Instead, Rouse asked "Cannonball" Adderley if he would like to sit in with the group. Reluctantly, the leader complied and allowed Adderley to play. Overnight Adderley rose to prominence on the New York jazz scene, and on June 21 he played his first official show at Cafe Bohemia. By October 1957, he was a member of the Miles Davis Sextet.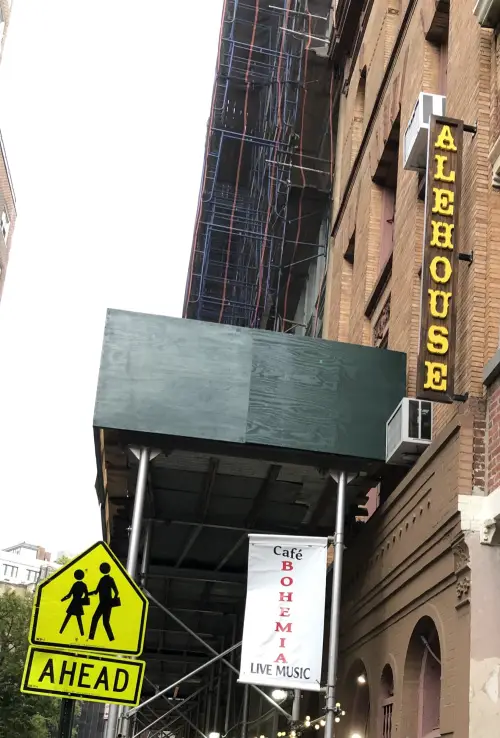 More recently, the late Eddy Davis (banjo), Conal Fowkes (bass, vocals), Jon-Erik Kellso (trumpet) and Evan Arntzen (tenor saxophone) performed "My Monday Date?," by Earl Hines, on December 26, 2019. Video performances below are available thanks to Michael Steinman for his blog JAZZ LIVES.
Watch Eddy Davis and friends – Jon-Erik Kellso (trumpet), Evan Arntzen (clarinet) and Conal Fowkes (string bass) – pay tribute to the great Jelly Roll Morton with "Good Old New York."
"The Intimacy of the Blues," is a haunting piece composed by Billy Strayhorn and an album of the same name for Duke Ellington. Performing at Cafe Bohemia on November 14, 2019, JAZZ LIVES shares video of this pre-Thanksgiving performance in Greenwich Village by Jon-Erik Kellso (trumpet), Evan Arntzen (clarinet), Neal Miner (string bass,) and Chris Flory (guitar). 
On February 6, 2020, Mara Kaye was joined by friends and musical family Tim McNalley (guitar), Jon-Erik Kellso (trumpet) and Brian Nalepka (string bass). 
Mara Kaye is joined this time for "Me and MY Chauffeur" by Tim McNalley, (guitar), Albanie Falletta (resonator guitar), Jon-Erik Kellso (trumpet) and Brian Nalepka (string bass). 
From January 16, 2020, "A Shanty in Old Shanty Town" features Tal Ronen (string bass), Matt Munisteri (guitar), John Allred (trombone), and Jon-Erik Kellso (trumpet). "In a Shanty in Old Shanty Town," written by Ira Schuster and Jack Little with lyrics by Joe Young, was published in 1932. Ted Lewis and His Band performed it in the film The Crooner in 1932. His version was later released as a single and it went to #1, where it remained for 10 weeks.