Ed. note – we made every attempt to find photo or video footage of moe.s performances on Last Call with Carson Daly, but the only footage we could locate is owned by NBCUniversal.
In the Jam Band scene, fans are aware of a few things about their favorite bands, one; your favorite bands have the best live shows, two; it's a community that is incredibly accepting even if someone doesn't get it, and three; you're going to spend your whole life trying to show people this band and they may have never heard of them, and you know they are not on any popular TV shows they like.
You're not going to turn on Saturday Night Live this week and see Phish playing "Wilson," or catch a Umphrey's McGee song on Fallon anytime soon. Sure the occasional Dead & Company pop up or even Dave Matthews on Kimmel, but for the most part you won't be able to answer, "Oh, they were on Colbert the other night."
Not even bands like the Grateful Dead or the Allman Brothers garnered that commercial success that so many bands saw in the 70's and throughout the rest of their career. We've all seen the occasional interviews with Weir and Garcia on Letterman back in the 80's but for the most part, you had to go out and find that band or you were told about from a friend or heard the show was amazing.
But for one week in television history Upstate New York's own moe. was " Call with Carson Daly's" house band.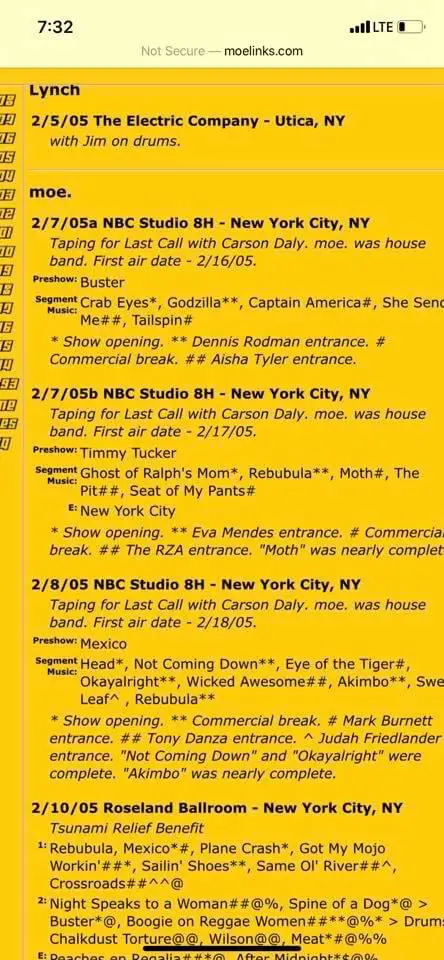 That's right not just a blip in the radar of a one night appearance but an entire week of television exposure for a jam band.
On the heels of announcing their forthcoming album, This is Not, We Are, NYS Music spoke with moe. guitarist and vocalist Al Schnier and drummer Vinnie Amico about their time 15 years-ago as house band for Carson Daly.
For those who don't remember, Daly was the host of the popular MTV show Total Request Live, a show that ran from 1998 to 2003 and was affectionately known as TRL. The show was born from Daly's other two show's Total Request, and MTV Live.
TRL for those who remember was not where you would really find bands like moe. on. the show featured the top 10 videos of the day and Daly interviewed popular celebrities and guests.
But in 2002, Daly was given the final slot of late night that went on after Conan O'Brien. The time slot that was for those up way too late at night or just getting back from a long night out.
"It was the late late show," says Schnier. "It was the one that came on after Conan. So whoevers watching that show, is probably our demographic anyways."
In 2005, moe. was at the height of their success, they had been touring for 15 years at this point. Playing shows at venues like the Fillmore in San Francisco, to Red Rocks, to opening for bands like the Grateful Dead and the Allman Brothers.
"We were probably at the top of where we have been (in our career)," said Amico. "We had just released Wormwood and we had just done Conan O'Brien"
"At that point we have 15 years of being a touring band under our belt, we've played with bands like the Allman Brothers and the Grateful Dead, you know, played a bunch of festivals and toured all over the place, really had gotten to experience a lot and had been all over the world at this point but to do television is a totally different thing."

Al Schnier
Daly was going for a completely new spin on what music could be on late night television.
"It was a great concept for his show. They didn't have a house band," said Schnier.
Each week would have a completely new band featured for the entire week, playing their own original songs as well as some covers as the ins and outs of guests and into breaks. The idea had never been done before in Late Night and was the launching pad for many bands like the Killers, to Ed Sheeran.
Last Call's first studio borrowed the set from SNL's studio 8H, where Daly came out with no monologue, no jokes, just straight into the show with guests interviewed and each week featuring a new house band.
An idea that seemed simple enough, it would give bands a large platform, bigger than just one night on a talk show, exposing them to a new audience. Many of these bands were just cutting their teeth, while moe. were the seasoned vets.
But as any jam fan knows, there is a difference when you bring on a band like moe. something will always follow.
The fans, or in this case the moe.rons followed. For probably the first time in the show's short history, the audience wasn't there for the guests or Carson, most of them were solely there to see moe. in the most intimate setting they had been in, in years.
"What I do remember is how loud and into it our fans were. I think the crowd was mostly our fans to see us in that TV setting. It seemed to be shocking even to Carson, like "Holy shit, these guys have a cult following." I think even Carson was cracking up about it, I mean our fans were pretty rabid.

Vinnie Amico
"The thing was there was a ton of moe. fans in the crowd," said Schnier "Carson Daly got a kick out of the crowd. Because mostly every show was full of moe.rons. So they got the joke or got a kick out every song we would play."
The band would often center their sets around which guest was coming out at that time. Schnier remembers the time, a specific guest the band found attractive, was coming out and centered a song around their entrance.
"We specifically chose to play "She Sends Me" for this celebrity as her walk on music"
Schnier couldn't recall who the guest was but remembers the band and the audience enjoying the poignant song choice. That guest was character actor Aisha Tyler.
In just three days of shooting, moe. would perform as the house band for five different shows. Each time performing sets of their own originals, some more popular tunes like, "Rebubula" for Eva Mendes entrance; to performing the "The Pit," for Wu-Tang-Clan's RZA's entrance.
Even doing a cover of Blue Oyster Cult's "Godzilla," for a very humorous entrance of NBA Champion Dennis Rodman.
But the guests on the show weren't the only memorable experiences for moe. that week, Schnier recalls the time as a surreal moment in their career.
"Wow.. there's a surreal quality to it." said Schnier, "The thing that I remember, it's kind of like when you're a kid and memory of going to the State Fair or your memory of a graduation, an event, it's really just one picture in your head. And my memory of being on Carson Daly is from our vantage point, where we are standing on the stage… you look across the sound stage and there's Carson and where his guest would sit and to the right is where our fans were. The whole experience is just kind of surreal, because it's like nothing else we have ever done."
The day to day of working on a show like that can make the average celebrity sighting commonplace, and for Schnier he found that out first hand in an elevator going up 30 Rockefeller Plaza.
I remember riding in the elevator with Sigourney Weaver. I was beside myself that I was in the same elevator as her. It was just wild, I'm just there with my guitar and going to do my thing and she's just gorgeous going to do whatever she was doing. I was like, "Ok, this is awesome, this probably happens all the time here to everybody but people like me!"

Al Schnier
One of the most appealing aspects of the Jam scene is that working man's mentality of its artists, the humility of the everyday man or woman that other artists lose along the way to commercial fame. But even now 15 years later, hundreds of shows since, Schnier still looks back on the time with fond memories and feeling lucky to have gotten to do the show.
"It was cool being part of the staff," said Schnier. "You know you had your name tag and you got to check in everyday, ride up the elevator and then see all of these random people. People who were shuffling through the building, people doing Saturday Night Live, The Today Show, and you were going to work doing your thing."
That humility came in when asked if they thought they received a boost in fandom or recognition. Both Amico and Schnier saying they weren't sure if they really ever noticed a growth in crowds, but nearly two years later on New Years Eve of 2006 moe. entered the New Year by playing Radio City Music Hall. 
Today, moe. looks back on that time fondly, as they, like the rest of us quarantine and cope with the lost summer of live music. But both Amico and Schnier are staying positive and using this time to hone their crafts.
"I'm playing everyday and practicing on a pad, not even hitting my drums, getting my fundamentals together. I'm not a big woodshedder like a lot of musicians, which means my fundamentals suck, I can go out and play a million songs and play them very well, but my chops aren't the best. So I'm actually going back to a beginning, getting myself to be a better drummer."

Vinnie Amico
"To be honest, I'm doing fine. I feel like there are a lot of silver linings to this, in many ways I'm actually taking advantage of the found time," says Schnier. "I've been playing so much music, learning a bunch of songs and teaching. The irony is that I told my wife after New Years, that I am going to make a concerted effort to play music everyday this year and not so much as a resolution but as a sort of lifestyle change. You know, I thought I kind of owed it to myself and my bandmates to be playing music everyday… I never anticipated it to be like this for hours and hours everyday but it's been amazing."
The two are even picking up new gigs, Amico as an internet home chef and Schnier playing private house parties over Zoom.
"I've been doing some cooking on Instagram live," says Amico. "So I'll keep doing those… people seem to like my cooking more than my drumming."
"Meanwhile, I've started doing live lessons online with Lesson Masters," says Schnier. "Then started doing private house parties, via Zoom and Live Lesson Masters and that thing has exploded and taken off unexpectedly. So I've been really busy, I've been playing gigs still every weekend."
Both Amico and Schnier acknowledge moe. has been fortunate to have had such an amazing career in the jam scene, but knows how hard it is to be starting out as a touring live band, especially during this time. NYS asked the two what fans can do, in the meantime while we quarantine, to support artists.
"Really by sending them money," says Schnier. "There's a number of ways they can support that, buy their merch, support their online shows… who knows, if there's a way you can reach out and maybe invest in the band, to actually be a legitimate patron of the arts. It's like supporting public radio, maybe you're in a position to just buy a hat or a sticker, all of that really helps. But maybe you're in a position with disposable income and you want to see a band survive and you can help in that way."
Schnier went on to talk about the importance of staying connected to friends and fans.
"The thing about this scene and the thing I love about our fan base is if we have one purpose it's about connection,"says Schnier. "Even more so than the music, it's just about connecting people. So if I could provide a platform where we are still doing that and we're staying connected and we're doing it virtually, it feels pretty good. We can all spend a Friday night together in our own homes, you leave those things feeling pretty recharged much more so than just cruising instagram and Facebook or watching something on Netflix, because you're seeing people and interacting with them."
moe. released their long awaited follow up to 2014's No Guts, No Glory, on June 26. The band will also be celebrating their 30th anniversary this year, and although they may not be touring this year, moe. fans can anticipate some of the best and tightest sounding moe. live shows and albums to come out of this quarantine.