The historic Woodstock Music and Art Festival took place 51 years ago this weekend in Bethel, NY in 1969. Billed as "an Aquarian Exposition: 3 Days of Peace & Music," promoters Michael Lang and Artie Kornfeld brought together an all-time classic lineup of artists that spanned genres and put an exclamation point on a decade of change.
Much has been written on the festival, and the (pre-COVID) thriving music festival scene in America owes a debt to the original Woodstock, adding a festival (and city name) to our collective lexicon and providing a template by which to measure all future music festivals.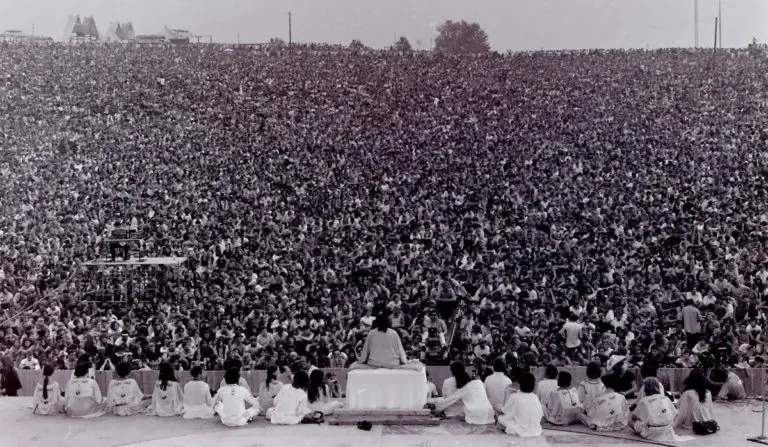 With today marking the anniversary of the first day of Woodstock, revisit performances from the eight artists who took the stage, including Richie Havens, who hurriedly took to the stage when Sweetwater was held up arriving to the site by helicopter.
When asked by Lang to perform earlier than planned, Havens was initially resistant, thinking that he couldn't get ready in time. With encouragement from John Morris, and learning that Tim Hardin was "scared shitless" to open the festival, Havens laughed and said,
What can I say? OK, give me a couple minutes to get ready and to round up the rest of the group. I'll do it.

Richie Havens
The stage crew was alerted and at 5:01pm, and once sound was set, Morris strode to the stage and announced,
Well, it's time for the music to begin. Let's welcome, Mr. Richie Havens"

John Morris
And with that, the greatest music festival ever was off and running into the history books. Watch a performance from each of the eight artists who performed at Woodstock on August 15, 1969
Richie Havens
Sweetwater
Bert Sommer
Tim Hardin
Ravi Shankar
Melanie
Arlo Guthrie
Joan Baez
Watch performances from every Woodstock artist with our full playlist