If one thing is clear, it's that Wavy Cunningham always makes music. I've seen him write a song in a notebook, and then release it days later. He never waits. He gave his fan base a week between the releases of his new EP, Fight Back, and album, Club Wavy. They set sails on July 31st and August 7th, 2020, respectively.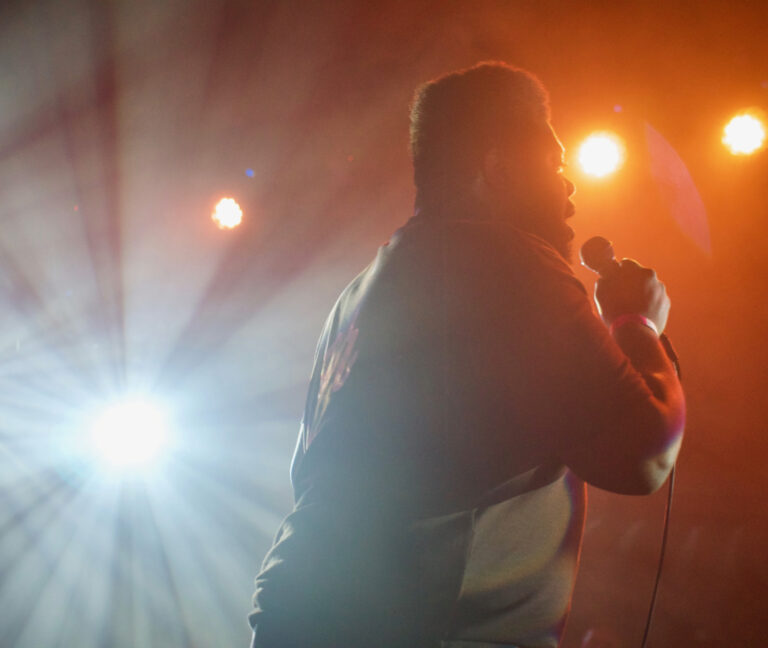 Always Be Closing
Wavy might not yet be a household name, but his charisma and performance style converts first time listeners into fans with little effort. That's how he got me to listen. I've seen this happen during live sets, both at shows where he's the featured headliner, and guest spots on stage too. But his ease around people doesn't negate his work ethic.
Unique Style
In fact, Wavy, along with his frequent collaborator and producer DJ Mercy, enjoy writing, recording, and releasing music in extremely quick succession, unlike certain artists who wait for "outside influences and people around them" to lead to an album's refinement, Wavy says. 
Every year, major league record labels dispose of a tremendous amount of resources for their artists to drop a project only once every few years, on average. However, Wavy releases multiple projects per year without a label, so I talked with Wavy about his process, his plan, and his methods. We also dug into his newest work, Club Wavy and previous efforts such as Catch Me If You Can (2016).
More Music on Deck
At this point in time, Wavy Cunningham and DJ Mercy have over five projects on Spotify with dozens of smaller EPs, demos, singles, and mixtapes collecting listens on SoundCloud. "We also have a bunch of unreleased projects," says Wavy. It allows the duo to pull from a vast repertoire of well-written rhymes and vintage samples when it comes to live shows. And Wavy is not concerned about what others are doing. He mentions wanting to go his own way, instead of "running on the hamster wheel," or following the same pattern that other artists do.
The New Normal
Speaking of shows, performance is Wavy's bread and butter, in my opinion. So with a lot of the world shut down due to the dangers of the COVID-19 health crisis, we might not get to see his live vibe for songs like "Doin' My Thing," (one of my favorites) and "1B" for quite awhile. Wavy told me that platforms like Twitch and live streaming methods have allowed him and other artists to put on virtual shows. "We've done…a concert on Instagram Live and we pulled out unreleased tracks. It's cool to [be able to] do that." Wavy also said that he and DJ Mercy have tentative plans for another Internet set, in which they'll perform an album from beginning to end.
Most Improved Goes To…
Although the concept of recording and turning over material so quickly may seem chaotic, Wavy has a plan for the future, and music waiting to be released. "Each project is a learning experience," he says, in which he and Mercy have been able to learn from each studio session and improve the listening experience little by little. They've made little changes along the way that lead to a steady climb in quality. 
Notably, Entreband's MostlyEverything took care of the mix and master to balance out the technical sonics of both projects, and producers Frank Finesse, Phil Dreisin, Hyuka, and N-Pro all lent instrumentals to pair with Wavy's flow. "We went for more original sounds…this time. There's less samples and more elements of [live instruments]," Wavy says. These instruments perfectly balance tracks such as "Get Away" (Fight Back) and "Whattup?" (Club Wavy) both of which feature a glassy guitar intro.
To close the latter of the projects, Club Wavy, Cunningham wrote "All We Need is Love." This track contains a beautiful tribute to Breonna Taylor and other people who have been killed due to systemic racism and police violence. The swan song perfectly closes both projects and carries a message that will be heard the loudest.
Verdict
Overall, Fight Back and Club Wavy are strong entries into Wavy's catalogue and will stay as his most cohesive work until he comes up with something, which probably won't be long from now.
Club Wavy and Fight Back are both available on all major streaming services, with the music video for "Whattup?" being available for views on YouTube and Facebook.
Key tracks: Whattup?, Get Away, Never Ends, All We Need is Love