On August 14, 1997, Phish performed for the second time at Darien Lake Performing Arts Center. Just one stop was left on Phish's Summer Tour – The Great Went in Limestone, ME. And, as is bound to happen, some bozos and pranksters showed up in the parking lot before the show, leading to history being made and generations of jam bridged together.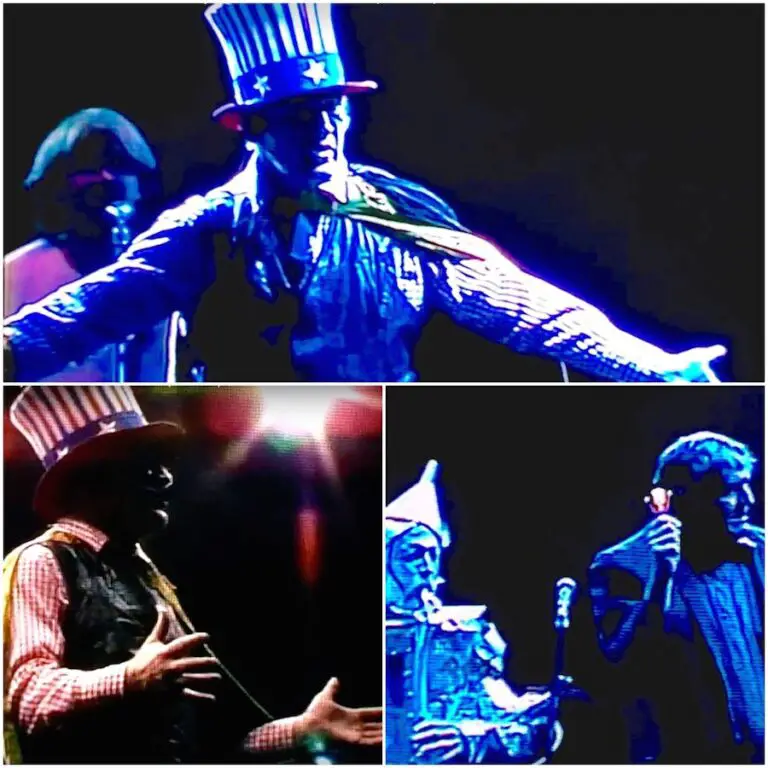 A fluid first set was chock full of jams, and an early "Fluffhead" was reportedly punctuated with a roller-coaster climbing to its peak just as "Fluffhead" was peaking. The first "Tela" since fall 1996 and a raging "Antelope" set closer are among the other highlights.
Fans reported seeing the famous Furthur bus in the parking lots that day, which had a Grateful Dead feel to them with Furthur Fest on tour that summer as well. Not many would expect Trey to bring out the head Prankster himself, Ken Kesey, later that night. Following an often overlooked segue out of "Harry Hood" in the second set, just as Anastasio started the narration part of "Col. Forbin's Ascent," their special guest came to the stage.
So here we are again, standing at the base of the mountain, and this is a very different and interesting time for Col. Forbin here. Col. Forbin realizes on this particular day, he is not going to find the great and knowledagble Icculus at all, but instead he is going to find (laughs) Ken, Uncle Sam, Bozo, E-Z-Kesey standing there.

Trey Anastasio, introducing Ken Kesey and the Merry Pranksters, August 14, 1997
Out walked Kesey dressed as Uncle Sam, and the crowd erupted.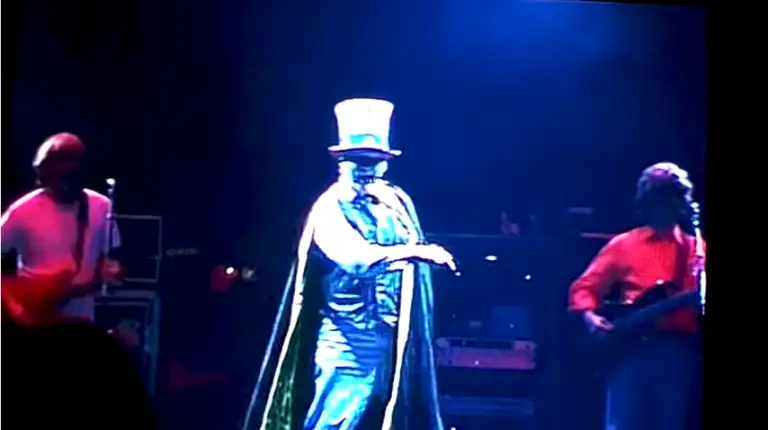 Kesey – author, LSD advocate, founder of the acid tests and a key figurehead of sixties counter-culture – took hold of the moment and in a rambling, hilarious and surreal art performance, referenced the loss of Jerry Garcia, the Bozos, and the Wizard of Oz. Kesey spoke and sang to the beat of his own drum:
My heart is sorely beset because from out amongst the tidbits of these vehicles moving through the nation we have lost an important part of us. For two years no one has seen high nor heard of the bozos. For two years the bozos have been missing. Where are the bozos? Well, what we heard was they were gonna try to make it hear to the Phish concert. We couldn't catch them up at the Furthur Festival so we decided to come to the Phish concert.

Ken Kesey
Around the stage and audience were costumed Pranksters in key roles, making for one of the most infamous sit-ins in Phish history. Two years after Jerry Garcia's death, Kesey had symbolically passed the torch to Phish
Kesey began a "Wizard of Oz" narration, mentioning that his brother in Oz usually handles finding the bozos. "Somewhere Over the Rainbow" begins and out walks a helper, dress as the Scarecrow, to give a "Bozo Report." At that moment, the band switched to an instrumental version of "If Only I Had a Brain", ahead of The Scarecrow saying "We know they were at the Grateful Dead concert and the rumor was they went Phishing."
The Tin Man followed, reporting that he has a 'foolish heart,' with Kesey and Fishman singing "Has anyone seen the Bozos?" Instead of the Cowardly Lion following next, Frankenstein walks out with his master, and naturally, Phish breaks into Edgar Winter's "Frankenstein" with the volume a little lower for Kesey to continue his narration.
The Cowardly Lion was leading a paramilitary group in Northern Idaho and you brought me this? Wonderful!

Ken Kesey
Then, as Kesey and four other pranksters began to come up with lyrics for the Bozos, about 20 Bozo Clowns came running through the pavilion and found their way to the stage. Meanwhile, Kesey and the Pranksters continued to sing while Phish improvised over a funk groove. To close this collective hallucination, Kesey attempted a segue of his own:
I see a bird. Out comes a bird. Could that possible be Mockingbird? What kind of bird can it possibly be in the nest when the Pranksters sing? I know it. I see it. I hear it. It's a Mockingbird.

Ken Kesey
Alas, as Kesey and the Pranksters exited the stage, Trey remarked "See what happens if you take too much acid? 30 years later…" much to the audience's approval. Trey then declared that because "the funk was too deep," and they couldn't stop the funk, the typical "Fly Famous Mockingbird" that follows "Col. Forbin's Ascent" was passed over for "Camel Walk," an early funk-filled Phish song, and a rarity at the time. Tune into the show via Phishtracks, and don't sleep on the set closing "Taste." At Superball IX, Phish shared a pro-shot clip of the show, footage of which can be seen above.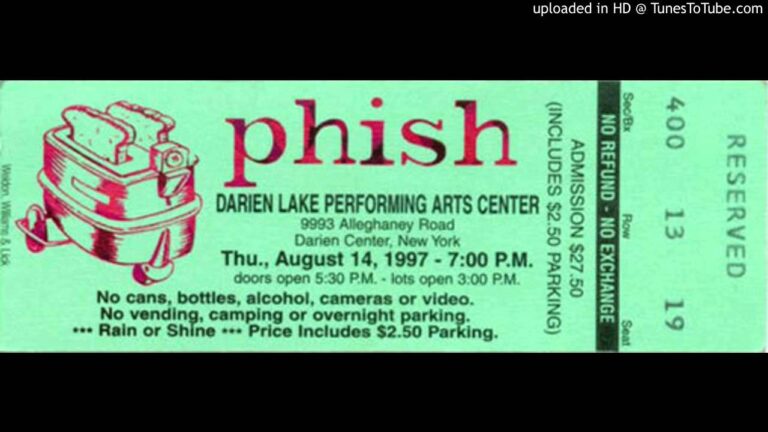 Setlist via Phish.net
Soundcheck: Buffalo Bill, The Old Home Place, Funky Bitch, Crosseyed and Painless
Set 1: Ya Mar, Funky Bitch > Fluffhead, Limb By Limb, Free, Cars Trucks Buses, Tela > Train Song > Billy Breathes, Run Like an Antelope
Set 2: Chalk Dust Torture, Love Me, Sparkle > Harry Hood -> Jam > Colonel Forbin's Ascent -> Merry Pranksters Jam[1] -> Camel Walk, Taste
Encore: Bouncing Around the Room, Rocky Top
[1] Ken Kesey and the Merry Pranksters.
The second set featured a remarkable jam after Harry Hood ended and before Forbin's began, as well as an appearance by Ken Kesey and the Merry Pranksters. The Merry Pranksters Jam contained a Somewhere Over the Rainbow tease from Trey, an If I Only Had a Brain tease, a Spam Song quote, and a Frankenstein jam.