Shortly before the country would celebrate its Bicentennial in 1976, the Grateful Dead would play a show at the Beacon Theatre. This is the second and last time the band would play this New York City venue before upgrading to the larger confines of Madison Square Garden a few years later. They had recently ditched their fabled massive Wall of Sound PA system for a more stripped down and intimate stage setup, opting to let the music speak for itself rather than overpowering the audience. A string of East Coast shows in June of this year would see the band in pristine form as they dusted off some of their classic songs and began to introduce new ones, ushering in a new era of The Grateful Dead.
The first set starts off in electric fashion thanks a crisp vocal section led by guitarist Bob Weir that helps fuel a cover of "Promised Land" that would make Chuck Berry glow. A slow, drippy "Sugaree" follows that allows fellow guitarist Jerry Garcia a chance to stretch out his vocal chords a bit before a rip roaring "Cassidy" sets the tone for the first set, thanks to accompanying vocal support from Bob Weir and Donna Jean Godchaux.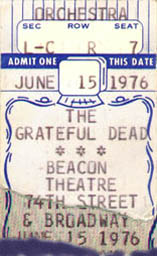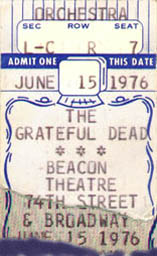 An audible first set highlight, based on the crowd reaction alone, is a sultry "Candyman" that places the lyrical craftsmanship of Robert Hunter and the complimentary guitar play from Garcia front and center. Soon after, the ravenous New York City crowd gets a little taste of Grateful Dead shows of old show thanks to a stirring rendition of "It Must Have Been the Roses," a song the band played extensively in 1974 and a staple of Jerry Garcia Band shows for years to come.
The first set of this show ends with an impressive sequence of a "Let It Grow" that stretches out all the way to a "Drums"-esque type jam before settling into a set closing "Might As Well." Even though this tune was also played the night before, it still marked only the sixth time this Dead tune was played live, one they would continue to showcase for another eighteen years,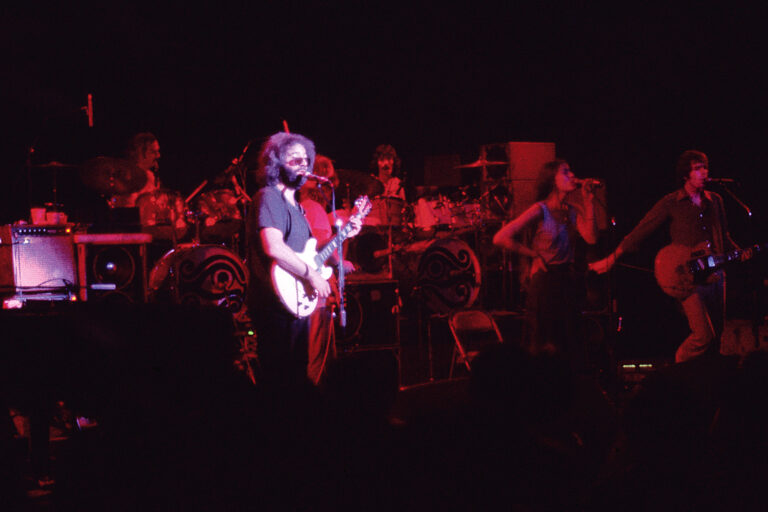 The band wastes no time in opening the second set with a "Saint Stephen" that immediately explores the given space and stretches into a formidable jam. However, instead of a "William Tell Bridge," the rhythmic partners of Bill Kreutzmann and Mickey Hart begin the percussive intro of "Not Fade Away," a Buddy Holly cover that, by now, The Grateful Dead seem to have appropriated as their own.
Contrary to most Dead shows, the ensuing Beacon "Drums" section gets ripcorded almost instantly in favor of an incredibly emotional "Stella Blue" that's spearheaded by poignant Garcia-sung lyrics. This particular version is marked by a beautifully patient progression from all parties and is definitely one of the show's highlights. Garcia's hauntingly slow delivery of the vocals, matched perfectly by the rest of the band, gives this version a rather emotional feel to it. Take a listen to the entire segment from "Saint Stephen" to "Stella Blue" below – worth the price of admission alone.
"Samson and Delilah," a song that made its live debut only weeks earlier in the beginning of the tour, shows off its future potential nicely with a shortlived jam that picks the energy back up before a leisurely "Friend of the Devil" brings things to a crawl again. A manic "Dancin' in the Streets" then follows as the band seems to delight in varying up the tempo of this second set. The telepathic interplay between Garcia and bassist Phil Lesh is on prime display here.
Perhaps what makes this show so special is the superb sound quality, thanks to soundboard recordings captured by the band's longtime live recording engineer Betty Cantor-Jackson. For years, this and the other June '76 shows were some of the most revered recordings in the tape trading community. Picking up on that, these recordings have since been further polished and remastered and are now available for purchase as part of a 15-disc box set that highlights this special era of Grateful Dead music. It features this and four of the other shows surrounding this one. With production limited to only 12,000 individually numbered copies and a slew of crisp recordings from this seminal era of the band's history, it's sure to be a "sound" investment for any fan.
Grateful Dead Beacon Theatre – New York City, NY
Set 1: Promised Land, Sugaree, Cassidy, Candyman, The Music Never Stopped, It Must Have Been The Roses, Looks Like Rain, Tennessee Jed, Let It Grow -> Might As Well
Set 2: Saint Stephen->Not Fade Away->Drums->Stella Blue, Samson & Delilah, Friend Of The Devil, Dancin' In The Streets->The Wheel->Sugar Magnolia->Scarlet Begonias->Sunshine Daydream
E: Johnny B. Goode