Flushings, Queens native and Public Enemy co-founder, Chuck D, and Shepard Fairey, the artist behind OBEY, have come together bringing us a cross-sectional introduction of street art and hip hop. The artists, each citing the other as an influence, have announced the "Fight The Power: Chuck D" print, which memorializes the 1989 Public Enemy politically centered rap song, "Fight The Power."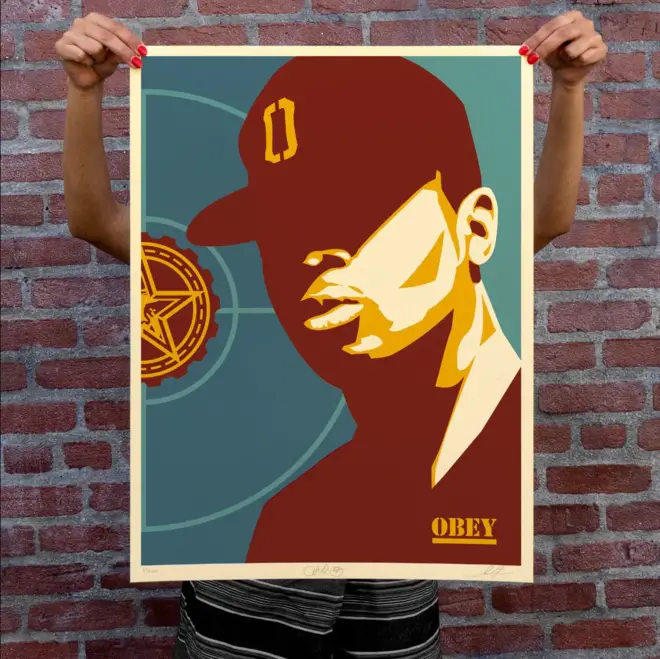 Fairey has cited Public Enemy to be one of the many influences behind his socially and politically charged propaganda-like art style which was tagged throughout the streets of cities on the East Coast in the late '90s.
Along with announcing the release of the "Fight The Power" print, Fairey has urged his audience to listen to Public Enemy's music, giving attention to the groups latest single, "State of The Union (STFU)," released last week.
"Chuck D has long been a hero of mine as founder and leader of Public Enemy. He's an outspoken social and political voice, and activist. Chuck's lyrics always spoke truth to power."

Shepard Fairey
After receiving the invitation to participate in Chuck D's art show, "The Terrordome," Fairey decided to create his first portrait of the Public Enemy MC. Presented in a dulled orange and blue colorway, the "Fight The Power" print will be available at the OBEY online store Tuesday, June 30th.
Limited to 500, each print will be delivered signed by Shepard Fairey and Chuck D with all proceeds going to Black Lives Matter Greater NYC.