After performing at SPAC and taking a day off to celebrate the release of A Live One, Phish headed to Jones Beach for their first two-night run at the Long Island amphitheater. Growing their following, especially from New York metro area high school and college students with a summer off, was part of Phish's broadening appeal as they performed in bigger and bigger theaters.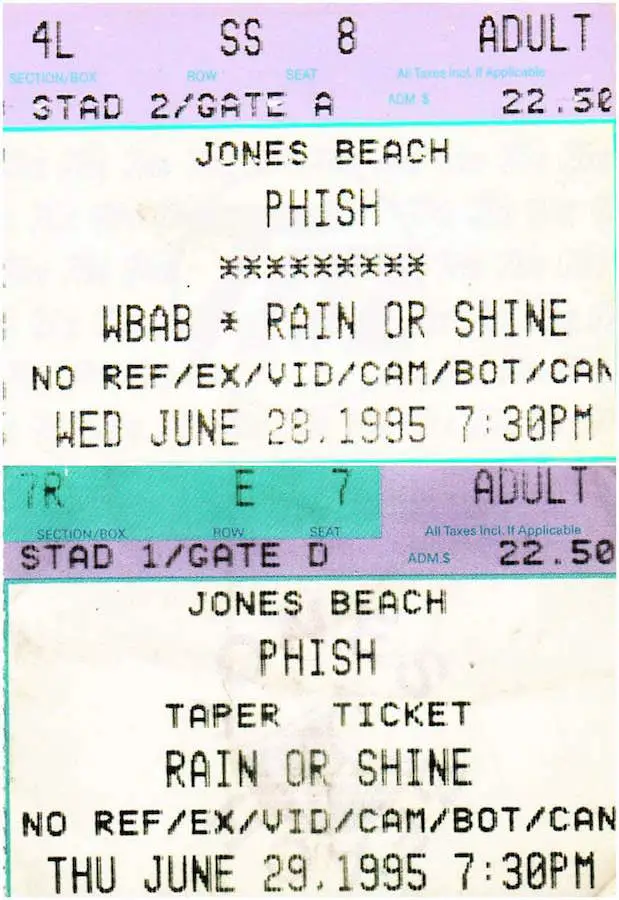 The first show on the 28th featured the retired "Axilla (Part II)" and an 11-minute "Foam" demonstrating the patience of the foursome from Vermont. The rest of the set after "Fast Enough For You" reads like a fantasy setlist, and it was only the first set, including one of two "Fluffhead"'s from that tour.
Set 2 unleashes a 30+ minute "Tweezer" that is one for the books, so much that it was added to Live Bait 10 (scroll down for video). This experimental version of the jam vehicle included the ever rare "Dave's Energy Guide" and a jam on The Breeder's "Cannonball." If you were still clamoring for more, the "Harry Hood" and "Tweezer Reprise" to close the set are likely to seal the deal.
Setlist: June 28, 1995 via Phish.net
Soundcheck: Sweet Home Alabama, Jam, Ginseng Sullivan, Red River Valley Jam, Dog Log (slow)
Set 1: Axilla (Part II) > Foam, Fast Enough for You, Reba[1], Punch You in the Eye, Stash, Fluffhead > Chalk Dust Torture
Set 2: Sample in a Jar, Poor Heart > Tweezer -> Dave's Energy Guide -> Tweezer > Gumbo > Sparkle > Suzy Greenberg, Harry Hood, Tweezer Reprise
Encore: Sweet Adeline, While My Guitar Gently Weeps
[1] No whistling.
Ha Ha Ha was teased before the start of the first set. Reba did not have the whistling ending. Dave's Energy Guide was played for the first time since March 8, 1991 (479 shows). The secondTweezer included a Cannonball jam with quotes from Trey.
The next day the fans returned to Jones Beach for another round of Phish, and were greeted with "Runaway Jim" -> "Taste." The straightforward first set was enthusiastic and energetic, and ended with an acapella "Carolina."
If you were getting your first taste of Phish over these two nights, you might think that nearly half hour versions of songs were the norm, and for a time, they were. Both "David Bowie" and "You Enjoy Myself" topped over the 25 minute mark, with "Bowie" taking chances getting spacey, and "You Enjoy Myself" including a bass and drums section.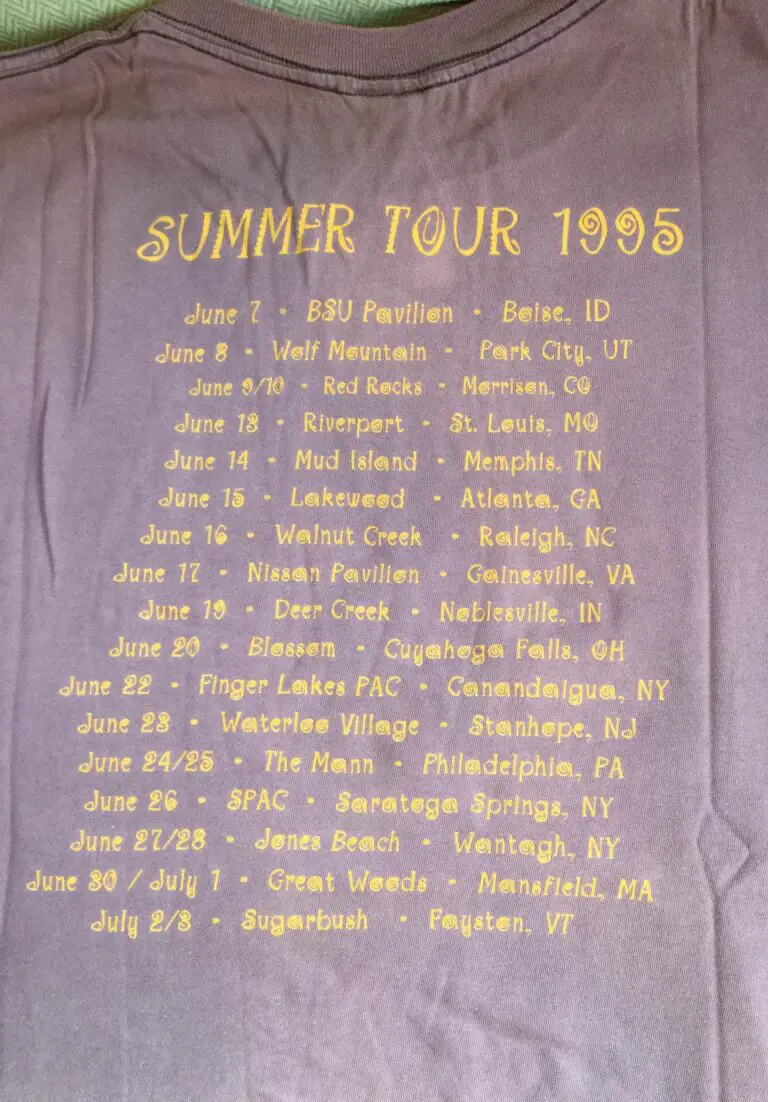 From here, Phish would have two more two-night runs, at Great Woods in Mansfield, MA and two-nights in at Sugarbush in North Fayston, VT
Setlist: June 29, 1995 via Phish.net
Set 1: Runaway Jim > Taste, The Horse > Silent in the Morning, Divided Sky, Cavern > Rift > Simple > Split Open and Melt, Carolina
Set 2: Free -> David Bowie, Strange Design, You Enjoy Myself, Acoustic Army, A Day in the Life
Encore: Theme From the Bottom
Runaway Jim contained a Cannonball tease.