After being banned from SPAC for three years, the Grateful Dead returned on Tuesday, June 28, 1988 for one final outing at the famed Saratoga Springs venue. This being their first show since the release of 1987's In the Dark and the Top 10 single "Touch of Grey," a new generation of Deadheads were seeing the group for the first time, who were disparagingly referred to as 'Touchheads' by some veteran fans.
While this was the final performance for the Grateful Dead's at Saratoga Performing Arts Center, the band had a strong fanbase in the greater Capital District. Add in a new audience of younger fans and the band would find themselves heading half an hour south for future performances in the region, at the Knickerbocker Arena, starting in 1990.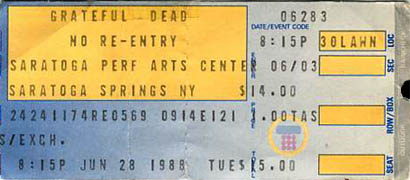 Locally broadcast on WPYX, the Tuesday show was aired on the radio in an effort to dissaude fans from arriving at the show without a ticket. This did not prevent gatecrashing from occuring early in the night, and fans on the lawn were found heading into the pavilion balcony as they did in 1985.
Rain fell on the crowd as storms passed through, and lightning was seen during the rain-soaked "Candyman," leading to a chill coming over the crowd as the show wore on. A solid variety in the straightforward first set seemed to swap Bobby and Jerry songs from the outset of "Hell in a Bucket," and ending with "Victim or the Crime" and "Foolish Heart."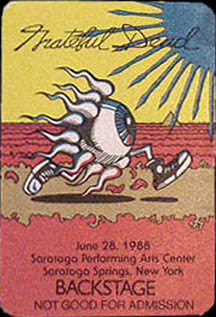 More rain came down early in the second set, similar to the rain in 1985 that began during "Fire on the Mountain." Listen to "Scarlet Begonias" > "Fire on the Mountain" > "Estimated Prophet" > "Crazy Fingers," and you'd likely be enjoying dancing in the rain as the thousands of fans did that night.
Following a hypnotic "Drums" and "Space," a beautiful version of "I Will Take You Home" by Brent Mydland appeared, and a late second set "Stella Blue" found Jerry stumbling just before pouring buckets of emotion into the ending jam. The Dead had left their mark on SPAC, one of the most beloved venues in the Northeast.
Setlist: Grateful Dead, Saratoga Performing Arts Center, June 28, 1988
Set 1: Hell In A Bucket-> Bertha, Walkin Blues, Candyman, When I Paint My Masterpiece, Row Jimmy, Victim Or The Crime, Foolish Heart
Set 2: Scarlet Begonias-> Fire On The Mountain, Estimated Prophet-> Crazy Fingers-> Drums-> I Will Take You Home-> Goin' Down The Road Feelin' Bad-> I Need A Miracle-> Stella Blue-> Not Fade Away
Encore: Knockin' On Heaven's Door