When you think of bands like Butthole Surfers, Hoobastank, Limp Bizkit, Barenaked Ladies, and Hootie & The Blowfish, what stands out is the unique and nearly absurd names these groups have. (When Limp Bizkit first came on the scene in the late 90s, the band name was a slight hurdle before getting to their music.) These band names are part of the inspiration for MY FAKE BAND, a music inspired card game that captures the absurdity surrounding band names and song titles.
Combining easy gameplay with the natural comedy that accompanies some band names & song titles, MY FAKE BAND has launched an official Kickstarter campaign, giving backers an opportunity to own a copy of the game before public release.
The music scene has forever been a lawless wasteland of endless bands who rise and fall much like the tide. There are a few things that all bands have in common, such as the process of choosing band names and song titles. Have you ever asked yourself how do they came up with their name, and what does it all mean? MY FAKE BAND takes the guesswork out of the equation with 150 fake band cards and 150 genre cards. During gameplay, you and your crew will produce endless hit song titles based on over 20,000 band and genre combinations drawn from the deck.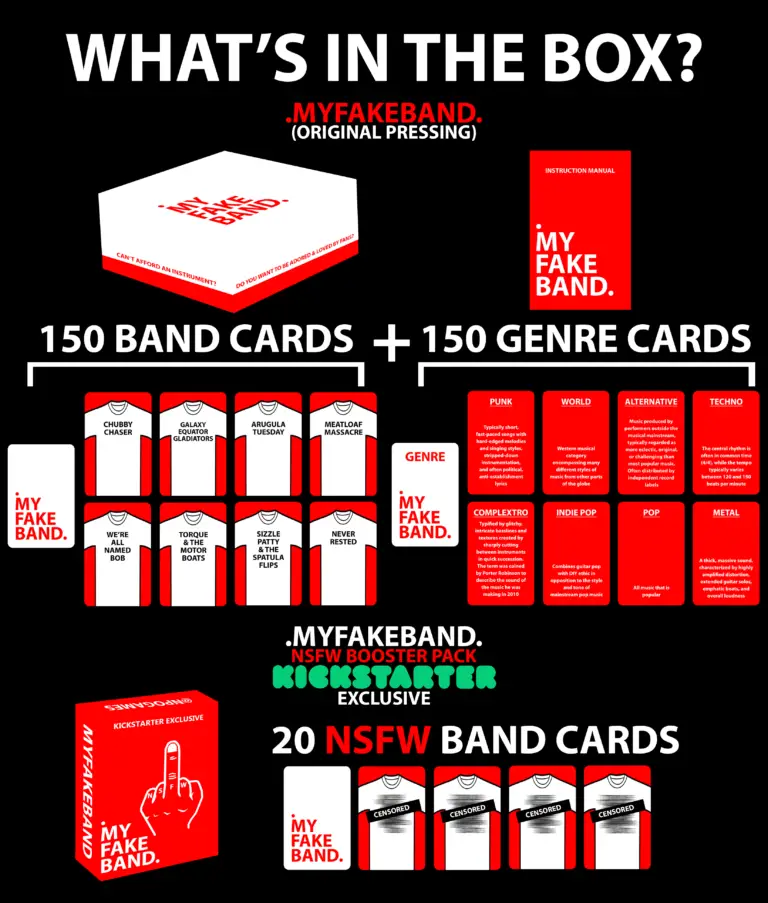 Created by Never Played Out LLC, this game aims to capture the imagination of the music scene through their Kickstarter campaign by offering many unique and fun "Street Team Quests." With quests ranging from tweeting @NPOgames your own fake band names to filming Dragonforce's Through The Fire and Flames being sung karaoke style, there is a quest for everybody. Completing one or more quests gives you the ability to play a direct role in unlocking stretch goal features.
MY FAKE BAND is designed for 4-8 players for a 45+ minute game, and is recommended for ages 17+.