In the midst of a global pandemic, as well as coping with trials and tribulations of being a twenty something, Rochester native, Garrett Eckl of Your Name Here has released a full length album that was written and produced by himself. Graduation of the Apocalypse is Eckl's second full length concept album, which covers topics such as relationship troubles, self worth and mental health –  topics that relate to Eckl on a more personal level that compared to his prior album.
His vulnerability and advancement of his musical prowess has birthed the story of an immersive journey where two teens find themselves in the middle of an apocalyptic world that has been ravaged by an alien invasion/ virus. His use of music technologies, personal experiences and opinions on current world issues act as fuel to propel his story through highs and lows, like a true theatrical experience – something that Eckl said he really strived for on the album.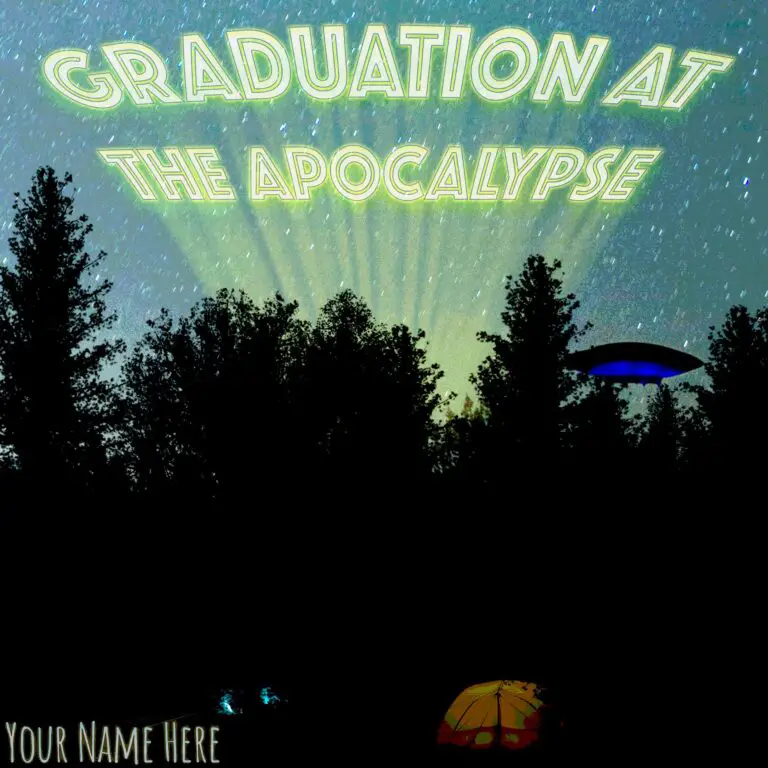 Eckl, who left his job at NASA to pursue music, recently moved to San Diego where he received bachelors in music recording technology. He has set his sights on a masters in computer music and intends to pursue academia. In an interview with NYS Music, he said recent life events pushed him to create a new album, namely his move to San Diego. His cross country move and relationship troubles have spilled onto the album, in the best way possible. He said the experience taught him that he needs to learn to let go of certain things in his life.
"The album is very cyclical in nature. The first song "Graduation Day" ends with me singing about not wanting to grow up and lose my youthfulness ("some kids live into their forties, some kids live until they're married, some kids die on graduation day but I'm never gonna go that way"). That same verse is repeated at the end of the album in "Now I Know." This signifies that despite everything the protagonist has been through, he still hasn't become the jaded and boring person he feared he would become." 
The result of these revelations and life experiences is this: Sonically, this is what you get when you mix Ben Folds 5, Weezer and the play Dear Evan Hansen together. Listeners will feel an array of emotions, as one does in a play. There are tracks that are instrumentally uplifting and chipper, coupled with lyricism describing the complexity of  love in relationships, like in "Graduation Day." "Everyone Thinks You're A Little Strange" is also a prime example of Eckl's style – a huge sound consisting of string quartets, chanting choirs, dynamics and builds, highs and lows and stories that everyone can relate to. 
But we're also strung through songs that set the scene of how grim things are in this reality – i.e. "The Apocalypse." This was a stand alone song that proves how Eckl is growing and learning. The song never speaks of the protagonists, says Eckl. "I wanted this album to be open to interpretation, but I wanted it to be very clear that this (song) was about the apocalypse." In this track, Eckl is able to hold onto his style that sets him apart from others in the genre, but is able to create an intense tonal shift, all while using recognizable instrumentation and voicing that is seen throughout his other works. It's an incredible feat and once again legitimizes this album as something that could easily be mistaken as an OST from a Broadway show. 
Each song is unique and easily distinguishable. Everything sounds just as Your Name Here should sound, but each one feels like it's own standalone story. String them together, and listeners will go on a personal, reflective journey as well as getting a taste of Eckl's experience. It's been exciting to run through each of the songs, and it's been exciting to wait for each track, as Eckl has been releasing 1 song per week for the past few months. The last song of the album, set to be released July 5, is called " Letter In A Locket". We've made a playlist on Spotify of every released track, but listeners can find it on Apple Music and below via Youtube. Those who want to dive even deeper into the immersive world Eckl has created, can also look into the Alternate Reality Game (ARG) that he has made to coincide with the album. Find more information on his ARG, here.
Key Tracks: Graduation Day, Everyone Thinks You're A Little Strange, The Apocalypse