Many will remember Phantom Planet for their song "California," but for many fans there more than just a theme song.  The band actually started their career at just 15 years old and will later be an indie rock staple with songs like "Lonely Day," "Big Brat," and "Do the Panic."  Now after 12 years the bank has come back with their highly anticipates album Devastator – now available worldwide.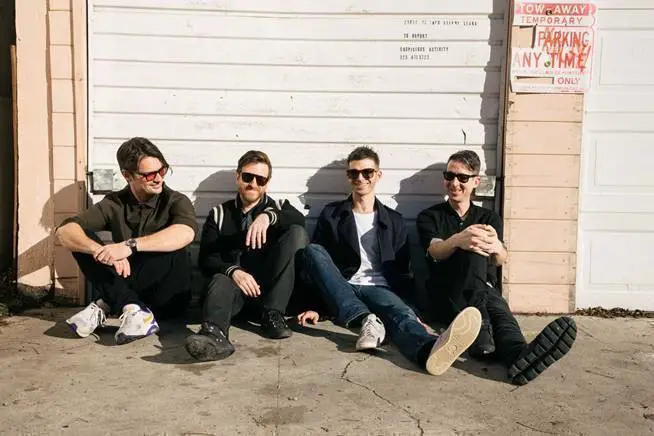 The album is a great tribute to summer with songs like "BALISONG" and "Only One," and the lyrics are on point!  However, after listening to the album, it left me with several questions for the band.
Fortunately, I had the amazing chance to chat with lead singer, Alex Greenwald to not only discuss about the creative process with the album- but to also discuss the challenges that were involved:
Tamara Estrella: Thanks Alex for chatting with us here at NYS Music, I remember when there were teasers that a song was being produced.  However, once you did the release and the mini tour, what led to the creation of the album?  Was this all a part of a big plan that fans didn't know about?
Alex Greenwald: The night we played our first show in January 2019, our last album's producer Tony Berg (who is a LEGEND) said he was floored watching us and invited the band to record in his new studio. The 'new studio' happened to be Sound City which is one of LA's most historic places to record, where many, many great records have been made. Nirvana's "Nevermind" for example. Also, the hugely successful version of Fleetwood Mac with Lindsey Buckingham and Stevie Nicks actually formed in the room we recorded in. THEN ,when we were mixing the album, Bob Dylan was recording at the same time across the hall. Making this album was incredible.
TE: Listening to songs like "Time Moves On" and then seeing the album art….I hate to ask…but was this album inspired about personal events?  Or was there another meaning behind it?
AG: Before I answer this question, I'd like to make it clear – as the person who wrote it – that these songs are about whatever you think they're about. You, the listener are who gives these songs meaning. Ok. Now to answer your question. Yes. A lot of the songs on Devastator were inspired by a breakup with someone I'd been in a relationship for seven years. Every time I told someone about the breakup – that she got to keep our dogs – they would say something like: "My G_d that's devastating!" Always that word. So, the album just kind of titled itself.
TE: I love watching your YouTube videos and it's great to see that you guys were even able to release a music video during all of this.  How has this whole pandemic experience been for you guys as a band?
AG: The pandemic has affected everyone in such different ways, but the one thing we all have in common is that we are trying to live our lives to the best of our abilities while under house arrest. I've been learning all I can about anything I can, and being as creative as I can be during this time. The band has been sharing music amongst its members, collaborating via "satellite". We've been making home vids of certain songs and putting them up online. I made a music video for our new song "Only One" with a green screen. I found a bunch of royalty free video from the internet, and edited it to the song. I filmed myself with my iPhone. It came out way better than I thought it would, seeing as I had absolutely no experience making music videos or editing or green screening. One of my favorite qualities of human beings is our ability to adapt. I see a lot of adapting, and although the circumstance are FAR from ideal, I have seen so many flashes of beauty through this dark unprecedented time. Stay strong everyone. We still have each other, even if we can't be close right now. Love will carry us through.
So as Billboard shares, be ready to 'dance, smile, cry and go through all the emotions,' for an 11-track musical narrative that was seriously 12 years in the making- and honestly worth the wait.
Check out Phantom Planet's latest video "Only One":
Here is the full Track Listing for Devastator:
1. BALISONG
2. Party Animal
3. Only One
4. Leave A Little Light On
5. Time Moves On
6. Through The Trees
7. Torture Me
8. Dear Dead End
9. Waiting For The Lights To Change
10. Gold Body Spray
11. ROTK